LuAnn Thatcher
---
March 2020 - Bubble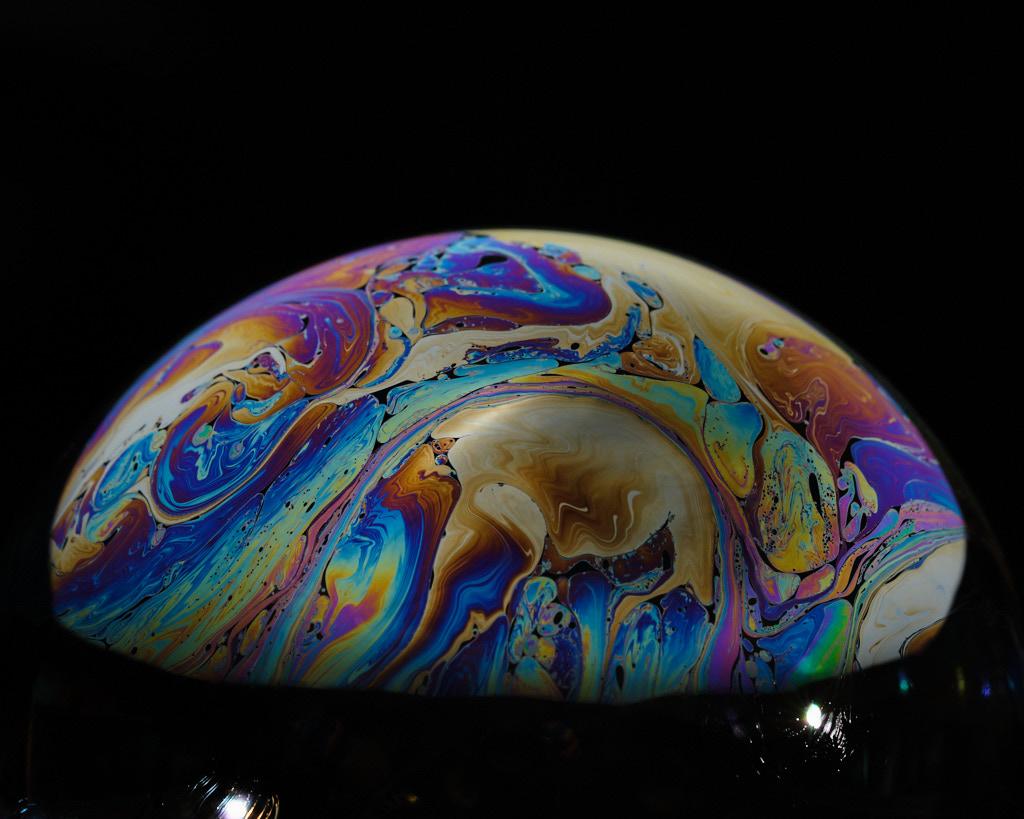 Original
About the Image(s)
This was a winter experiment I did last year when I saw someone in Denmark on YouTube photographing bubbles when there was nothing else to shoot. In color it is cool but never tried it in black and white.

Camera Fuji XT2, 80mm lens f/2.8, 1/250s. Shot in a black room in basement with a 42" umbrella and Good AD200 speed light. It was tricky to get the right formula but basically it was dish soap and mineral oil I believe.

I look forward to your comments. What appears to be a bright spot on the top right of bubble is a yellow tone; it is not blown out on my computer.
---
This round's discussion is now closed!
6 comments posted
Bob Legg
Well LuAnn I guess you put those long winters to good use and stepped into the world of creativity. I really like it. I've done some flat bubble mix while still in the frame but not the round bubbles. You got great saturation in the colors and was able to make a fantastic BW bubble with even a leading line bringing my eye into the image. Nice whites and blacks and yellow tone just fine on my computer.
A minor suggestion is I probably would of cropped out half of the black on the top since we don't have to deal with printable aspects here. &nbsp Posted: 03/04/2020 20:13:46
LuAnn Thatcher
Thanks, Bob, for your comments.

It was a fun project. See the bubble dancing around on the plate for several minutes was fun. You gently blow on it and it spins.

Fun stuff.

LuAnn &nbsp Posted: 03/06/2020 21:17:20
---
Gary Stiger
That is a very cool image LuAnn. I would like to try doing something similar. I'm thinking there might be a website to describe the setup since I'm not real sure how you arranged your apparatus. Very neat shot. I must explore. &nbsp Posted: 03/07/2020 22:18:18
LuAnn Thatcher
Thanks for the comment, Gary!

Best place to get info, Gary, is YouTube. Just type in Bubble Photography and you will have everything you need for info plus demos. It really was a ton of fun. Tricky, The glycerin (not mineral spirits) really made bubble last and a gentle blow of your breath makes the turn and the colors keep evolving.

Have fun!

LuAnn

&nbsp Posted: 03/08/2020 06:01:38
---
Oliver Morton
LuAnn, I love this... especially in monochrome. The color version looks like a bubble. However, converting it to B&W changes it completely. Now it appears to be some sort of strange, gaseous planet. And, you've enforced this belief by leaving a significant black area (dark matter) above the "planet". I also like the fact the the distant edges are a bit blurry as one would expect of an atmosphere. Very well imagined and very well implemented!

&nbsp Posted: 03/13/2020 11:15:12
LuAnn Thatcher
Thank you very much, Oliver! It really does need that large area of black space to give the illusion of being a gaseous planet, I agree. I also like what you said about the blurred edges being expected. I really struggled with them. There is no way to take multiple shots of a bubble because it is forever in motion. I love how the colors become very vibrant when you softly blow on it; the bubble just dances before your eyes very mezmerizing.

This was an easy and fun project!

LuAnn &nbsp Posted: 03/13/2020 16:28:09
---