Oliver Morton
---
January 2020 - Twin Lotus Blossoms
Original
About the Image(s)
There's something about flowers in B&W that I find appealing. So, when I was browsing through some old images, I decided to see how this photograph of Lotus Blossoms would look. I especially liked the texture of the large leaf behind the buds. It seemed to make an interesting background without overly distracting from the flowers.

My post processing was primarily with Silver Efex Pro and Photoshop's Camera raw.

Data: Canon 5DIII; 100-400mm lens at 400mm; f/8.0; 1/100 sec; ISO 100

---
This round's discussion is now closed!
7 comments posted
Gary Stiger
Very lovely image Oliver. I downloaded the color one thinking that I might be able to go one better on your black and white, but to no avail. I did convert it with the NIK paper toner and kind of like the sepia tone, but I would never say it was more enhanced than what you have shown. I sent mine to the veggie grinder...nice take on the twins. &nbsp Posted: 01/07/2020 22:38:36
Oliver Morton
I really like the NIK Paper Toner, but didn't try it on this image. I did, however, attempt multiple toning approaches... to no avail. Thank you for your comments, Gary, and thank you for playing with my image!

BTW, I belong to Study Group 5 and it has an amazing photographer who frequently uses Paper Toning. Take a look at few months of his work. I think you'll really like it. He's David Cooke.

&nbsp Posted: 01/11/2020 09:49:18
---
Bob Legg
I like this image Oliver. Without that textured leaf our eyes might wander off to distracting background and it serves as a leading line into the Lotus buds. Great tones and textures. I am at a loss to find any improvement. Wait a minute, I just found an itty bitty. The yellow bud in the background could be toned down a smidge by using a control point on it to make it less obvious. An excellent image. &nbsp Posted: 01/10/2020 20:34:03
Oliver Morton
You're absolutely right, Bob. That brightness just below the rightmost bud is distracting. THANK YOU! I'll fix it.

I agree completely about the value of the textured leaf. Without it, I think this would be just another Lotus Bud Picture (ho hum!).

&nbsp Posted: 01/11/2020 09:51:24
---
LuAnn Thatcher
What a great experiment, Oliver, to convert a flower into black and white. I think it is possible. You did a nice job with your choice of using Nik software and Camera Raw.
For me, when I first look at the image, my eye sees the 2 buds but then jumps right away to the mature leaf because it is bigger in the image and brighter. I feel compelled to linger and look at the mature leaf not because of its beauty but because of the heavy contrast of the veining. The detail in the mature leaf is overpowering to me compared to the buds which are softer in their unopened state. So I believe the two elements are clashing. For me, the buds should be the subject, and the image tonality should be soft to make them stand out as the subject.
In my sample image, I tried to find a comparable setting in Nik Silver Efex like the Fine Art sample, but I wasn't totally happy with it. I went to Lightroom CC Classic and lowered: contrast, blacks, texture, and dehaze. Then I raised shadows 100%, whites a bit, and Lights in tone curve. I then gave it a tiny bit of sharpening and noise reduction.
Because the buds are unopened, I chose this soft look thus the title: Anticipation; you know like a new birth. I also helped the buds become more of the subject by cropping tightly and straightened as best I could. I know in photoshop you could straighten both buds and I think that would make an awesome image.
I look forward to hearing what you think. I know you like contrast, Oliver, this is just my humble opinion.
Best regards,
LuAnn
&nbsp
Posted: 01/18/2020 14:20:28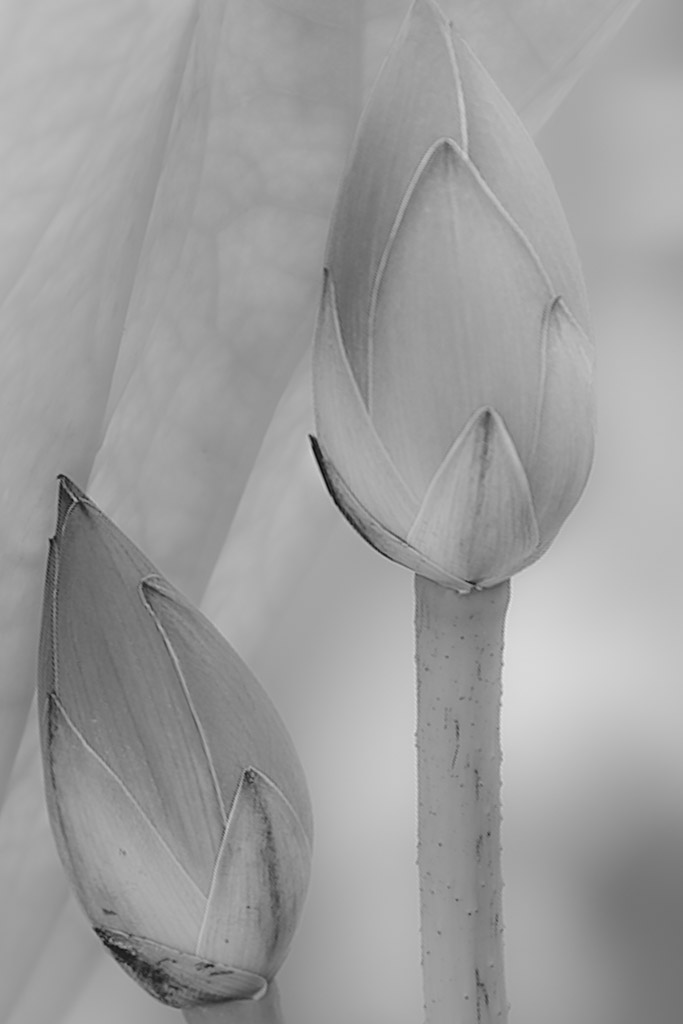 ---
Oliver Morton
LuAnn, this is brilliant. I really like where you went with this image. You've turned it into a different photograph with a completely different feeling.

You saw this as a "soon to be born" concept, which I had totally overlooked. And, your treatment of the image, giving it a wonderful softness, matches your concept. I love it.

I will definitely play with the original photograph, going along the lines that you've shown me. I will try cropping a bit differently since your sample feels a bit cramped to me.

Thank you SO MUCH. I really appreciate AND BENEFIT from this kind of thought and input!

&nbsp Posted: 01/19/2020 08:08:47
LuAnn Thatcher
You're so welcome, Oliver!

I am glad I have inspired you to try something outside your comfort zone. Sometimes I think we (myself included) get comfortable in our editing of images. Maybe we do this for our own stability and security because we are working in a highly competitive world of photography. We do the same adjustments time and time again. I think looking at an image and studying it to find the story really helps us see the same images in a new light, and I believe it can open our eyes to new ideas in everyday subjects.

Play and have fun, my friend!

Best regards,
LuAnn &nbsp Posted: 01/19/2020 08:34:55
---