LuAnn Thatcher
---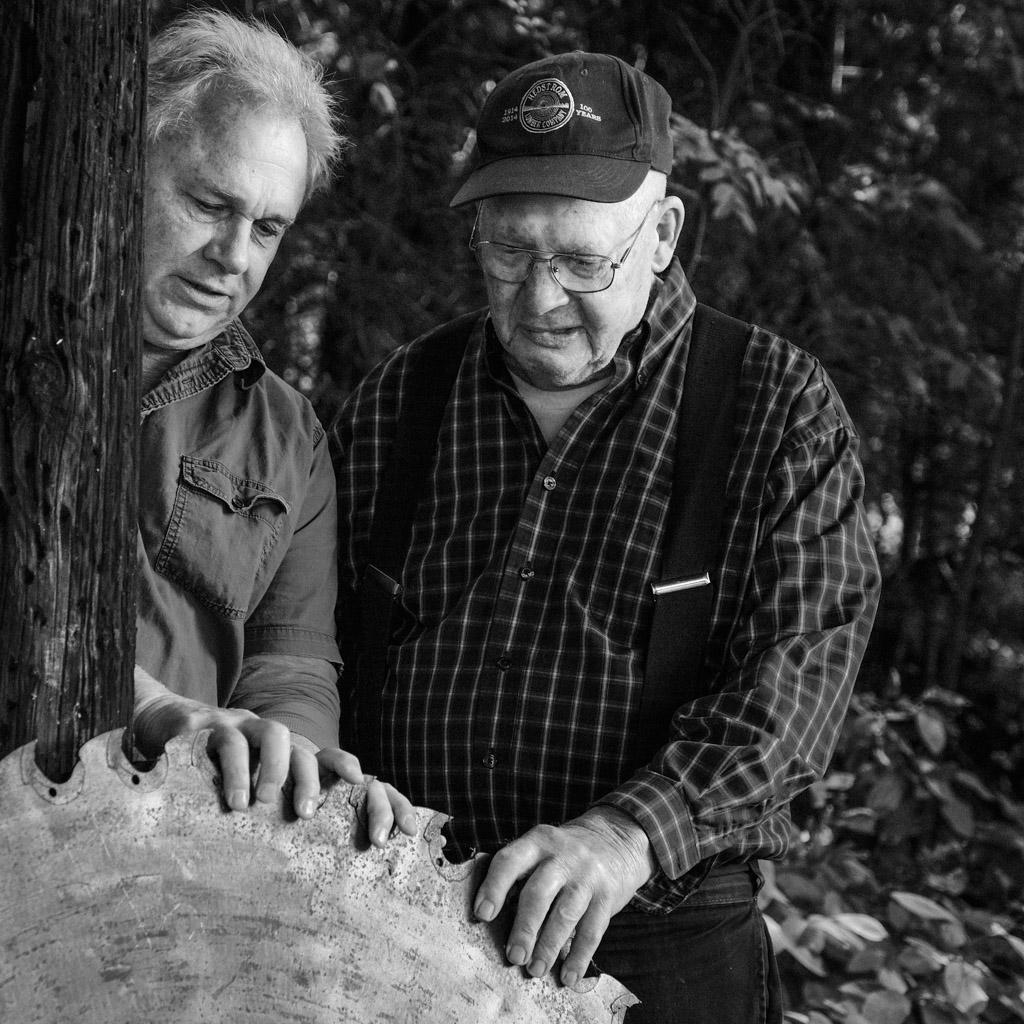 January 2020 - From One Generation to Another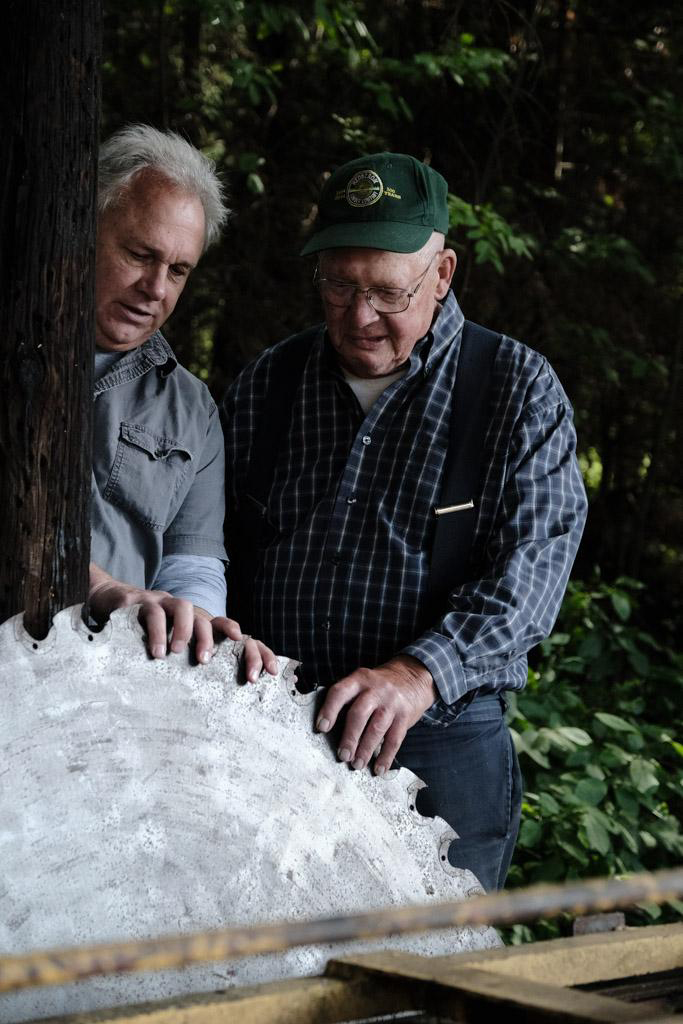 Original
About the Image(s)
A teachable moment from one generation to another. A life long career in the sawmill industry comes together in a photographic moment in time for an environmental portrait.

Camera: Fuji XT2, 16-55mm lens, ISO 2000, f/4, 1/250s. Taken in the shade of an outdoor work area. Wayne was showing Layne the saw he uses to cut timber at his personal sawmill on his farm. In return, Layne was teaching him how to pose his hands for an environmental portrait.

I edited most of the image in LR Classic. I believe, but am not sure, that I did edit some in Nix Silver Efex Pro 2 and used the filter that gave the most in structure. I love the dark blacks and the shading on the background so that the people stand out. There is detail in the blade itself and texture in the clothing. I made sure that the whites were not blown on the histogram before submitting.

I look forward to everyones comments!
---
This round's discussion is now closed!
11 comments posted
---
---
---
Bob Legg
Hi LuAnn. A great character photo processed for excellent exposure and detail. I agree with bringing down the whites from the saw blade and bringing up the exposure on their faces. One question, were you able to move a foot to the right, I think it would help to have more of Waynes/Laynes face (just to include his ear) not be behind the tree. &nbsp Posted: 01/05/2020 16:07:36
---
---
---
Oliver Morton
LuAnn, I find this to tell a wonderful story. And, the two men's hands on the huge saw blade give a great balance to their faces. Nicely done.
Like Bob, I think it might be beneficial to bring down the brightness on the men. Also, since Layne is mostly behind the tree, it could be useful to crop a bit off the right side. Here's what I have in mind. &nbsp
Posted: 01/05/2020 16:18:21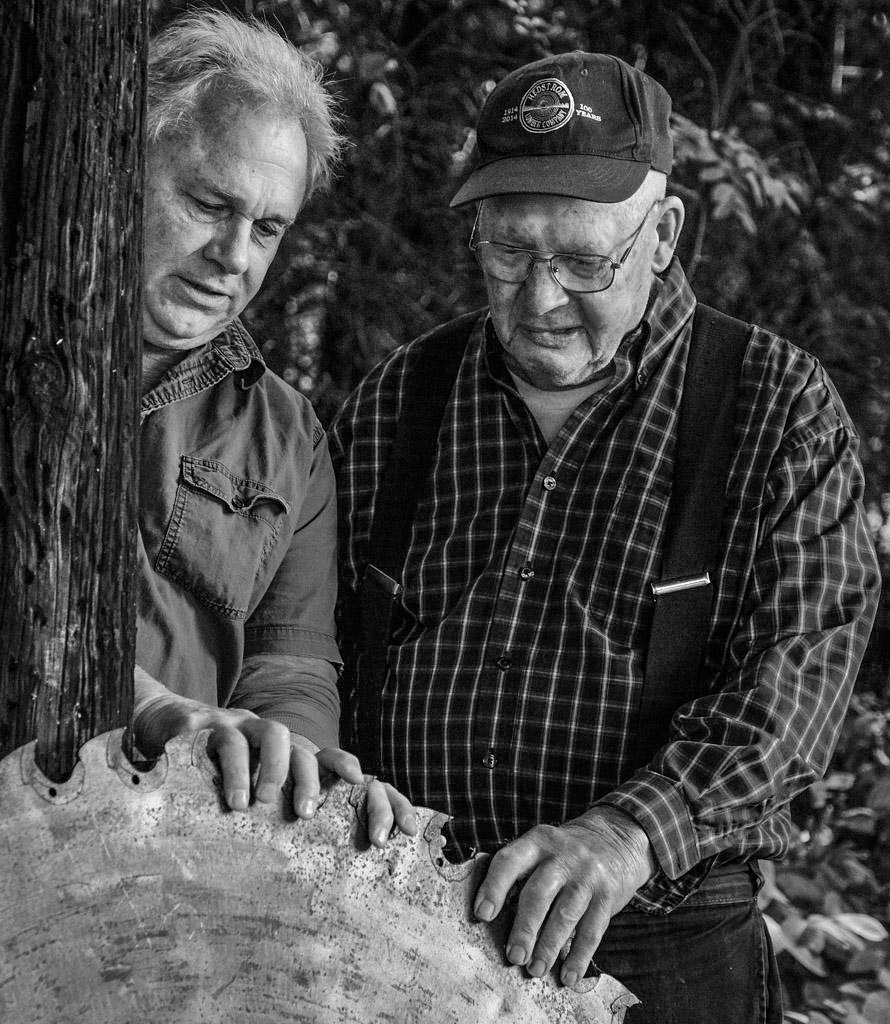 LuAnn Thatcher
Thanks, Bob and Oliver, for your comments. I agree, Oliver, and like your edit.

Oliver, I am concerned when you say bring down the brightness on the men. I already brought it down -20, is your monitor calibrated? Or, do you have your brightness set high? This really is concerning for me. I do calibrate and adjusted brightness according to the software specs. I will have to check it tomorrow, but I believe brightness should be set around 50% or so. I have a new Apple computer so I can't see it being out of whack just yet.

Many thanks,
LuAnn &nbsp Posted: 01/05/2020 20:16:25
Oliver Morton
LuAnn, in the sample that I attached previously I brought down the brightness of the men's faces and hands. I don't suggest darkening any other part of the men. Perhaps the confusion is that you thought I meant darkening the men's clothing and cap.... or perhaps darkening them further than my sample.

I use the SpyderX Pro for my monitor calibration which I do about once a month.
&nbsp Posted: 01/06/2020 11:23:08
---
---
---
Gary Stiger
Very interesting photo LuAnn. I don't seem to have a problem with the brightness, and I really like the way Wayne has his hand on the blade that brings a sense of a passing of the torch as they say. I kind of agree with Bob that the post or tree hides a bit much of Layne's head, but still a meaningful image... nice job. &nbsp Posted: 01/08/2020 00:04:57
---
---
---
Bob Legg
LuAnn. I am an Apple user and have been since starting digital in 2002. Don't tell anyone, especially Oliver, but I have not purchased calibration for my iMac and this one just turned 4yo. In system preferences (under apple on left) go to built-in display (assuming you have a desktop) click on color and then Calibrate, the assistant will take you thru several statements and I find the "Native white point target". Set to D65 and "Native" is checked is the only adjustment and that might of come set that way. I have my brightness control set to highest level. When set to D50 the light will be warmer. I have not had brightness or color issues except when having prints made (I never print myself) and I have occasionally have problems with images being printed too dark. I use Costco and have "auto" turned off. Save the calibration with date and the "D" native setting you choose. Feel free to ask me any Mac/Apple questions you have. Sssssh Let Oliver think that his PC and calibration are the only way to go. &nbsp Posted: 01/08/2020 10:10:39
Oliver Morton
I have attacked my calibration device with a sledge hammer... and then demolished my PC. It's now Mac all the way! (lol) &nbsp Posted: 01/08/2020 10:27:01
LuAnn Thatcher
Oliver, I welcome to our world of Apple!! Glad to have you on board.

LuAnn &nbsp Posted: 01/18/2020 15:28:23
LuAnn Thatcher
Thanks for the advice, Bob. Oh, and yes mums the word about Oliver's equipment (lol) got it.


LuAnn &nbsp Posted: 01/18/2020 15:26:52
Oliver Morton
Sadly, I'm going to have to abandon the world of Apple. I simply can't find the equivalent to the PC command, "wmic path softwarelicensingservice get OA3xOriginalProductKey". Sheesh, it's so obvious on a PC. (LMAO)

&nbsp Posted: 01/19/2020 09:33:11
LuAnn Thatcher
I am not familiar with that quote, Oliver, can you explain that more?

Thanks,
LuAnn &nbsp Posted: 01/19/2020 09:36:37
---
---
---