Oliver Morton
---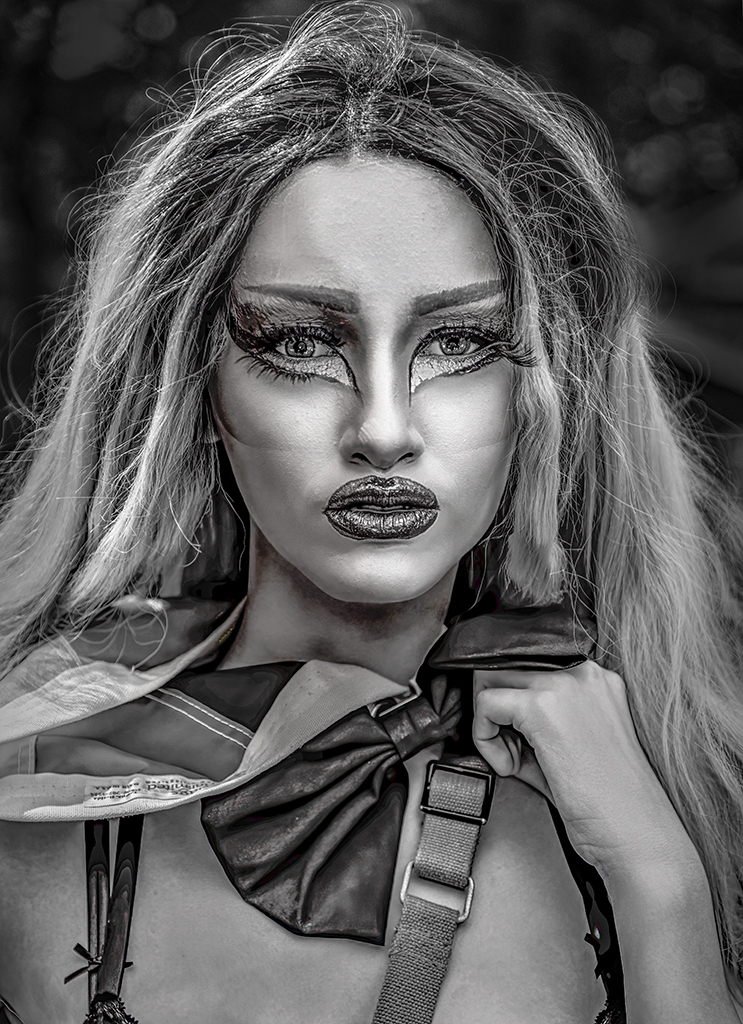 December 2019 - Interesting....
Original
About the Image(s)
This was taken at the LGBTQ+ parade in Washington D.C. I have found that arriving at the gathering location for the parade provides amazing photographic opportunities. Unfortunately the lighting was harsh, but the willingness of the marchers to have their pictures taken made up for the conditions.

Photo data: Canon 5D4; 24-105mm lens @ 78mm; 1/640 sec; f/4.0; ISO 200.
---
This round's discussion is now closed!
15 comments posted
LuAnn Thatcher
Hello Oliver,

I haven't been to a parade in many years; good for you to have attended this one. I hope you, too, had a happy Thanksgiving, my friend!

For a portrait, I like how you captured this woman with a nice tight crop. You have her full attention with her eyes looking at the camera, nice bokeh in the background, I like her hand at her neck as it tells me she is happy being at this parade. I also appreciate that you have no other distractions to deal with, and that makes this a pleasing image.

I am going to take a guess that you edited and converted this image to black and white in Nik Silver Efex Pro 2? I like the software for conversions and effects, but sometimes it makes the HDR effects too harsh. Perhaps this effect would be good if it could be used selectively on certain areas of the portrait versus globally. The areas I am having difficulty looking at include her mouth, eyes, skin and bow. I do, however, like the effect on the hair.

There is one more thing to consider, and that is the black and white filter you used in the conversion. The original image she has a black mouth and eye makeup, and that now has been reversed. Makeup colors are essential to a woman's looks, and I think if you were to give her this photo, that would pop out to her, and perhaps she would wonder why you changed her makeup. The tonality on the skin is also appearing blotchy for some reason.

I know you are a master of these tools and that they are easy adjustments if you choose to make them. The final look is subjective and this is only my personal and humble opinion.

Best regards,
LuAnn


&nbsp Posted: 12/01/2019 14:49:44
Oliver Morton
Thank you, LuAnn. The LGBTQ+ parade is a wonderful event for photographers. The parade participants are there because, in most cases, they want to be seen. This usually makes them willing and cooperative subjects.

When I saw this woman, the first thing that struck me was the unusual treatment of her eyes and lips. However, my original image didn't convey the sense of intrigue that I felt when I saw her. Thus, in post processing I attempted to give her facial features the same impact that they gave me at the parade. I took the approach of "overdoing it" a bit in my attempt.

The "blotchy skin" is a bit of an enigma to me. If you're referring to the change of tone on her cheeks, it was in the original photograph. I don't know why it was there and I debated about smoothing it out but decided not to.

I totally agree with your observation about the dangers of changing her makeup and I DEFINITELY won't share a copy of the photo with her... life is much too sweet!
&nbsp Posted: 12/02/2019 15:19:10
LuAnn Thatcher
I was looking at the skin on her chest. The B&W looks blotchy compared to the original. This was why I was saying maybe to erase the effect from the skin area you know like we do when we dodge and burn.

LuAnn &nbsp Posted: 12/03/2019 10:12:01
Oliver Morton
Ahhhh.... Good observation, thanks!! I'll fix it. &nbsp Posted: 12/03/2019 10:21:10
---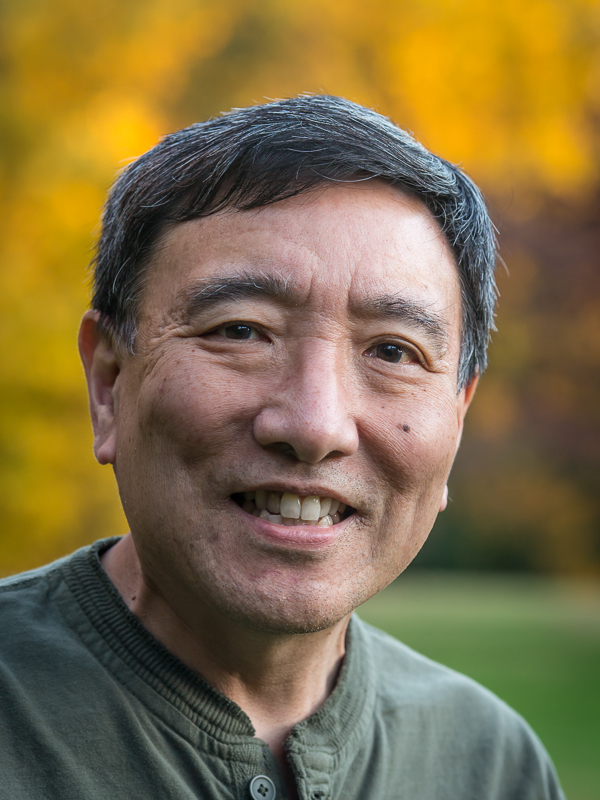 David Terao

(Group 45)
Hi, Oliver! I really like how you post-processed this image. It brings out the details in the blacks (especially in the eyes, lips and bow tie)and enhances the overall character of the person compared to the original image. Lots of nice soft as well as contrasting harsh tones with a full tonal range. I don't feel its over-processed at all. &nbsp Posted: 12/02/2019 09:03:20
Oliver Morton
Thank you, David! This image was a challenge since I wasn't sure of how far to push it. My post-processing definitely changed the character of the woman. I initially made her irises even brighter than they are now, then I toned them down a bit. They may still be too bright for many people. &nbsp Posted: 12/02/2019 16:52:34
---
Israel Yosef
Hello Oliver,
Not just adding something after LuAnn's comments, I totally agree with her other than the eyes and the makeup around the eyes. I like it, there is something attractive in these eyes.

Best regards,
Israel &nbsp Posted: 12/03/2019 13:30:38
---
Bob Legg
Interesting for sure. Great capture and editing. You went much further with the editing than I ever would think of doing and you made it work. A great use of Silver Efex (inverse filter>)? The textures throughout the image really enhance.
Great seeing to visualize turning the color image into this work of art. &nbsp Posted: 12/08/2019 20:57:53
Oliver Morton
Thank you, Bob. I'm not familiar with the "inverse filter". Is it a feature of Silver Efex?

I must admit, I didn't visualize the final result. It was really more a matter of playing around with the color image and finding something that appealed to me. &nbsp Posted: 12/13/2019 08:44:52
---
Gary Stiger
Ohhhhhh! I had to look up what that parade was all about, and now I know. I do like your image Oliver, but I seem to be rather late with comments since there have been so many already posted so early on. Suffice it to say that I like her the way you presented her. She does make for an interesting subject and I can see how you were intrigued by her mysterious beauty... kind of like a King Kong - Fay Wray love at first sight thing I would suspect. Nice one big guy. &nbsp Posted: 12/10/2019 20:14:22
Oliver Morton
Ahhh, Gary. I've had many sleepless nights trying to decipher your reference to "King Kong - Fay Wray". Well, maybe that's a bit of an exaggeration about the sleepless nights... smiles. She was one of many people with "unusual" makeup and dress. The parade is a fascinating opportunity for photographers.
&nbsp Posted: 12/13/2019 08:47:41
---
Bob Legg
Pete, sorry I didn't see your question earlier. Yes, Efex Pro present #18 is full spectrum Inverse. Sometimes it works and sometimes not. &nbsp Posted: 12/13/2019 08:51:13
---
Mark Southard

(Groups 8 & 18)
Oooh ! So very striking ! Monochrome certainly fits . Well done ! &nbsp Posted: 12/19/2019 15:03:08
Oliver Morton
Thank you, Mark! I appreciate it! &nbsp Posted: 12/19/2019 15:10:02
---
Hi Oliver - wow - what impact! Her face looks amazing! Her eyes look great lightened like that and are much much better than the original to me. I was thinking how shiny her hair looks - like fake hair but then I realised it likely is a wig! lol. I do think her skin of her body below the neck all looks a bit 'off' to me, also her bra strap - something odd going on with the blacks there - on my screen anyway. I love her face though and the detail everywhere else though. She's fab! &nbsp Posted: 12/22/2019 11:06:44
---