Israel Yosef
---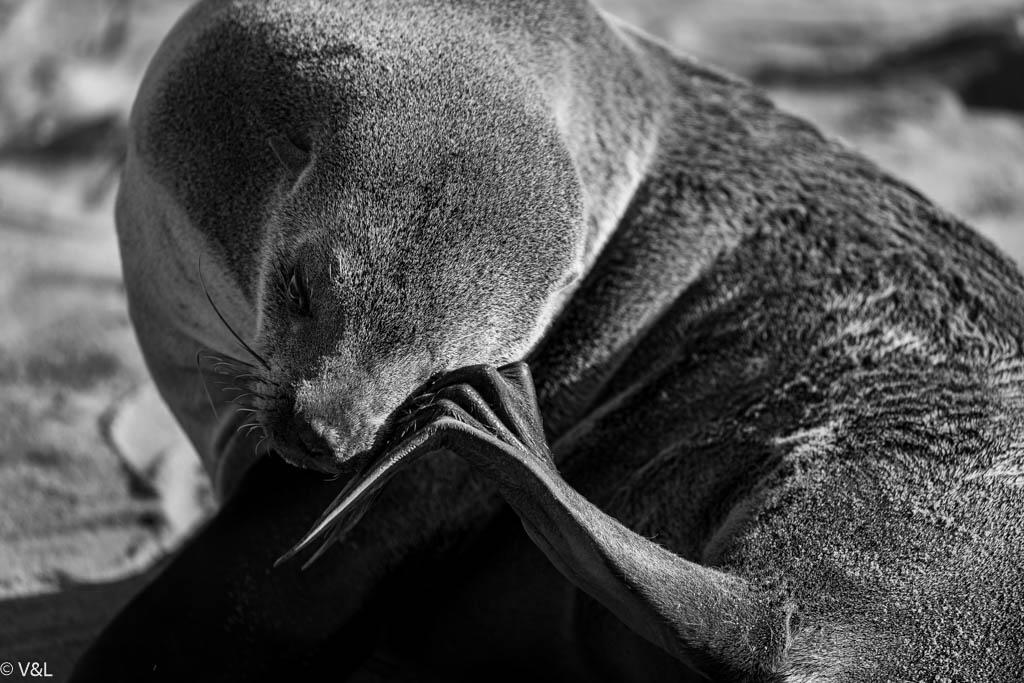 January 2020 - Namibia Thinking Seal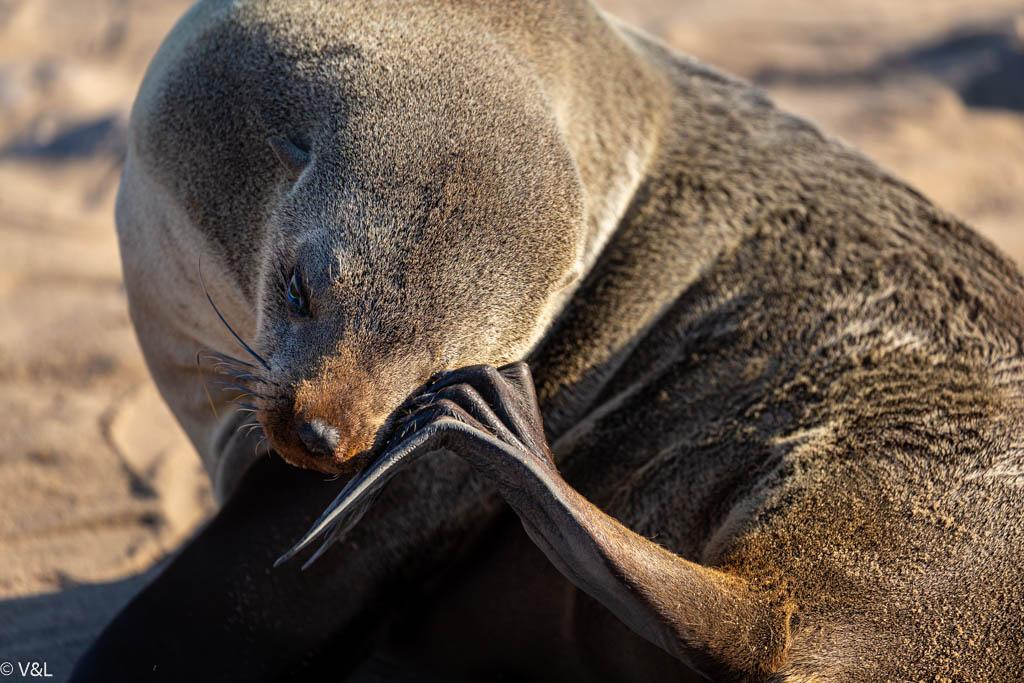 Original
About the Image(s)
October 2019 - Namibia, the famous Dune number 45.About the Image(s)In August this year I flew to Namibia with a group of photographers.I was in a seal colony on the Atlantic coast.I took a picture of this thinker. In my opinion, it looks like the famous creation of Auguste Rodin "The Thinker is a bronze sculpture". What do you think?

I shoot in RAW format and process with Lightroom: basic adjustment, detail, texture, etc. Then I convert to B&W in Lightroom.

Camera settings: Canon EOS 6D. ISO 200, 1/400s, f/5.6, 371mm, lens: Canon EF 100-400mm f/4.5-5.6L IS II USM.
---
This round's discussion is now closed!
8 comments posted
Gary Stiger
Interesting shot Isreal. Great texture and detail in this chap's fur, but I'm not quite getting a Rodin sculpture from this take... just a fun shot of a seal with an itchy eye. Looks like you guys have had some fun down there, and might I suggest checking out David Yarrow on the internet if you are not familiar with him and his work. He is an amazing wildlife photographer and environmentalist. Stick with it... animals are fun. &nbsp Posted: 01/07/2020 23:42:34
---
Bob Legg
Israel, very nice lighting and texture on the seal. I love the capture of the "flipper fingers" that are usually not seen. I think that is what makes the image unique and interesting. The wrinkles of the seals body (center right) also enhance the fingers of the flippers. You did a great job of opening up the shadows so that the left eye is clearly visible. Background is perfect and not distracting. Great job of being ready when the seal made this move. &nbsp Posted: 01/08/2020 09:22:09
---
Israel Yosef
Gary and Bob, I am very grateful to both of you for your comments and compliments.
Gary, we really had a really good time in Namibia. &nbsp Posted: 01/08/2020 11:21:08
---
Oliver Morton
Israel, I like how your post-processing handled the seal's fir. You've gotten a wide range of tones which is very important in a monochrome image. Like Bob said, capturing the flippers as they are "in action" was really good timing.
I wanted to play with your image myself. Not sure I improved or even significantly changed anything. Your thoughts?
&nbsp
Posted: 01/09/2020 17:09:38
Israel Yosef
Hi Oliver,
I like how you processed the photo.
The colors are more natural and the photo is sharper.
You're a professional. &nbsp Posted: 01/10/2020 01:08:36
Oliver Morton
Thank you, Israel. But, over the years I've learned that photography is a completely subjective art. Each person has his/her own opinion of beauty and "right".... and that's how it should be. To me, the goal is to continually enhance your own understanding of what appeals to you and to strive to create images that you feel good about.

&nbsp Posted: 01/11/2020 09:55:10
---
LuAnn Thatcher
What a wonderful opportunity you had to go to Namibia, Israel!

Lovely shot of a seal up close. I too agree with the above comments. You have good tonal variation in the black and white conversion. This image works in both color and black and white.

What I can add to the discussion for the next time you have this opportunity is to watch your edges in the viewfinder so you don't crop too tight. The top of the shoulder is off the edge of the frame by a small amount in this instance. Because this crop is a small amount it can make it appear distracting. So to compensate for that you could crop this image a little tighter to put more of the face in the frame. Does that make sense to you? When I first looked at the image my eye went right to the top to notice the shoulder.

Also, try to always take multiple shots with varying apertures especially when traveling. This is a lesson I have learned the hard way and numerous times. In this shot, if you used a smaller aperture like f/8 or f/11 you would have gotten more in focus on the body of the seal. You do a lot of portraits and with people the f/5.6 is fine but this is a bigger animal covering a different plane than a human.

I hope this is helpful, Israel. If you have any questions, please let me know.

Best wishes,
LuAnn &nbsp Posted: 01/19/2020 09:10:45
Israel Yosef
Hi LuAnn,
I'm always happy to receive your comments.
My idea was to take a close-up photo of this guy in order to focus the viewer's attention on his face.
I accept your idea and I am grateful to you for sharing your experience.
It helps me a lot.

I really hope that you will share your experience with me.
Thank you very much.

Best wishes,
Israel &nbsp Posted: 01/19/2020 10:46:47
---