Israel Yosef
---
December 2019 - Woman communicates with God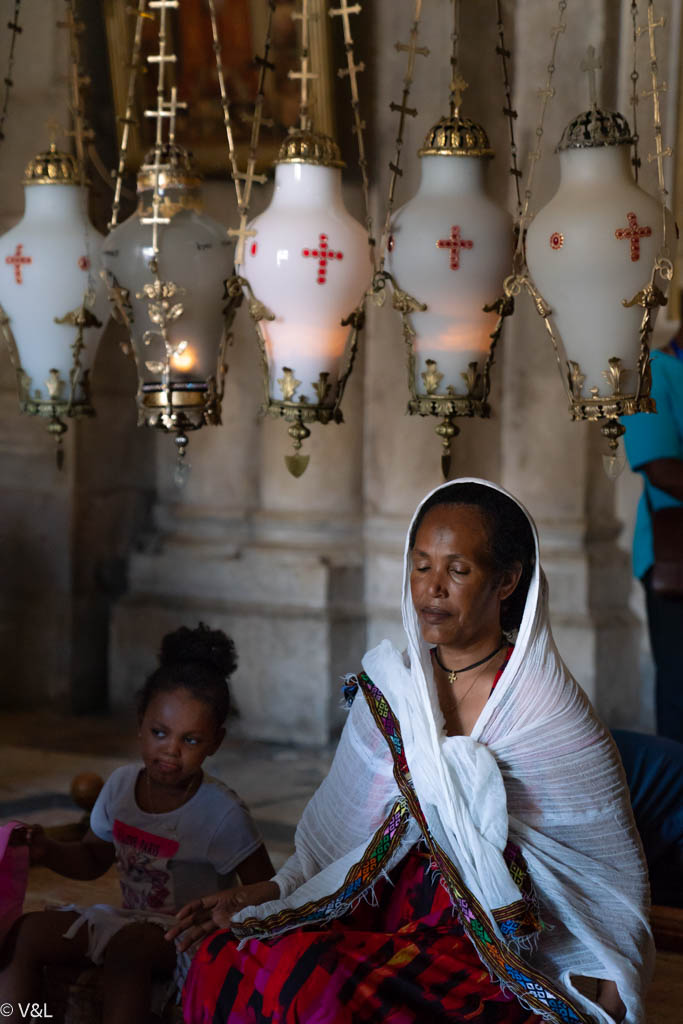 Original
About the Image(s)
Mom and daughter are sitting next to the Stone of Anointing, where Jesus' body is said to have been anointed before burial, in the Temple of the Holy Sepulcher in Jerusalem. I would give the headline of this photo: The girl is looking with whom mom is talking.

Your opinions please.

I shoot in RAW format and process with Lightroom: basic adjustment, detail, texture, etc. Then I convert to B&W in Lightroom.

Camera settings: Sony a7r III. ISO 3200, 1/320s, f/2.8, 70mm, lens: Sony FE 24-70mm f/2.8.
---
This round's discussion is now closed!
10 comments posted
LuAnn Thatcher
Hello Israel,
A very lovely image taken in a very blessed place I did not know they allowed cameras in there.
I think this image looks lovely in both color and black and white. I wish what she was looking at, the Stone of Anointing, was visible as it would tell a bigger part of the story and perhaps tell the viewer where this woman and child are; currently I would not have known had you not mentioned the place in your dialog.
The only thing I could think of to enhance this image was a tighter crop. The candles hanging above need to be included as they contribute to the story. I just gave it a tighter crop and made it a 5x7 in size. Oh, I also used BW 10 for conversion in Lightroom I think this is a softer look more becoming to the woman.
I hope you had a wonderful Thanksgiving, my friend!
Best regards,
LuAnn
&nbsp
Posted: 12/01/2019 16:02:52
Israel Yosef
Hello LuAnn,
Thank you for your comments.
I learn a lot from your advice.
I did another crop of the photo and saw that the woman was sitting on the edge and the Stone of Anointing and he was behind her.
I hope the Stone of Anointing is now visible behind the back of the woman and the child.
I also brightened and blurred around the woman and the child.
Your opinion?
Best regards,
Israel &nbsp
Posted: 12/03/2019 12:08:00
LuAnn Thatcher
Hello Israel,

I just wanted to reply to your edit after I posted my original suggestion. Whatever you decide about the finished photo, the final edits have to please you in the end.

I had to go to the internet to find a photo so I could understand exactly what the stone of anointing was. I found it is a flat slab and it lies flat behind the woman and child. There is no way I could tell what it was as you described it. No problem there though. It just means that the stone is not obvious to the unknowing eye of the observer unless they know the location.

So, with that said I just think a tighter crop does the best for the scene you photographed. The man in the background does absolutely nothing to add to the image. I think he makes the photo look more like a snapshot, do you understand what I mean and why I say that? He is simply just a distraction and does not contribute to the message you want this image to portray -- holiness.

You are so lucky to have the opportunity to visit such a truly holy country.

Best regards,
LuAnn



&nbsp Posted: 12/25/2019 09:47:36
Israel Yosef
Hello LuAnn,

I agree with you that the man in the background distracts attention.
But this place is very popular among tourists and pilgrims and it makes it very difficult to find a moment so that the background is clean.
You're right that I was lucky to live in that unique country.
Each time I visit Jerusalem, I see it differently, although I have been to Jerusalem dozens of times.
Jerusalem charges me spiritually and physically.
I invite you to Israel and I promise to show you the holy city of Jerusalem.
It's unforgettable.

Best regards,
Israel &nbsp Posted: 12/25/2019 10:43:49
---
Bob Legg
Israel, you do such a good job with low light images. I have no suggestions about the candles and the women. I do think that the child is in the shadows and should be made brighter, Or, Perhaps you meant it this way and did not want to detract from the main subject of the woman. &nbsp Posted: 12/08/2019 20:43:17
Israel Yosef
Hello Bob,
I liked your idea to lighten up a little girl.
Thank you. &nbsp Posted: 12/09/2019 14:51:03
---
Oliver Morton
I'm amazed at how well you capture solemn and serene moments. You really do an outstanding job conveying the feelings of the people in your photographs.
Following Bob's comment, I tried making the child's face a bit brighter. At the same time I attempted to highlight the women with some additional light.... and to darken the candles somewhat. Your thoughts?
&nbsp
Posted: 12/09/2019 14:25:51
Israel Yosef
Hi Oliver,

I'm very grateful to you for the compliments.

Bob's idea to lighten a girl and your idea to darken candles has changed the photo a lot.

Thank you. &nbsp Posted: 12/09/2019 14:59:55
---
Sorry for late replay Israel - I've really been struggling back and forward, looking at the other edits and I even had a go myself. Overall, to my eye, your submitted image is my favourite edit. Your second edit gives extra information and I don't mind the man in the background, to me it gives context, and shows it is not a staged photo. However the one with the white line around it has too much light for my preference. I prefer your edits to the others offered.

Also, the little girl bothered me a bit, I would prefer there was a bit more light on her.

I always enjoy your images so much and thank you for another lovely image. &nbsp Posted: 12/24/2019 13:58:01
Israel Yosef
Hello Julie,

I thank you for taking the time to write comments.
The Temple of the Holy Sepulcher in Jerusalem is a very popular place for tourists and Christian pilgrims, there are always a lot of people and taking pictures so that the background is clean is very difficult.
I waited a long time and I was lucky.
I lightened a little girl but less than her mother because mother is the main object, in my opinion.

Thank you very much.

Waiting for your comments next month. &nbsp Posted: 12/24/2019 14:33:26
---