Israel Yosef
---
December 2019 - Woman communicates with God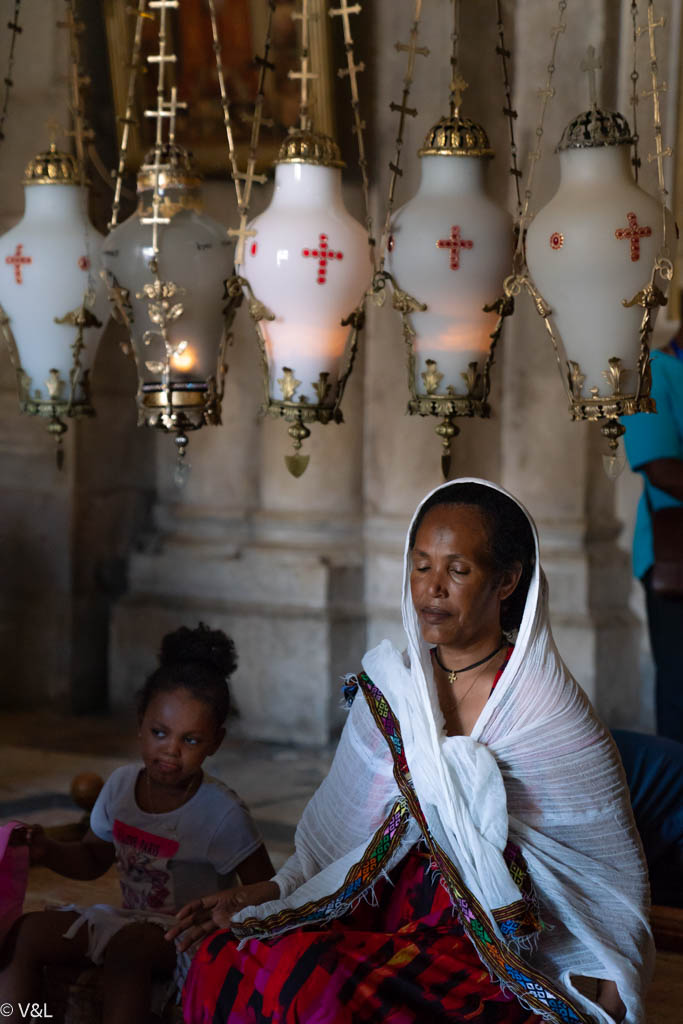 Original
About the Image(s)
Mom and daughter are sitting next to the Stone of Anointing, where Jesus' body is said to have been anointed before burial, in the Temple of the Holy Sepulcher in Jerusalem. I would give the headline of this photo: The girl is looking with whom mom is talking.

Your opinions please.

I shoot in RAW format and process with Lightroom: basic adjustment, detail, texture, etc. Then I convert to B&W in Lightroom.

Camera settings: Sony a7r III. ISO 3200, 1/320s, f/2.8, 70mm, lens: Sony FE 24-70mm f/2.8.
---
2 comments posted
LuAnn Thatcher
Hello Israel,
A very lovely image taken in a very blessed place I did not know they allowed cameras in there.
I think this image looks lovely in both color and black and white. I wish what she was looking at, the Stone of Anointing, was visible as it would tell a bigger part of the story and perhaps tell the viewer where this woman and child are; currently I would not have known had you not mentioned the place in your dialog.
The only thing I could think of to enhance this image was a tighter crop. The candles hanging above need to be included as they contribute to the story. I just gave it a tighter crop and made it a 5x7 in size. Oh, I also used BW 10 for conversion in Lightroom I think this is a softer look more becoming to the woman.
I hope you had a wonderful Thanksgiving, my friend!
Best regards,
LuAnn
&nbsp
Posted: 12/01/2019 16:02:52
Israel Yosef
Hello LuAnn,
Thank you for your comments.
I learn a lot from your advice.
I did another crop of the photo and saw that the woman was sitting on the edge and the Stone of Anointing and he was behind her.
I hope the Stone of Anointing is now visible behind the back of the woman and the child.
I also brightened and blurred around the woman and the child.
Your opinion?
Best regards,
Israel &nbsp
Posted: 12/03/2019 12:08:00
---
Please log in to post a comment