Gary Stiger
---
October 2019 - My Coral Pal
Original
About the Image(s)
So exactly 11 months ago this guy and I had breakfast together at his place in Bluff, Utah. He had some friends over too, but they didn't seem to want to join us. That was fine with me since I'm not very fond of crowds anyway, and so the two of us enjoyed the rising sun and together we chewed the hay to start the day. Back at the ranch, I did some minor tweaks in Camera Raw and then used the NIK Sharpener Pro 3 (not much), Tonal Contrast (CEP 4) (I like this filter), and the Darken/Lighten Center (CEP 4) – that was it for the color image. I used the Antique Plate II in the NIK Silver Efex Pro 2, and did minor adjustments with various options (green filter, border vignette, etc,) – and then did a minor amount of dodging and burning back in Photoshop. He's a fine looking Steed. Sure would like to have another breakfast at the corral – hope my pal is OK.

Camera specifics: Nikon D800 braced on a fence rail, f/11, 1/10 sec, ISO 100, 35mm on a 24-120mm AF-S Nikkor lens.
---
6 comments posted
Oliver Morton
Gary, your story about the photograph really makes the horse come to life. Very well done!
After figuring out that CEP 4 referred to Nik's Color Efex Pro 4, I played with the Tonal Contrast filter. It's a filter that I wasn't previously familiar with, but like you, I like it.
I think the light vignette was perfect for this image. Plus, your post processing gives a magical dreamy affect that provides the nostalgia to go with your story. Nice!
Just to see how it would look with the steed's eye sharp and with a bit more contrast, I played with your photograph in Camera Raw. Here's what I came up with. Thoughts?
&nbsp
Posted: 10/04/2019 09:44:39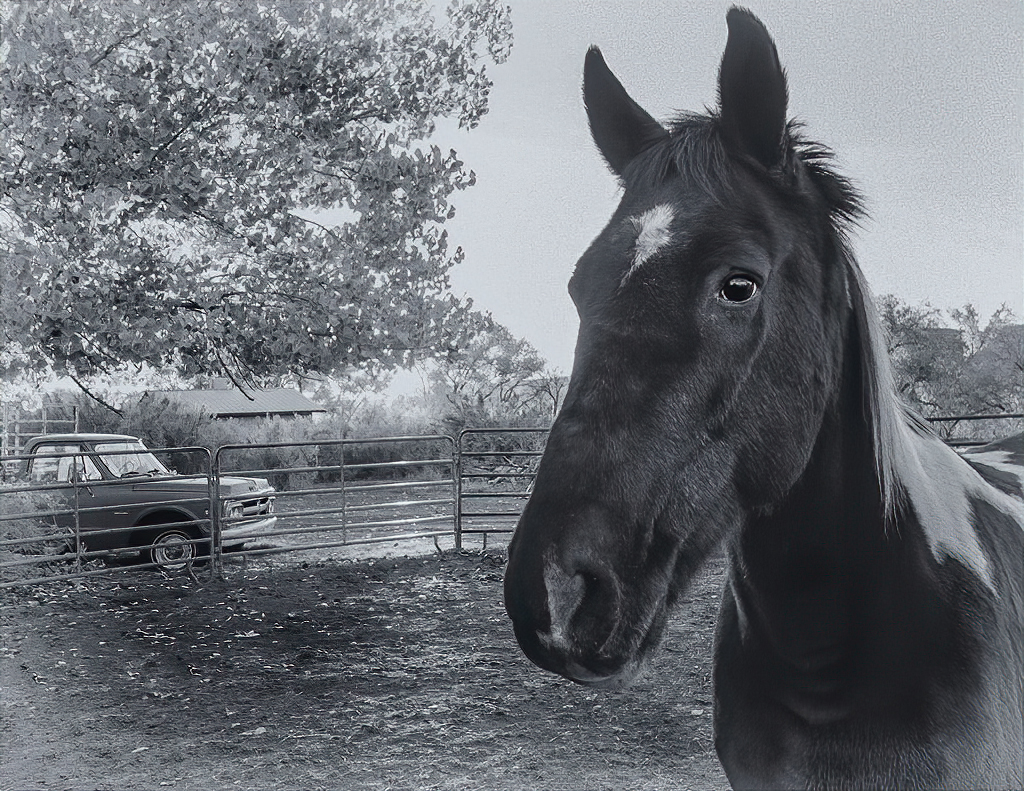 Gary Stiger
I like your take Oliver. Putting more contrast in the tree leaves and ground put more punch in the image, but that eye is a little too strong for my taste. Please continue to work things over for me - all comments are appreciated. &nbsp Posted: 10/06/2019 22:13:04
---
Israel Yosef
Hi Gary,
Great job.
How did you take a long exposure photograph of a horse?
Compositionally, I like everything.
In my opinion, the photo improved after processing by Oliver.
I would blur the ground a bit.
I really want to take private lessons from Oliver and Gary. &nbsp Posted: 10/07/2019 10:26:24
---
Hattie Stamer
I like the conversion of the B/W but also love how the back lighting in the original which gave some very peaceful look to the iamge. The B/W seems covered that lighting up pretty much. Here is my take on the image, which I try to
- in Nik, I used the yellow filter to help emphasize more back-lighting
- darken the tree (control point) seems helping with the morning light going thru the bushes
- more more contrast on the horse face area to add more depth
This just my interpretation from the original. &nbsp
Posted: 10/14/2019 12:13:21
---
Bob Legg
I like the composition of the horse, and old pickup outside the coral. Being a photog who likes plenty of contrast from Black to White, I find Hattie's interpretation more to my liking. Perhaps Gary meant to add more of a dreamy look to the image with his edits since he had thoughts (dreamy?) about his Pals health. In that case it works for me. &nbsp Posted: 10/17/2019 19:33:57
---
LuAnn Thatcher
Hi Gary,
You found yourself a pretty little paint with a star on his forehead; very handsome steed indeed!
I love this story your image is telling. Your friend appears to be in a round pen, with a seasoned pickup and outbuilding in the background. He has a nice calm eye, which is good, and you have his full attention with his ears pointed in your direction.
Just for fun, I pulled your image into Capture One (I can't use LR with Fujifilm) and made some basic adjustments. I played with the brightness and used some layers to make him stand out just a skosh as your subject. I applied a little dodging and burning to the bushes in the background for depth along with the ground in the paddock.
There appears to be a slight bright spot in the center of the frame. If you could adjust that down a little, it would help.
You have a beautiful photo here. I would frame it and title it with your friend's name.
Best regards,
LuAnn
&nbsp
Posted: 10/18/2019 14:19:21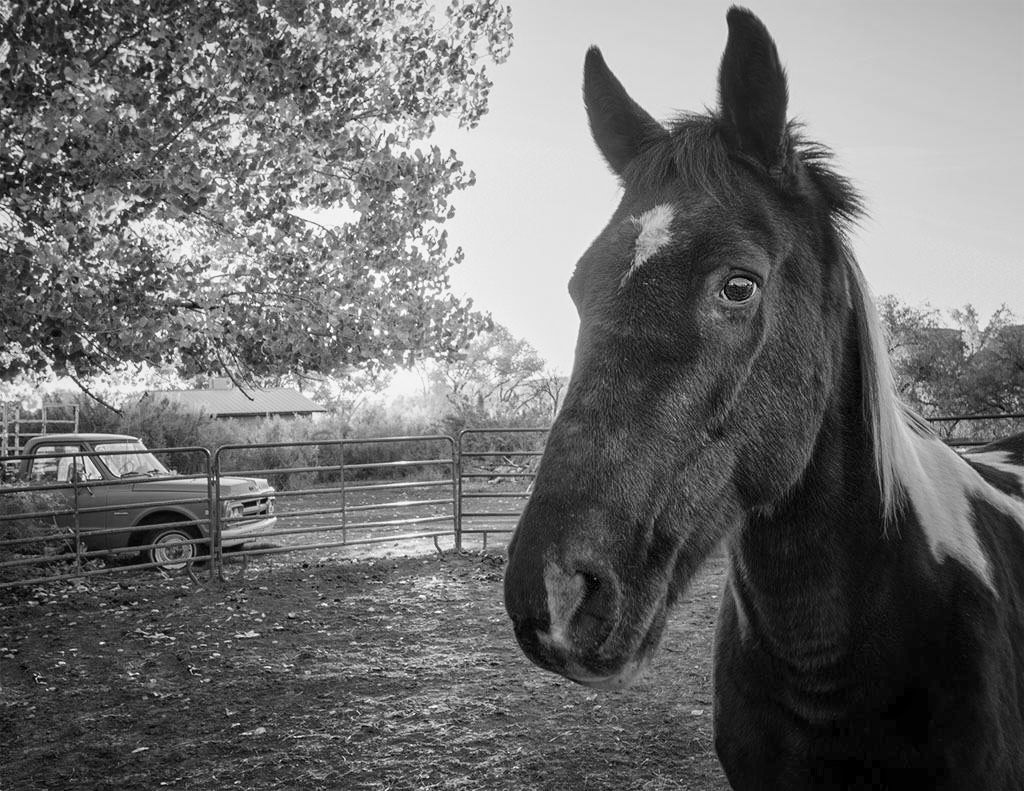 ---
Please log in to post a comment