LuAnn Thatcher
---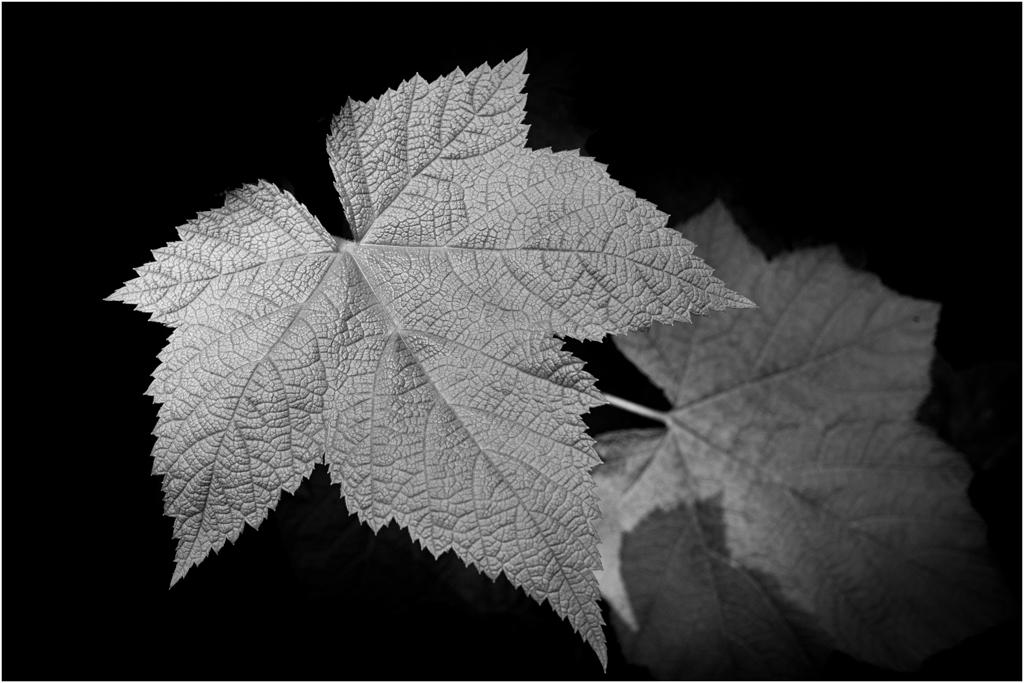 August 2019 - Leaves
Original
About the Image(s)
My photo this month was taken on a hiking trail.

Camera settings: Fuji X-T2, XF23mm prime lens, F/8, 1/250 sec, ISO 200, spot metering.

Processed in LR Classic and Nik Silver Efex Pro2 with the Fine Art Processing. LR I did black and white conversion with basic adjustments.

Look forward to critiques!
---
This round's discussion is now closed!
5 comments posted
Oliver Morton
LuAnn, it's a gorgeous image! I love how the leaves stand out so well in the monochrome version. To me, the cropping is "near perfect" and the tones are beautifully done. Excellent!

A couple of tiny nits.... I'd like just a bit of more room at the bottom of the main leaf. Also, it would be interesting to see the stem of the background leaf fade into a darker tone as it approached the foreground leaf. This would help isolate the primary leaf.

Outstanding job!
&nbsp Posted: 08/06/2019 09:05:16
---
LuAnn Thatcher
Thank you very kindly, Oliver!

I agree with your comments and I will work on those points before I print the photo.

I had no expectation that this photo would turn out as it did. It was taken in broad daylight and I was out with friends in the woods walking. They were shooting the waterfalls and I was looking for something different.

Best regards, LuAnn &nbsp Posted: 08/06/2019 12:17:19
---
Hattie Stamer
LuAnn, I like how you minimized other leaves and only left two. The tones are well done and very pleasing. I do find the main leave is a bit flat. Maybe you can try some dodge/burn to create more 3D look on the leave.

There is a video might help to explain what I have in mind about using the dodge/burn to create different depth:
https://youtu.be/BGs8l1ip80A &nbsp Posted: 08/07/2019 13:31:18
---
Gary Stiger
Hi LuAnn - for me simplicity is really the hallmark of this image. Mother Nature supplied all the detail needed to make it interesting, and you did a great job of capturing it. I did look at Hattie's video suggestion, and it is quite good. I have not had the time to give it a try on this or on one of my own images - I'm gonna do it though. I think she may have a point on trying to get some definition into this leaf - works beautifully in the video. Very nice image at any rate. &nbsp Posted: 08/12/2019 11:48:32
---
Julie Sheppard
Hi LuAnn - I love the colour version of this but the black and white has the advantage of pulling out all those details in the leaves. I always think of the patterns on a leaf like the roads and subdivisions in a city, so I enjoy seeing them.

I like a dark background so am responding to that, but I wonder if the stem is a bit bright?

Overall its very soft in tones and there is potential for a little highlighting on the top leaf to further bring it forward if you like that.

warm regards, Julie &nbsp Posted: 08/23/2019 02:07:22
---