Bernie Groome
---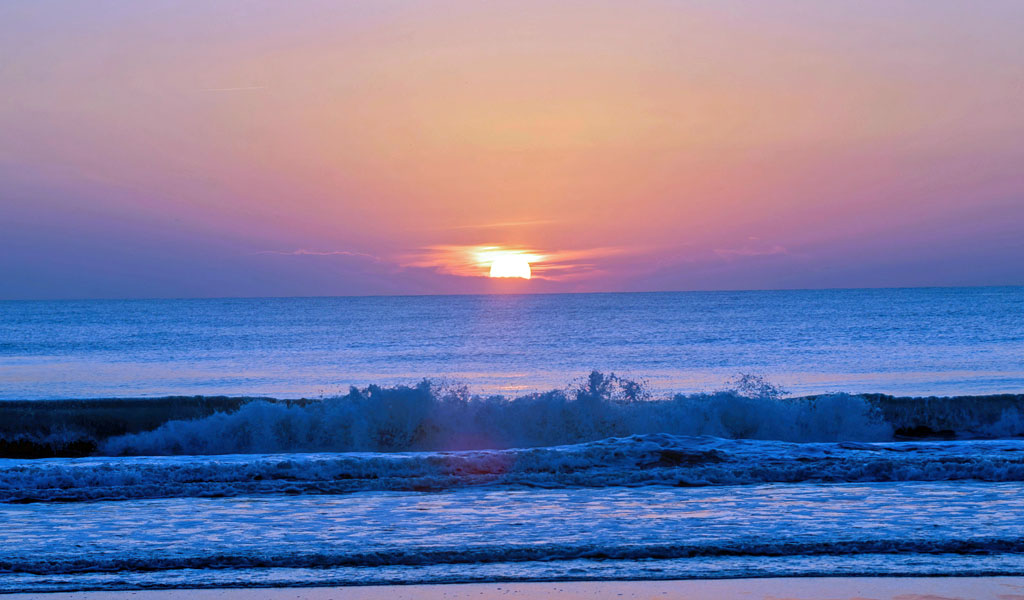 November 2020 - Sunrise at the Beach
About the Image(s)
Nikon D5600
Lens: 18.0 to 300.0 mm
1/200 sec.
f/5.6
65mm
ISO 100


I shot this picture standing on Jacksonville FL beach without a tripod about 15 minutes after sunrise.

I used Adobe Photo Elements 2020 to crop and used Auto Smart Fix and Auto Sharpen on post.
---
5 comments posted
---
---
---
Damon Williams
Hey Bernie,
this is a classic beach/sunset shot. I think your focus is done well, you did a good job capturing the motion of the waves (frankly, I'm surprised 1/200 was fast enough), your colors are well saturated but don't seem overdone, and it's a cool shot.

Do me a favor though; check that the horizon is level. I keep feeling like it's left low.

And, do yourself a favor; look into Lightroom. I held out for about 10 years and just got into it in Feb. I wish I'd done it a long time ago. It's easier to learn than I thought it would be, is GREAT for organization, and the sooner you pick up the skills you need to take advantage of it, the better. You'll thank me. &nbsp Posted: 11/05/2020 23:37:49
---
---
---
Richard Story
BERNIE,
NICE TO SEE PEOPLE OUT AT MY TIME OF THE DAY!
NICE COLOR IN THE SKY NICE ACTION IN THE SURF.
YOUR HORIZON WAS OUT OF LEVEL SLIGHTLY,I STRAIGHTENED IT A BIT AND ADDED A DIFERENT CROP, REDUCING THE SKY WHICH HELPS PUT THE HORIZON OUT OF THE CENTER, AND ADDED A LITTLE PUNCH IN THE SKY, HIGHLIGHTING THE CLOUDS A LITTLE, OPENED UP THE SHADOWS IN THE WAVES, GIVES IT A LITTLE BOOST.
I HAVEN'T USED ELEMENTS IN MANY YEARS SO I DON'T KNOW WHAT THE OFFER NOW, BUT AS DAMON SAID LIGHTROOM IS AWESOME AND VERY EASY TO USE.
&nbsp
Posted: 11/06/2020 21:07:11
---
---
---
Jane Pittenger
Such a gorgeous time of day. I have to echo what others have said re straightening the horizon and how much I like LR. I like the sense of balance that comes with it being so centered despite rules of composition. To my eye your auto sharpening overdid it on the ocean behind the surf...looks a bit crunchy. Re Richard's version...it is such a tricky balance between subtle restful morning colors and a bit more saturation. I guess it would depend on the feeling you want to create. &nbsp Posted: 11/07/2020 14:08:05
---
---
---
Dianne Arrigoni
Bernie this is a beautiful sunrise, lovely colors. I too love LR. I think this is a bit soft however because you were so wide open to be able to get the shuttle speed to 1/200. I think if you used a tripod and maybe f/8 or f/11 and slightly slow slower shutter speed it might be sharper or you could go for the soft water look. I'd definitly go back to play with this some more. Beautiful &nbsp Posted: 11/20/2020 16:52:24
Bernie Groome
Thanks Dianne, I'll give it a try. &nbsp Posted: 11/20/2020 21:05:53
---
---
---
Please log in to post a comment