Jane Pittenger
---
October 2020 - Paddling Into the Dawn
About the Image(s)
Sony A7R4
24-105 mm lens at 71mm
1/200
F 8
ISO 100


I decided to post a photo taken post covid when most photos are captured within a few miles from my house stretching my limits as a photographer to find something that feels fresh. My photomojo is in the pits! This was taken at dawn
---
14 comments posted
---
---
---
Damon Williams
Yeah, well, I don't know. This doesn't look so bad to me. I think the composition is pretty good with nice texture up front, good detail in the middle, and something to look for in the background. the leading line of the right shoreline helps you get to the kayakers, who are pleasantly, but not distractingly, brighter than the surroundings. I like the detail, light, and color of the trees across the slough (is this the Umpqua near Florence?), and the mist on the river and in the Coastal Range.

I think the reeds and bush on the right are darker that you might want them, but to tell you the truth, not by much (I can still see detail in there). Also, since there's not much detail in the sky, so you could dehaze or drop the exposure to get some...or crop most of it out. Have you thought about a horizontal flip on this one? Not sure it'd matter, but maybe.

Still, for not having your mojo on, you seem to be cranking them out anyway. Good job. &nbsp Posted: 10/04/2020 17:30:10
Jane Pittenger
Thanks. I'll ponder your ideas but for the meanwhile, this is Sutton Lake in Florence and the ocean is West fo here so flipping it would make the sun rise on the wrong side! &nbsp Posted: 10/04/2020 18:14:30
Damon Williams
OK. So it'll be 180 out. But who'll know? I promise not to tell. ;) I only suggest that because it'd put the near high ground (that bush) on the left. You know, that whole upper-left-to-bottom-right thing. Does that matter? I don't know about that. Are we programmed by the way we read? I don't know about that either. But I do know that in the club environment, they like it that way. It's a convention. &nbsp Posted: 10/04/2020 21:41:52
---
---
---
Damon Williams
Wow. That's a toughie. Hmmm. The reeds don't look any lighter to me, and the more that I think of it, the more that are kind of looks like a dark blob to me. I can see that you've brought more definition to the sky, but I was hoping that would give texture, and not just more definition to the blue/pink line. As for the flip, man, I don't think that does a damn thing for it. Which, for me, just brings into question the validity of that convention (which is what it is, a convention, and not a rule), but that's just me.

I don't know. What're your thoughts? Why don't you humor me and give those reeds and bush (on the left now) a strong bump up in exposure and see what you think. I mean, this is about making this thing look like what YOU want it to look like, not what I want it to look like.

It's a fun exercise really.

Questions: What would you say the "subject" of the image is? Do you believe it sufficiently grabs the eye? If it does, is the image telling the story you want? If it doesn't, how can you get the subject to grab the eye? &nbsp Posted: 10/08/2020 14:45:45
Jane Pittenger
I absolutely love the conversation and pondering back and forth and the exercise. For me the subject is the mystery/magic of paddling into the fog. I will boost the reed exposure next time I'm on my computer. I confess i forgot that suggestion &nbsp Posted: 10/08/2020 14:54:50
Damon Williams
Yeah. This is kind of the fun part.
Uh, I think what you're telling me is what you see as the "story" (the paddling into the fog). And, I think that goes a LONG way toward creating an interesting photo. I like to think of the story as being what the image conveys that ISN'T in the frame. Having a story that your image conjures in the viewer's mind is a real winning aspect to an image, and something judges look for.
But, what I'm asking is; what INSIDE the frame, is the thing (or things, or whatever) what you want to the viewer's eye to go to. I'll spoil it a bit, and say that for me, it's the kayakers. But it's not about what I THINK the subject is, it's about what YOU want the subject to be. And, whether or not you feel that your subject captivates the eye in the way you want it to. So, what's the subject (area of interest, focal point, whatever) of the image and does it captivate the eye the way you want it to? &nbsp Posted: 10/08/2020 15:25:52
Jane Pittenger
I will share some thoughts and a question in a few minutes but wanted to post the latest version before I shut down the computer &nbsp Posted: 10/08/2020 19:53:59
Jane Pittenger
First, the question. I edit in adobe color space and size for export in PS. In Ps how do i change to SRGB for export so I can see it before saving? Re your wonderful questions, for me also the focus is the kayakers but they aren't in sharp focus so, in my mind, I split the subject between the fog and the kayakers. I like your thought re the story being outside of the frame. Lots to ponder which I love &nbsp Posted: 10/08/2020 20:52:44
Richard Story
JANE, FIRST OFF I ACCIDENTLY REMOVED YOUR REDITED IMAGE. PLEASE PUT IT BACK UP. YOU CAN DO THAT AS A REPLY TO THIS COMMENT. THANK YOU &nbsp Posted: 10/09/2020 09:57:15
---
---
---
Damon Williams
Oooh. To tell you the truth, I don't know crap about Ps. Funny you should ask. I wanted to try a multiple exposure shot to enter into the PID Creative division, and so I installed Ps two days ago for the first time. I watched a youtube vid of the process and realized it was WAY over my head so I closed the application with my tail between my legs. That's a long way of saying: I have no idea Jane.

I think there are other ways of bringing the eyes to the kayakers, without showcasing their state of focus. A radial filter could do it. A vignette maybe. Possibly bringing the whites down, to de-emphasize the fog, and bringing yellows up to brighten the green kayaks. Would have to experiment. &nbsp Posted: 10/08/2020 23:33:56
---
---
---
Richard Story
JANE,
I SEE THAT YOU AND DAMON HAVE BEEN HAVEING QUITE A LONG DISCUSSION ON YOUR IMAGE ALREADY SO I DON'T FEEL THAT I NEED TO COMMENT TOO MUCH.
WITH THAT SAID ONLY THING TO SAY IS I DO LIKE THE IMAGE FLIPPED AS YOUR LEADING LINE(THE SHORELINE) DRAWS MY EYE TO THE RIGHT AND PLACES THE KAYAKS IN A BETTER PLACE IN THE FRAME AS MY EYE IS USUALLY SEES MORE ON THE RIGHT SIDE.
I DID LIGHTEN UP THE FOREGROUND BUSHES ON ON THE LEFT ENHANCING THE LINE EVEN MORE. ALSO COULDN'T BRIGHTEN UP THE KAYAK MUCH BUT DID JUST A LITTLE.
DO EITHER OF YOU USE LR??? BECAUSE IN THERE YOU HAVE THE EASIEST TOOL FOR STACKING HDR TYPE IMAGES KINDA A ONE BUTTON OPERATION.
AGAIN JANE SORRY FOR DELETING YOUR SECOND IMAGES , I DO WANT TO SEE IT AGAIN THANKS &nbsp
Posted: 10/09/2020 10:07:01
Jane Pittenger
I do use LR and I do often stack images but not with moving subjects &nbsp Posted: 10/09/2020 10:44:02
---
---
---
Dianne Arrigoni
I like this photo Jane. It feels like a cool, quiet early morning. I think I would crop 1/2 of the sky off the top though. I don't think the image needs that much and there really isn't much happening up there. Maybe crop an inch off the right side as well as it's pretty dark and heavy. I played with it in LR. Dodged the right grasses a little and burned the sky after cropping to highlight the fog a little more. Also added a little vignette. I like this image because it feels so calming. PS I haven't read any of the above yet. &nbsp
Posted: 10/20/2020 01:20:15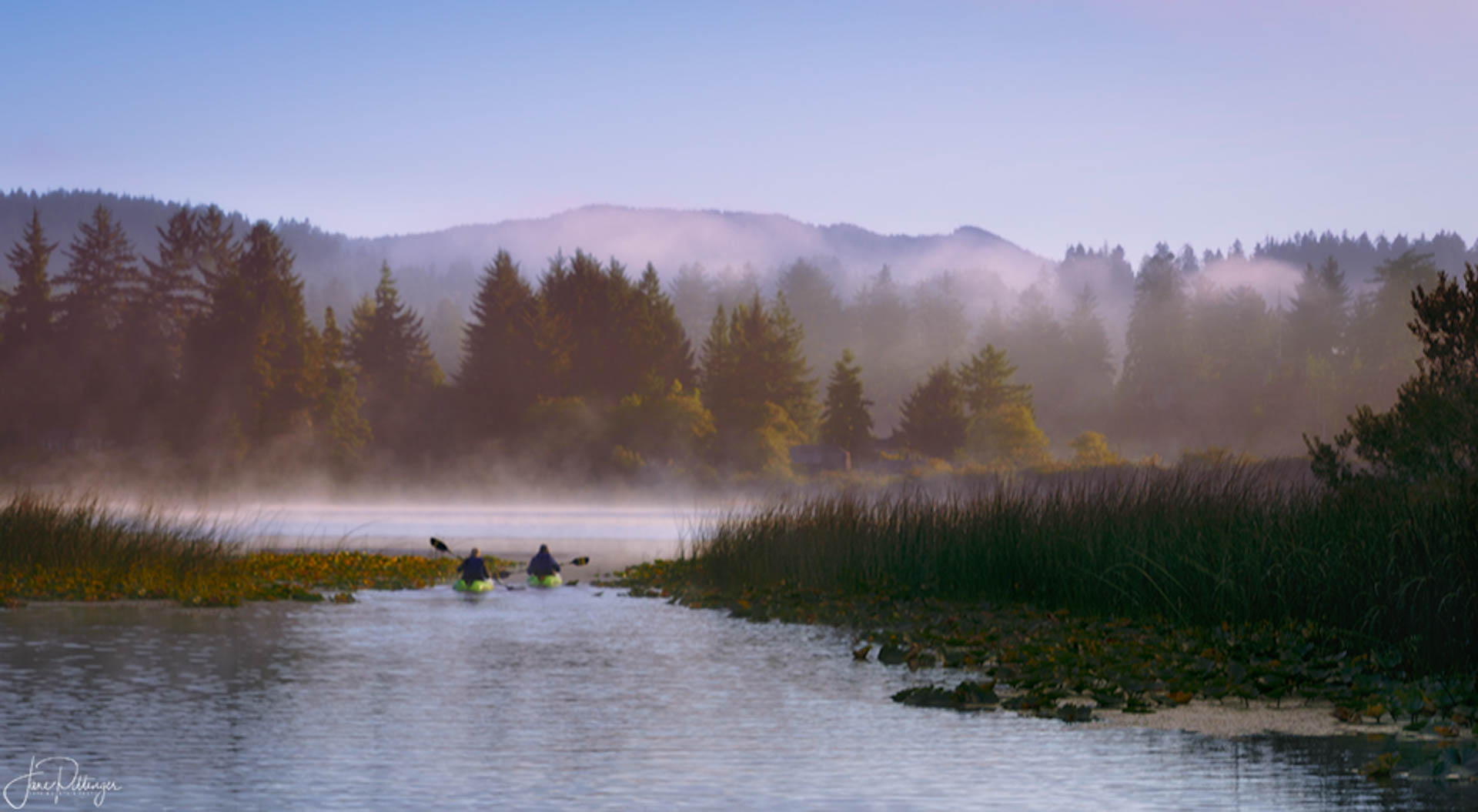 ---
---
---
Please log in to post a comment