Jane Pittenger
---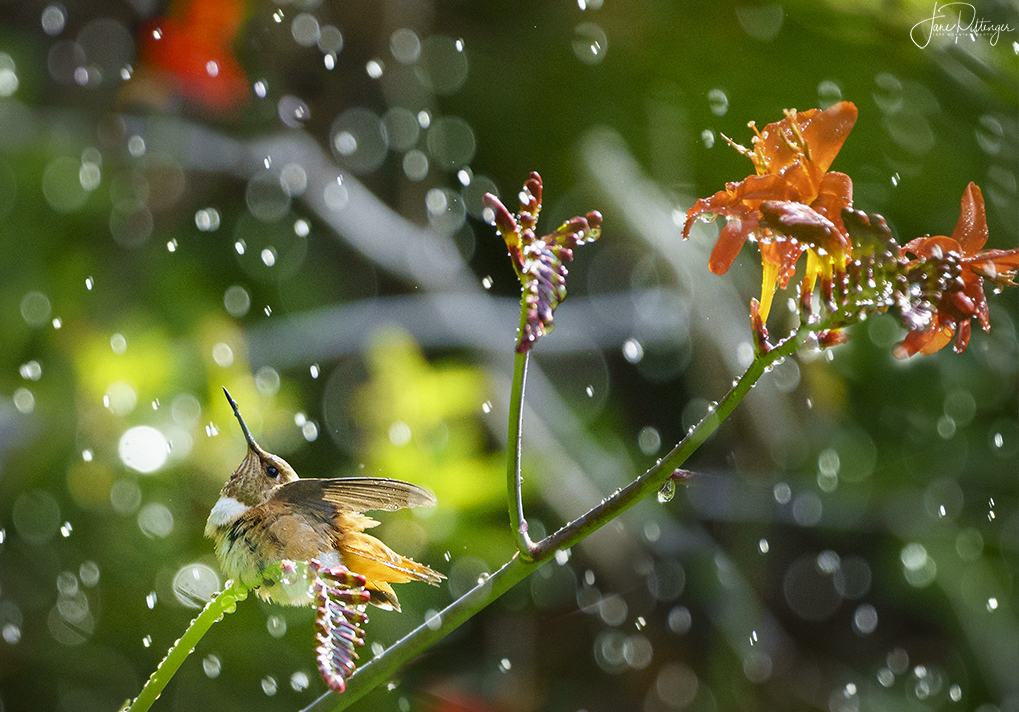 September 2020 - Raindrops Keep Falling On My Head
About the Image(s)
Sony A9
Sony 100-400
400 mm
1/2000
F/5.6
ISO 2000

This Summer we bough a little solar powered fountain for a bird bath hoping to attract the hummingbirds.
No such luck.
But they did like the sprinkler and I had a delightful afternoon photographing them.
I edited it in LR and PS cropping a lot, adjusting the exposure a tad, decreasing noise with mask to keep detail in hummer, and adding a radial filter to help draw the eye to the bird.
I wish the bird had been in a better spot in the frame but I wanted to show the crocosmia he was sitting on and there was a tangle of distractions to the left.
FYI she is a rufous hummingbird.
---
12 comments posted
---
---
---
Emmy Denton
Hi Jane, humming birds are so hard to capture. I spent 8 hours one day with the photo club I belong too and didn't get one shot. I like how the bird seems to mirror the other two flowers in your photo. I really like the out of focus drops. There is one very bright drop next to the hummer you might consider de-emphasizing by selecting it with the radial filter and changing its hew slightly to match the other drops. There are also three out of focus backround branches you might try to do the same to. What a fun photo - it communicates the joy you must have felt watching her play with the sprinkler. &nbsp Posted: 09/07/2020 05:32:27
Jane Pittenger
---
---
---
Bernie Groome
Very impressive. Tack sharp. Humming birds are so difficult. Did you consider cropping out part of the crocosmia to emphasize the humming bird? &nbsp Posted: 09/07/2020 16:39:35
Jane Pittenger
Thanks Bernie. I have lots of shot of hummingbirds with less of the environment so I was wanting this to have her in her environment &nbsp Posted: 09/07/2020 19:13:04
---
---
---
Damon Williams
I love all your sparkly water droplets Jane. In fact I think that's a super effect, especially the way they bokeh due to your use of DoF. Colors are great too, well done. And your bird is tack sharp, which is no small feat. I like its very natural posture too. I think your use of DoF does a good job of separating the bird from the background too.

If I were going to make some suggestions for improvement, and this is just me, I would say that the bird merges with the flower in front of it more than I would prefer. I mean I'd like to see the bird, unobstructed.

I think you could crop out the rest of those flowers too without harming the image at all. If you want to keep them, to balance the bird, I feel it's probably best to make sure the entire flower is in frame. Maybe just crop out the flower on the right?

I sat out in the hot sun a lot this spring trying to shoot hummers in flight. Talk about challenging. I did some research and the folks who are able to really freeze them in flight don't use ss, they use speed lights. Apparently, at full strength, a speed lights duration is not all that fast (maybe 1/1000 as I remember), but at 1/32 or so, the duration is only like 1/16Ks or something like that. But, because it's so much less light, you need WAY MORE flashes. So these folks were using up to five speed lights to properly expose the birds. I didn't have the money or commitment for that sort of thing. Anyway, look it up. It's fascinating. &nbsp Posted: 09/07/2020 19:46:40
Jane Pittenger
Damon Williams
I don't know about you Jane but this is a much more powerful image to me Jane. I like this a lot. Man the colors are just perfect. Nice bokeh the bird is in just the right portion of the frame (IMHO). Balanced composition, to my eye. The only thing that could make this better is to have captured the bird's eye or eyes. I like the little sparkles in the background. I just can't nitpick this too much at all. Good work lady.

But what this brings up, is what kind of images we're presenting to the group. Are we presenting to each other out top images? Or, are we showing the group our head scratching images?

I confess, my real goal here is to take advantage of your practiced eyes to help me understand why my also ran images don't quite make it. I definitely have images that I like, or want to like, but that just don't quite cut it for me or anyone else. I want to know what I'm doing wrong, and I want you and the club to help me understand that.

One of the best things we can do for each other is to be honest, direct, and clear about how each of us has failed. Acknowledging our own failures is how we move forward. Of course, delivery is key, and the recipient needs to be a grown up with thick skin.

Of course, these are just my opinions. Thanks for putting your work out there Jane. I love this shot. &nbsp Posted: 09/11/2020 19:05:43
Jane Pittenger
I totally agree re wanting help with my images that I don't think work perfectly. That's why I didn't post the second one! I'm frankly tired of "critiques" that say "great shot" "I love it" etc. if it seems that I'm not open to people's suggestions, I've expressed myself poorly. The cropping ideas simply didn't help me create the environmental shot I am aiming for. I totally agree re the flower being cut off on original shot not being good...can't figure out how to fix that &nbsp Posted: 09/11/2020 19:22:42
Damon Williams
OK. Well, IMHO, the thing to strive for is an environment of mutual admiration, in which trust allows each contributor to really take the submitter to task. Now, having said that, this is contingent on the good will of both the submitter and the viewer. And, critiquers have to be able to say some thing credible. If someone says "this is nice. Great focus." That's not particularly actionable. But, if I were to say "Jane, this is good, but that is bad," you would have to know that I'm coming for a place of competence, and concern for your feelings and your image.

I guess, it really just has to be a relationship building process. You don't know me. I have no credibility as a photographer or critic. Let's just move forward. I want to be part of the reason your photography reaches the state you want it to. &nbsp Posted: 09/11/2020 19:38:25
Jane Pittenger
Agreed &nbsp Posted: 09/11/2020 19:46:48
Richard Story
EXCUSE MY SIMPLE ANSWER "NICELY PUT"

YOUR RIGHT ON ALL POINTS, GUYS THAT'S WHAT ITS ALL ABOUT. &nbsp Posted: 09/11/2020 19:53:11
---
---
---
Richard Story
JANE,
NICE CAPTURE OF A PLAYFUL MOMENT!
I LIKE THAT YOU WERE ABLE TO CATCH THIS LITTLE GUY,PLAYING IN THE RAINDROPS IT ADDS A LOT MORE DRAMA TO THE IMAGE.
YOUR EDITED IMAGE THAT YOU DID IS A DEFINITE IMPROVEMENT.
THE COLORS ARE NICE AND THE BOKEH IN THE BACKGROUND IS REALLY PLEASANT. THAT REALLY BRIGHT GREEN RIGHT BEHIND THE BIRD KEEPS PULLING MY EYE OFF THE HUMMER.
AND THE FLOWERS ALSO DRAWS ME OFF THE PRIZE.
YOUR SECOND IMAGE THAT YOU PRESENTED TO US IS A GREAT IMPROVEMENT. EVEN IF WE DON'T SEE THE EYE, WHICH WOULD ADD A LOT OF IMPACT.
THE OTHER FLOWERS ARE THERE, BUT THE HUMMER IS STILL THE FOREMOST SUBJECT.
THE BRIGHT GREEN IS STILL THERE BUT HERE IT HIGHLIGHTS THE BIRD, STILL MAYBE YOU COULD, TUNE IT DOWN A LITTLE.
WE PROBABLY ALL KNOW PEOPLE THAT SHOOT THESE LITTLE GUYS, AND BELIEVE ME THERE'S A LOT OF STROBE LIGHTS GOING OFF.
BY THE WAY YOU GET BONUS POINTS FOR THE RAINDROPS.


&nbsp Posted: 09/13/2020 13:12:20
---
---
---
Please log in to post a comment