Hans-Werner Griepentrog, PPSA
---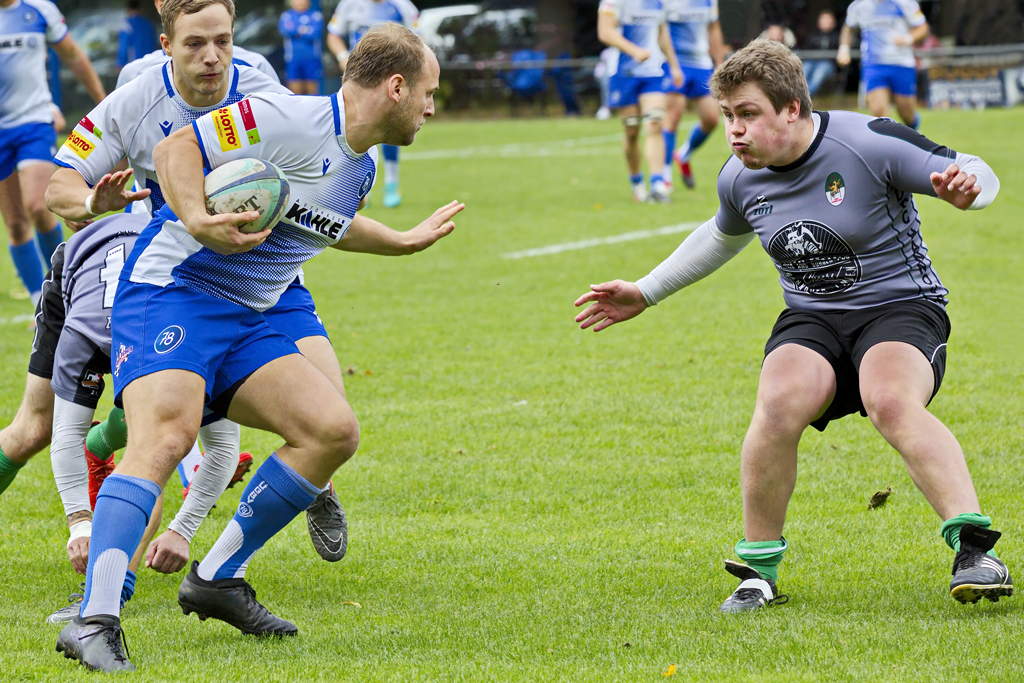 November 2020 - It's My Ball
About the Image(s)
Title: It's My Ball

I haven't been able to photograph sports for 11 months. Because of Covid-19, all sports events in my state of Lower Saxony were cancelled. Also, the games of the first and second rugby league were cancelled this season. At the end of September, 2020, the decision was made that amateur sporting events with up to 500 spectators were approved with appropriate conditions. The stadium could only be entered after prior online registration and with mouth and nose protection.

The six rugby teams from the Hannover region that play in the first and second rugby leagues then played the Hannover Rugby Cup at short notice. On October 4th, I had my first sports event this year. Hannover 78 (the oldest German rugby club from 1878) received the DRC Hanonver in the local derby.

I chose this "It's My Ball" for my November image because I was attracted by the expression on the face of the DRC player in the grey jersey. How he confronted the attacker of Hannover 78 (with ball), with his inflated cheeks, it was as if he wanted to say, "You can't get past me."

From November on, we have the lock down again in Germany. Amateur sports will be stopped because of the increased Covid 19 cases. So, unfortunately I will not be able to photograph any sport this year.

Camera: EOS 5D MKIII, (It's a full frame image.)
Lens: EF 70-200mm f2,8L IS II lens at 145mm.
Settings: f:5.6, ISO 800, at 1/ 1000 sec.

---
3 comments posted
---
---
---
Dan Minto
Hello Hans, I think this one is a little cluttered. I like the action stopping frame, everything is sharp and the colours are well balanced. If there had only been the two players, this would have been a far better and stronger image. The players behind them spoil it, especially the cut off leg and player behind to the left. I know from experience that it is so hard to get this exact type of image, I would just keep plugging away until it is reached.
I wonder if the layer managed to get past the player on the right!! &nbsp Posted: 11/06/2020 11:20:42
---
---
---
Bruce Benson
Hans, sorry to hear about the restrictions in Germany, it is much the same here in the USA. I would really like to come visit my son in Frankfurt since I have not seen him for several years.. I pretty much agree with Dan's comments. The look on the defenders face make this image. Bruce &nbsp Posted: 11/11/2020 20:24:13
---
---
---
Gerald Emmerich Jr
I really like the expression of the player on the right side of the frame, and the interaction between the two players is great. You've anticipated the action very well.

But I agree with Bruce and Dan that the background is very distracting, and my eye keeps going to the player just behind the ball-carrier with the top of his head cropped. Unfortunately, I don't see any cropping solutions to these background problems.
&nbsp Posted: 11/23/2020 10:06:13
---
---
---
Please log in to post a comment