Bruce Benson
---
December 2019 - Roldan Being Fouled
Original
About the Image(s)
Like last month's image, this was taken at the MLS playoff game Seattle Sounders vs Real Salt Lake City. It involved the same Seattle player Christian Roldan being fouled as last month's image.

Image Data:
1/640/F 2.8/ISO1600
Canon 1DX MK 2
Canon 400 2.8

I straightened the image and adjusted the exposure contrast and cropped it quite a bit.
I really appreciate all of the kind comments from everyone on last month's image.

---
This round's discussion is now closed!
9 comments posted
Gerald Emmerich Jr
This is another great soccer action image. Of course, your tighter crop improves the original image dramatically. However, I think you might have cropped even tighter. I rotated counter-clockwise slightly, and then I cropped the top to eliminate the out-of-focus green in the upper left and upper right. I cropped the sides to eliminate some of the recognizable out-of-focus letters in the wall. I even cropped the bottom to eliminate yard line. (I also increased the contrast a bit as well.) I think getting rid of these minor distractions helps. &nbsp
Posted: 12/04/2019 21:32:13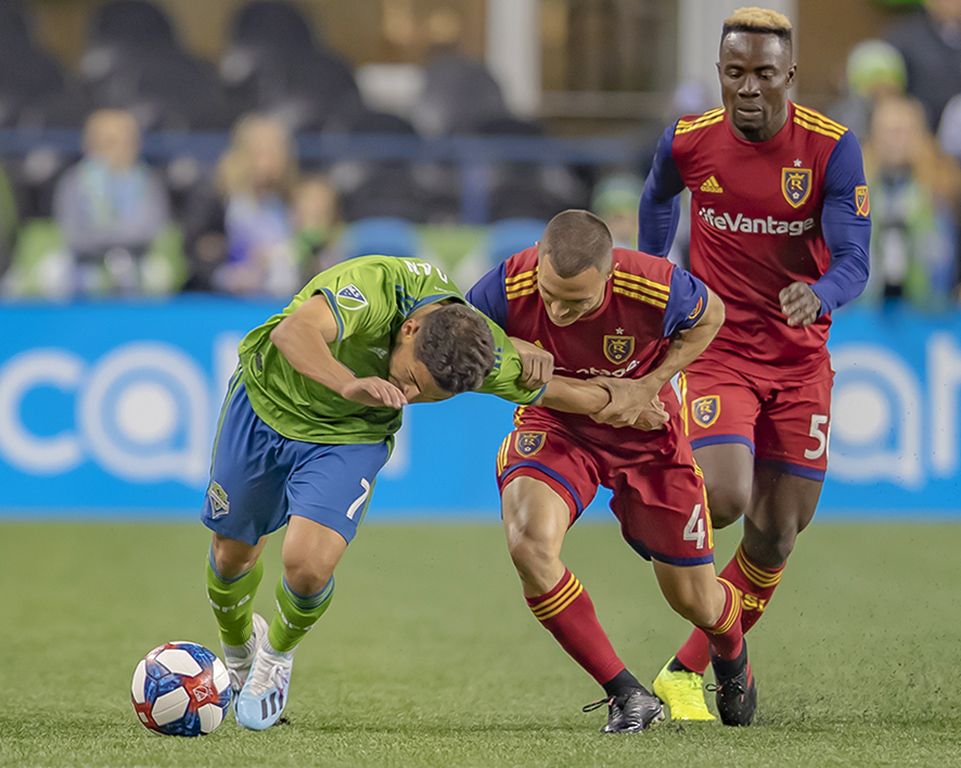 Bruce Benson
Gerald, Good points, thanks for sharing them. Bruce &nbsp Posted: 12/13/2019 17:27:48
---
Diane Brown
I like that this shot is not a typical soccer photo, and shows a physical interaction between the players. In my opinion it would be stronger if you had one or both of the faces of the protagonists. Perhaps you could kneel. I also agree the tighter crop helps. &nbsp Posted: 12/11/2019 05:18:42
Bruce Benson
Diane, Thanks for looking, agree that seeing the faces would improve,the image. I was actually pretty low for this image, the players are just looking down hiding their faces. My main focus of photography is wildlife and really make an effort to see the subjects face. I am looking forward to seeing some of your images. Bruce &nbsp Posted: 12/13/2019 17:37:19
---
Brenda Monahan
Hi,

I'm the new girl here. I love soccer - I spend a lot of time taking pictures of my kids and their teams. Hopefully, I will learn something from you!

I like this shot. I agree with the above comments regarding cropping this tighter. I do wish we could see more of the player's faces, though. &nbsp Posted: 12/13/2019 12:49:12
Bruce Benson
Thanks Brenda, I hope you can learn some good points from all of the group. Bruce &nbsp Posted: 12/13/2019 17:39:51
---
Karl Hokanson

(Group 50)
Bruce - Great shot and angle. I usually don't get location - hand holding or on a monopod. Really like Gerry's suggestions. That 400-2.8 looks like a sweet lens with your full frame Canon. No other suggestions. One question did Roldan get the PK? &nbsp Posted: 12/14/2019 14:38:42
---
Bruce Benson
Thanks everyone for your comments. All are well taken. Bruce &nbsp Posted: 12/20/2019 14:50:55
---
You continue to show us some amazing soccer action … what a great capture in this image.
I really like the struggle between the two players for possession of the ball. I might consider cropping in very close … I don't mind that the background player is cut off somewhat. &nbsp
Posted: 12/29/2019 20:54:17
---