Karl Hokanson, EPSA
---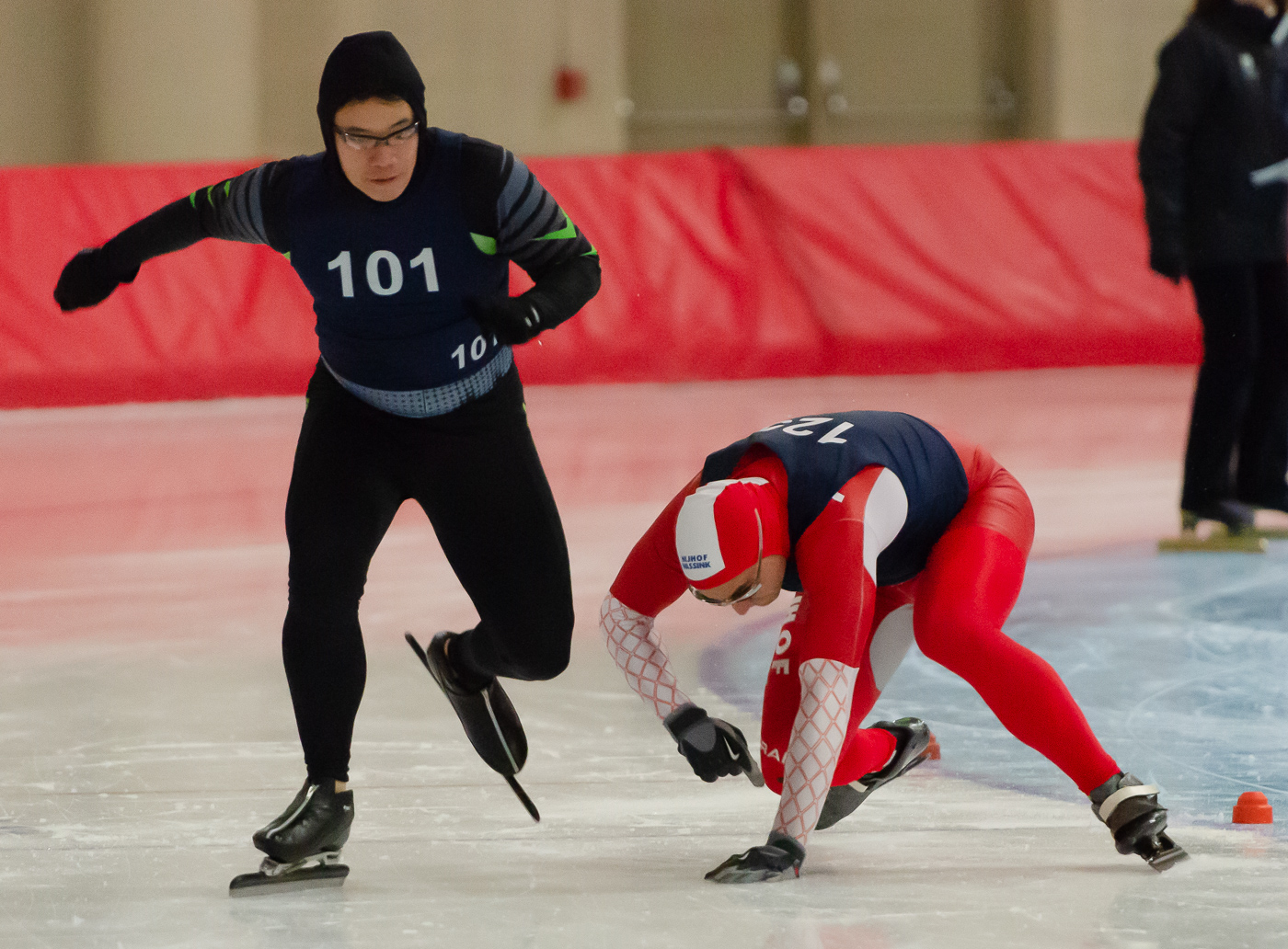 October 2019 - Untitled
Original
About the Image(s)
All comments welcome. Which do you think has more drama/appeal, The two views ( one or two seconds apart) depict the start of a Masters (over 40) race. Unfortunately the lighting for this race is not the TV lights (saves the rink $5000 - $6000 K per day.
---
This round's discussion is now closed!
5 comments posted
Karl Hokanson
Note the later image is the smaller one in "original". It allows cropping on the right side. &nbsp Posted: 10/06/2019 13:31:07
---
Diane Brown
I like the body position in original. It is dynamic and the photo tells a story. I am not too sure about the crop as he might be moving out of frame a bit. &nbsp Posted: 10/14/2019 12:04:53
---
I actually kind of like the larger image more than the original.
Indeed, I'd crop off the lane marker and the individuals in the upper right. This slightly crops off the left foot of the fallen skater … but I don't mind that.
I like that the skaters are separated from each other … compared to the composition in the original image. &nbsp
Posted: 10/27/2019 20:57:47
---
---
Gerald Emmerich Jr
I also like the untitled image better than the original, mainly because of the separation of the two skaters. I also was intrigued by Joe's "radical" crop. I tilted the image, then cropped to eliminate the gray belt and keep in the left leg and skate on the skater in red. I'm not sure that the extreme crop would result in a competitive image, but it is an interesting crop. &nbsp
Posted: 10/27/2019 21:44:28
---