Daniel De Cort
---
November 2020 - Caught
About the Image(s)
Caught: I took this photo in Brittany (France) in a survival course through the woods. The boy is stepping across a narrow bridge.

ISO:320, 1/200, f13, 46mm.

---
This round's discussion is now closed!
6 comments posted
---
---
---
Hassan Sadek
Beautiful natural frame by trees, the subject is so clear in the middle and eye attracting. The blue sky is perfect as the boy is in silhouette.
The only comment is to remove the small noise under the boy. &nbsp Posted: 11/15/2020 06:25:11
---
---
---
Marius Bodea
Daniel De Cort
I like this B&W version. Thanks. &nbsp Posted: 11/20/2020 07:27:25
---
---
---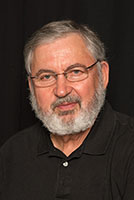 Isaac Vaisman M.D.
Daniel, good silhouetted image of what looks like a kid walking in a mesh, completely framed by the trees and just having the small opening showing the mesh which adds some mystery to the image. Perhaps I would crop some of the trees around the opening to make the silhouette stand out more. The noise Hassan eludes to, is a sensor dirt. &nbsp Posted: 11/16/2020 14:51:06
---
---
---
Gloria Sprung
Daniel, I like both versions of your image- color and B&W suggested by Marius. The human form is easily recognizable and the boy's limbs form a triangle; the gesture of his hand and legs shows movement. The clean negative space below the subject adds a resting place for the eye and balances the otherwise texture of the leaves and trees. Good job! &nbsp Posted: 11/18/2020 05:25:29
---
---
---
Bruce Goodman
I looked at this photo and I immediately said "I want to be that little boy!". The main subject is nicely framed by the trees (agree--- could be cropped a little more to add more focus on the boy). Nice image. Thanks. B &nbsp Posted: 11/18/2020 18:12:23
---
---
---