Bruce Goodman
---
October 2020 - Dinner After the Workout
About the Image(s)
Shortly after retiring in mid-summer 2018 I took the opportunity to attend an Adorama photo walk through the Flat Iron District in New York City. A bit strange that for someone who worked in NY for almost 40 years that I would need to come back into the city for a photo walk. But that is the way of the commuter with almost 3 hours of commuting travel a day. You want to get in to the city as fast as possible and at the end of a long day go back home.

This shot was taken in front of a Chipolte on 6th Avenue. The two photos I took of diners in the window were the last of the day as it was already quite dark. I liked the B&W as it eliminated distracting elements in the photo inside the restaurant.

Shot with Olympus OMD EM1-Mark II. September 17, 2018 at 7:13 PM. ISO 1600; 40 mm; f 2.8; 1/80 sec. Post processed first in LR . After desaturating the image and adjusting it I selected one of the LR B&W Red Filter preset for the final version. In PS cloned out some distracting items.

---
4 comments posted
---
---
---
Gloria Sprung
Bruce… I like the window frame which draws your eye in and immediately surrounds the subject. Good idea to convert to B&W with a nice range of tones from black to white. The overhead lighting accentuates his physique but especially his hands and the act of having a meal . Well done! &nbsp Posted: 10/14/2020 06:34:02
---
---
---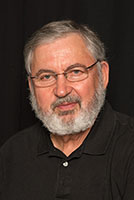 Isaac Vaisman M.D.
Bruce, indeed a bodybuilder replenishing after the workout. All the ceiling lamps, which are not overexposed are pointing down and framing him and making his muscular body stand out. The background is muted and not distracting, and the window wood frame also makes him prevail in the image. Good B&W interpretation. &nbsp Posted: 10/14/2020 15:16:04
---
---
---
Marius Bodea
Many good things in this image.... it`s very sharp, well focused and very good exposure. Very nice composition with a frame that emphasizes the subject and a B&W that fits perfectly... A very good image! &nbsp Posted: 10/16/2020 12:54:28
---
---
---
Daniel De Cort
There is a certain contradiction in this photo between the man's clothing and the space where he is in. Very nice conversion to B&W, with rich shades of gray. Nice picture. &nbsp Posted: 10/21/2020 09:36:20
---
---
---
Please log in to post a comment