Isaac Vaisman M.D., FACRO
---
October 2020 - Body Parts
About the Image(s)
Body Parts was created in Tel Aviv – Israel a few years ago. We were walking through a flea market and came across this stand where they had a box of old mannequin parts. I used a Nikon D750 with the Nikkor lens 28-300 mm f/3.5-5.6 at 72 mm and with these settings: ISO 400, f/8.0 and 1/125 sec with + 2/3 EC. The image was PP in LightRoom for white balance, light in the shadows and some clarity and then cleaned in CC 2020 and cropped as such. A 2 px border was added.
---
5 comments posted
---
---
---
Bruce Goodman
OMG.... my first thought was "What kind of doctor are you?"

Tightly cropped and focused on the body parts....I find this image to be very unsettling. From a photographic viewpoint I guess that is good. The image evokes a bunch of reactions. What is the mannequin looking at? The mannequin appears to be thinking, can someone get me out of here? Why are there legs from another mannequin in the same box?

&nbsp Posted: 10/07/2020 18:35:18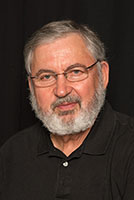 Isaac Vaisman M.D.
Bruce, food for thought........ &nbsp Posted: 10/08/2020 21:22:17
---
---
---
Gloria Sprung
Isaac.. we can always relate to the human form which is easily recognizable whether real or not. The background is surprisingly clean of clutter and there is a clear subject with supporting elements to contribute to a well balanced composition. All the various textures, the corrugated box, the steel cabinet, the tweedy jacket and the monochromatic color palette make for an interesting image that keeps your eye moving around… then settling back on the torso. Excellent crop, framing the important elements of the image. Good capture!! &nbsp Posted: 10/14/2020 06:00:27
---
---
---
Marius Bodea
At first glance ... shocking! Aaa..ok...it's just a mannequin :) I'm kidding ...
I like the fact that the mannequin shows us nudity but at the same time she misses her hands. Also interesting are the two legs and part of a third leg that frames the torso of the mannequin and does not belong to the torso of the mannequin.
I like the composition and the fact that the drawers are a little open makes you wonder if there are other parts of the mannequin in the drawers. Good picture! &nbsp Posted: 10/16/2020 12:19:39
---
---
---
Daniel De Cort
A nice scene, beautifully portrayed. No disturbing things in the background. The photo provides plenty of space to fill in your own story. &nbsp Posted: 10/21/2020 09:20:30
---
---
---
Please log in to post a comment