Randy Andre
---
September 2020 - Museum Line Sights
About the Image(s)
This photo was taken while my wife and I were touring Barcelona in the spring of 2012. We were in line waiting to gain entrance to one of the many museums in the city. This shot is looking into the museum window and capturing the reflection in the window and the display through the window. Visible in the back left corner is the photographer (me) and his wife. 1/60sec; f/3.5; iso 1000; 17 mm on a 17-70mm zoom. I wish I was faster on the realization that this would be a good photo opportunity and had pre-set the camera to a higher shutter speed and was ready to go.

---
7 comments posted
---
---
---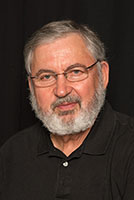 Isaac Vaisman M.D.
Randy, as I said in Hassan's image here we also have the additional gift of having the maker in the frame. Interesting as how the reflections overlap the large Inca artifact. The young woman coming into the frame adds motion to the image. The image is straight bur because the vantage point gives the impression that is not. Overall it is sharp, and the B&W interpretation is very appropriate. &nbsp Posted: 09/05/2020 09:38:56
---
---
---
Marius Bodea
Randy, I think it`s a good image, the B&W it`s the best choice and the layers of foreground with the girl, middle ground with the face and background with the line of people, made a very good spacial interpretation.

I agree with you that a faster shutter speed it was better but, also for more artistic approach a bit slower shutter speed would create a more attractive juxtaposition. Good picture, congratulation. &nbsp Posted: 09/05/2020 16:11:21
---
---
---
Gloria Sprung
Randy.. the size and human connection of this artifact makes for an interesting photo. The girl is coming from the opposite direction of the lineup of folks in the background; and the text in the background is also reversed to that of the show display. A small suggestion is to remove the cornerpiece in bottom left of the image. Although B&W is probably a good choice it would be interesting to see it in color too! &nbsp Posted: 09/13/2020 07:10:33
Randy Andre
Gloria Sprung
Thxs Randy! This color version would have been appropriate too. &nbsp Posted: 09/18/2020 04:54:15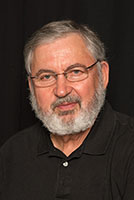 Isaac Vaisman M.D.
Randy, I prefer the color version. It gives more separation to the different layers and items. &nbsp Posted: 09/19/2020 22:16:11
---
---
---
Bruce Goodman
I like the contemplative nature of the photo with young woman in the foreground next to the Inca statue with his eyes closed. They both appear to be deeply in thought. B&W is the more interesting image to me. &nbsp Posted: 09/19/2020 16:33:50
---
---
---
Please log in to post a comment