Isaac Vaisman M.D., FACRO
---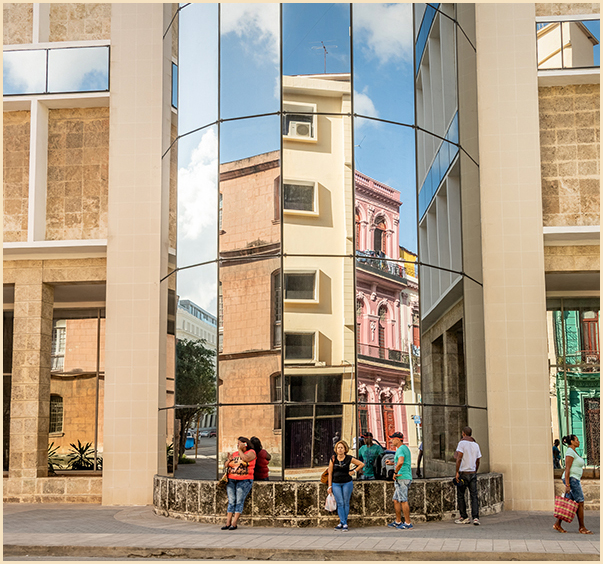 September 2020 - Bus Stop Reflections
About the Image(s)
Created in Habana – Cuba using a Nikon D5 with the Nikkor Lens 28-300 mm f/3.5-5.6 @ 28 mm and with these settings: ISO 400, f/ 8 and 1/1600 sec (middle frame out of three bracketed). It was interesting to see this group of people waiting for the public transportation bus, in front of a building with glass set in groups and at different angles creating reflections from different angles and buildings from the street. The three bracket images were processed using the HDR feature in LightRoom Classic, corrected for white balance, light in the shadows, reduction of the brightness in the glass, cropped, corrected for keystoning and finished with the AI filter in Luminar 4.
---
6 comments posted
---
---
---
Marius Bodea
Isaac, I like your image, the reflection is very beautiful and you had a very good eye to see it. The only observation I related to perspective, with a little adjustment I think the image can be improved.
I want to Thank you, from your photo and description I learned something new, I have not thought so far to use the bracketing technique in handheld street photography, I have always associated this technique with the photo taken from the tripod, with still images like landscape. &nbsp
Posted: 09/05/2020 15:35:17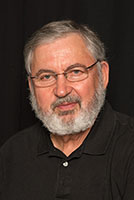 Isaac Vaisman M.D.
Marius, I pretty much shoot three frames bracketing in all of my street photography, even at night. I use 2 f/stops above and below the control. If the shutter speed end up being too slow (blurred image) I only use the other two and combined them in LightRoom's new feature merge into HDR which is very fast and you can create a group from each set and bulk process them.
I did correct this image fro keystoning, but ended up[ with the person at the edge, and walking out of the frame, too close and creating tension, so I left it as shown, but you do have a good point &nbsp Posted: 09/05/2020 15:47:07
Marius Bodea
Thank you Isaac, I will definitely try!
I did`t know if the original image was larger or not, but maybe another variant could be without the women in that frame. &nbsp Posted: 09/05/2020 16:29:11
---
---
---
Gloria Sprung
Isaac… I went to Cuba couple of years ago and never came across a modern glass building. The reflection of Old Cuba in the image is seeing the old with the new. The people look like they have been waiting a long time for the bus and adds a human element and sense of scale. Including the woman in the composition is a good idea as it creates an odd number to the group. I offer a flipped version where the woman is facing the camera and straightened the verticals in Camera Raw. &nbsp
Posted: 09/13/2020 06:40:53
---
---
---
Randy Andre
Very interesting photo. I also would not have thought to use bracketing in handheld street photography. The angled mirror reflection gives the photo a modern art feeling (can't think of the artist's name I am envisioning). Normally when I think of Cuba (i have never been there) I think of old buildings, old cars, not new more modern ones. It would be interesting to see an old car or bus in the reflection of the modern building. &nbsp Posted: 09/14/2020 03:37:02
---
---
---
Bruce Goodman
The angles, reflections and colors really make this image. Additionally, there is depth to some of the reflections in the center right/left. Thanks for sharing your shooting information and post processing as well. Really helpful. B &nbsp Posted: 09/19/2020 18:52:53
---
---
---
Please log in to post a comment