Daniel De Cort
---
June 2020 - Midday Break
About the Image(s)
The enclosed photo: Midday break, was made in Antwerp (Belgium) in the most important commercial street. No cars allowed so very nice
to have a quick midday lunch.

ISO 800; 70mm; 1/200;f13.

---
This round's discussion is now closed!
5 comments posted
Ata Kemal Sahin

(Group 74)
Great lifestyle photo. They pay for lunch; do you think, they gave money to musician:) &nbsp Posted: 06/02/2020 00:42:35
---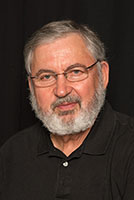 Isaac Vaisman M.D.
Daniel, Toby the piano player is sitting in the middle of the frame and on what looks like a boulevard closed to motor vehicles. He is being observed by the people in the background, and one of the women in the foreground, and he is framed by them. It is a good B&W interpretation of the image with proper contrast between the blacks and the whites. It is sharp. Everything is in focus from the front to the back. Nice story. &nbsp Posted: 06/10/2020 09:02:54
---
Gloria Sprung
Daniel - nice framing of the musician by the two women. The people in the background adds depth to your image. I like the gestures of the hands of both women as well as the musician. Nice street photo. &nbsp Posted: 06/11/2020 15:00:19
---
Bruce Goodman
The black and white really works well allowing the viewer to concentrate on the people/action in the photo with no color to distract. I like how you caught the woman and man walking by and how intently they are observing the pianist while the two women eating appear much more casual about what is happening around them. &nbsp Posted: 06/11/2020 17:29:32
---
Jim Mayo
3 people all looking at the piano player really draws your attention to him. Then there is the girl on the right more interested in eating. Good street scene. &nbsp Posted: 06/28/2020 21:33:44
---