Isaac Vaisman M.D., FACRO
---
May 2020 - Colorful Cigar Lady
About the Image(s)
The Cigar Lady was created in Havana - Cuba a few years ago using a Nikon D5 with the Nikkor lens 28 - 300 mm f/3.5-5.6 @ 58 mm and with these settings: ISO 800, f/ 8 and 1/160 of a second and adding + 1 1/3 compensation (very contrasty colors and black + White). This lady was sitting near the Plaza de la Catedral and posing for $ 1.00. After a few shots I was able to make her smile. The image was PP in LightRoom Classic, and cropped. Since she was sitting in the shadow there was a strong blue hue that was corrected to obtain a pure white in the dress. Her dark skin was also a challenge to correct. I had commented last month that I thought I had the same lady, but obviously posing for photographers is not an exclusive job.
---
This round's discussion is now closed!
8 comments posted
Bruce Goodman
What a great shot! Looking at this photo makes me smile and reminds me of our own visit to Cuba in March 2018. I am pretty certain that I did see this woman posing in Havana and I am very certain that I did not photograph her since I was too cheap to pay her to pose for me (I'm still too cheap!).

The colors in this photo are really striking, especially with the yellow background. I am sure it was a lot of work to also get the colors of the flower and her fan to show so well without being over saturated.

Thank you. B &nbsp Posted: 05/11/2020 19:10:45
---
Randy Andre
Love the smile and the details in the flower and the fan. I am guessing this is her "job", posing for $1 photos. I wonder if she is one who always smiles after the tourist disappear or the one who complains to her compatriots about the cheap tourists. The yellow background sets her off nicely. &nbsp Posted: 05/15/2020 16:28:48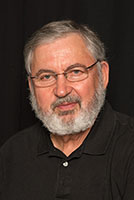 Isaac Vaisman M.D.
I am sure that she was sitting in front of the yellow wall intentionally. Interesting to point out that she was dressed all in white a la Santeria, people that follow a different religion, more related to African believes and also close to Voodoo in Haiti, &nbsp Posted: 05/15/2020 17:12:37
---
Gloria Sprung
Isaac, the smile makes all the difference and of course the cigar is the bonus point. You captured all the tones of her dark skin as well as the whites in her dress beautifully. The touches of red that punctuate throughout leads the eye around the subject. The limited color palette and clean background makes this all the more interesting. Isaac, you chose a squarish crop which places the subject dead center; perhaps cropping a bit off the right side would move her off-center to make a typical 5x7 portrait ratio would be a suggestion. Great image! &nbsp Posted: 05/16/2020 08:12:02
---
Daniel De Cort

A beautiful portrait, with a nice background that contrasts with the subject. Good attitude of the person also. &nbsp Posted: 05/18/2020 13:23:04
---
Ian Chantler

(Groups 4 & 31)
Hi Isaac
You have so captured the character of this lady the vibrant colours contrast beautifully against the white clothing and the background just adds the final touch brilliant portrait. &nbsp Posted: 05/22/2020 14:59:36
---
Jim Mayo
Very sharp and love the red color. She certainly looks like a feisty woman. &nbsp Posted: 05/28/2020 21:25:17
---
Hassan Sadek
Thanks Isaac for sharing the photo that you talked about last month. Now I am eager to visit Cuba and take a photo for this lady too.
many attractive elements there, the colors, her face, her smile, the fan, the ear rings and of course the cigar. &nbsp Posted: 05/30/2020 06:40:09
---