Randy Andre
---
March 2020 - Tenth Avenue North
About the Image(s)
The attached photo was taken on a cold evening in the Chelsea area of Manhattan on 10'th ave and 31st street looking north. The start of the Highline and The Vessel are less than 1 block east. This photo was taken with a Sony A6000 at 1/125 sec @f/3.5 with an ISO of 640. The lens (16-50, f/3.5-5.6) was set at 16mm. I was trying to portray a cold evening in a cold, commercial city with some mystery of what's up the street.

---
This round's discussion is now closed!
8 comments posted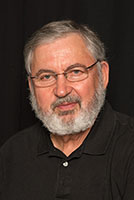 Isaac Vaisman M.D.
Randy, nice night shot of New York's 10th Avenue North. It has a great DOF all the way to the back. Good management of the Blacks and Whites. I like the presence of people crossing the street over the white lines. It looks like your vantage point was high (maybe a bridge over the street ??) given by your almost central position on the frame. &nbsp Posted: 03/03/2020 15:33:00
---
Gloria Sprung
Randy you caught this image at the right time with just enough light and yet not totally dark. I too like the black small human figures of activity. Good camera position providing a symmetrical and balanced image. My only suggestion is perhaps to crop the right edge of the frame to exclude the block of white light which draws attention. &nbsp Posted: 03/06/2020 06:17:45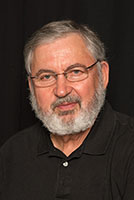 Isaac Vaisman M.D.
Gloria, I think it balances the large Neiman Marcus lights in the other side. If cropped, our eyes will go the other way. Now it pretty much goes back and forth and keeping in the center. &nbsp Posted: 03/09/2020 07:08:33
---
Randy Andre
Gloria and Isaac, thank you for your comments, I tried several different cropping iterations on this picture, from just showing the street (no sides at all), to eliminating the signage. This one was what I thought was the best. Perhaps lowering the intensity of the white block of light would have been the way to go. &nbsp Posted: 03/09/2020 10:53:45
---
Randy Andre
PS. This was taken from the High Line spur that juts out over the street. &nbsp Posted: 03/09/2020 10:54:49
---
Daniel De Cort
A successful night scene at the time there was still a little daylight and the lighting is already abundant. &nbsp Posted: 03/16/2020 14:18:55
---
Jim Mayo
Nice perspective and lighting for a night shot. Must be interesting now to observe all the empty streets. &nbsp Posted: 03/29/2020 11:24:52
---
Hassan Sadek
Randy I liked so much the place, the atmosphere and the your angle which shows almost the whole road. There many details in the photo which makes it rich. My comment is to make the subject of the photo more exposed and clearer, which supposed to be the pedestrians. If you re-edit the photo in order to take our attention directly to the pedestrian, that would be really great in my opinion.
Nice work &nbsp Posted: 03/30/2020 09:10:13
---