Daniel De Cort
---
November 2019 - Midday Nap
About the Image(s)
The enclosed photo for the november discussion, was made in Heraklion on the Crete Island.
It was pretty hot and the dogs lay on the street to do they midday sleep.

Techn.: 1/250,f13, ISO 1000, 70 mm.
---
This round's discussion is now closed!
6 comments posted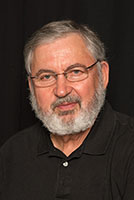 Isaac Vaisman M.D.
Daniel, I like the expression on the face of the girl. It is unfortunate that the other two people are amputated midbody which creates a great distraction. Sometime you can move around, time and scene permitting, and change the composition and avoiding this. Perhaps you should have included the whole image of the person at the door, holding a pearl necklace. &nbsp Posted: 11/11/2019 13:53:10
---
Hassan Sadek
The expression of the girl is making this photo. it gives the feeling that there is conversation between her and the dog. There is a light behind the glass inside the store makes some distraction.
I liked the idea of showing the midbody of the man and woamn there. it gives a sense of curiosity about them. &nbsp Posted: 11/13/2019 04:45:29
---
Daniel, I agree with Isaac's comments. I think if the composition was changed just slightly, you could avoid having the two people as distractions. I do love how you captured the girl's expression when she sees the dog. It really shows her innocence and curiosity. &nbsp Posted: 11/14/2019 18:33:39
---
Sometimes we are quick with the trigger and we capture a lovely moment. We cannot control those moments. We can capture them and unfortunately we have a precious moment which contains unwanted features. It happens. It is a great photo of a young girl and her reaction/interaction with a dog and her facial expression is priceless. &nbsp Posted: 11/15/2019 15:08:25
---
Gloria Sprung
Daniel, I agree with the others comments, but I like that there is a group of three in the image. I like the touches of pink in the necklace, the woman's blouse, and the girl's bow which move your eye around the girl and her expression. I get a sense of mystery of the others in the frame and wonder about the conversation between the adults. &nbsp Posted: 11/17/2019 17:36:45
---
Jim Mayo
I see this as two stories. The feminine mother is engaged talking with the masculine shopkeeper and his worry beads. The second story is the reaction of the girl to the resting dog. I like both stories. Cutting off the back people tells me the main story is the girl and the dog. &nbsp Posted: 11/26/2019 20:29:09
---