Dan Waters
---
August 2019 - South Lake Tahoe
About the Image(s)
Nikon D5000 Tamron 18-35mm ISO 200 35mm f/5.6 1/125
Global adjustments, straightening and a little crop

The community of South Lake Tahoe is split between two states. One being California and the other is Nevada. The garden captured my eye. Then the young boy helping mom with garden flowers. At that time I wished I had a longer lens. However, I think the wide angel captured the meaningful story telling environment. What do you think?


---
This round's discussion is now closed!
6 comments posted
Guy Davies

(Group 4)
Dan, but for the red mailbox and the notice on the fence, this could have been taken in an English village. The image just exudes peace and tranquility. &nbsp Posted: 08/12/2019 03:54:49
---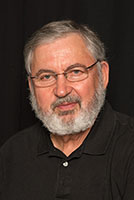 Isaac Vaisman M.D.
Dan, very colorful scene with lots of elements that frame the boy and his mother but the red mail box keeps taking my eyes away from the center of the image, so I cropped it, and now does not happen. It is sharp, and I agree with Guy that denotes peace and tranquility. &nbsp
Posted: 08/13/2019 04:56:01
---
Daniel De Cort
Peaceful indeed. Nice color and the persons ad a story to the picture. The crop from Isaac seems better because it focusmore to the peoples. &nbsp Posted: 08/15/2019 05:04:12
---
Gloria Sprung
I agree with Isaac's crop which brings the focus back to the center of interest. I like the uncluttered framing created by the vines and roof top to enclose the mother and boy. The reds and greens display the height of a summer garden and adds to the environmental story. &nbsp Posted: 08/19/2019 14:41:55
---
Hassan Sadek
Peaceful photo, gives sense of tranquility. Nice angle but I felt that subject is a little lost between the other details in the capture, that is why I agree with Isaac suggestion.
Nice Work &nbsp Posted: 08/27/2019 05:55:43
---
Jim Mayo
I like the mailbox. I think it helps to balance the photo by adding red to the right side and making this a real place. I don't think it is that distracting. Looking at the photo the fence line leads you to the mailbox and then you see the people in the center. &nbsp Posted: 08/27/2019 08:25:10
---