Isaac Vaisman M.D., FACRO
---
August 2019 - Looking Down
About the Image(s)
Looking Down was created at Art Basel in Miami Beach a couple of years ago using a Nikon Df which is kind of retro looking, so people is not as much aware as they would be with a more professional looking camera, and with the Nikkor lens 24-120 mm f/4 at 50 mm and with these settings: ISO 2500, f/7.1 and 1/500 sec.
I like to photograph people in different circumstances. I stood in front of this photograph with my camera ready to shoot and waited for people to walk by. This young woman walked by, and as you might expect she was looking at the screen of her intelligent phone, and could not care less about the art around her. It was a perfect timing to get her almost at the same angle as the girl in the picture. One more example that patience pays off.
The image was PP in lightroom and photoshop for shadows, white balance and the photograph of the girl was desaturated to bring it back to real B & W (from a distorted color due to the light conditions). Finally; it was streightened and cropped.

---
4 comments posted
Guy Davies

(Group 4)
Nice idea Isaac and well caught. Getting the angle of her head to match the angle of the little girl in the picture really makes the image. &nbsp Posted: 08/12/2019 03:39:02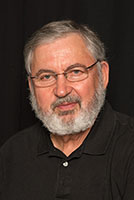 Isaac Vaisman M.D.
Thanks Guy, I see you have become a fan of group 58 as well. Good choice !!!! &nbsp Posted: 08/12/2019 18:00:21
Guy Davies

(Group 4)
Thanks for the welcome. Nice group! &nbsp Posted: 08/13/2019 03:53:39
---
Daniel De Cort
Nice scene , the combination between the person and the background works well. Good combination color and B/W. I prefer a little more of space (more distance to the scene). &nbsp Posted: 08/15/2019 04:47:25
---
Please log in to post a comment