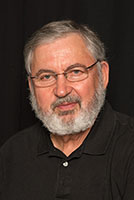 Isaac Vaisman M.D., FACRO
Isaac Vaisman, M .D.

I am a native of Caracas-Venezuela, born and raised there. I still am a semiretired physician (radiation oncologist) and a self educated photographer since the mid sixties. As a teenager I was the youngest member of the Foto Club Caracas. Winner of the first price in black and white prints in all three camera clubs of Venezuela, the same year. Did my own black and white processing and printing for many years, until I finished medical school and came to the US for postgraduate training in the 70's.

After a very long gap, started with digital photography in the early 2000's and more involved in the last five years. I am a "Nikonian" by conviction. Have participated in many competitions and received several awards.

I am/was a member of 3 local camera clubs in South Florida: Broward Camera Club, of which I was the President for four years, Pines West Camera Club and Coral Springs Camera Club. I am an active member in groups 04,58 and 72. I am the administrator of groups 58 (street Scenes) and 72 (Nature Plus).