Terry Clark
---
August 2019 - Time Window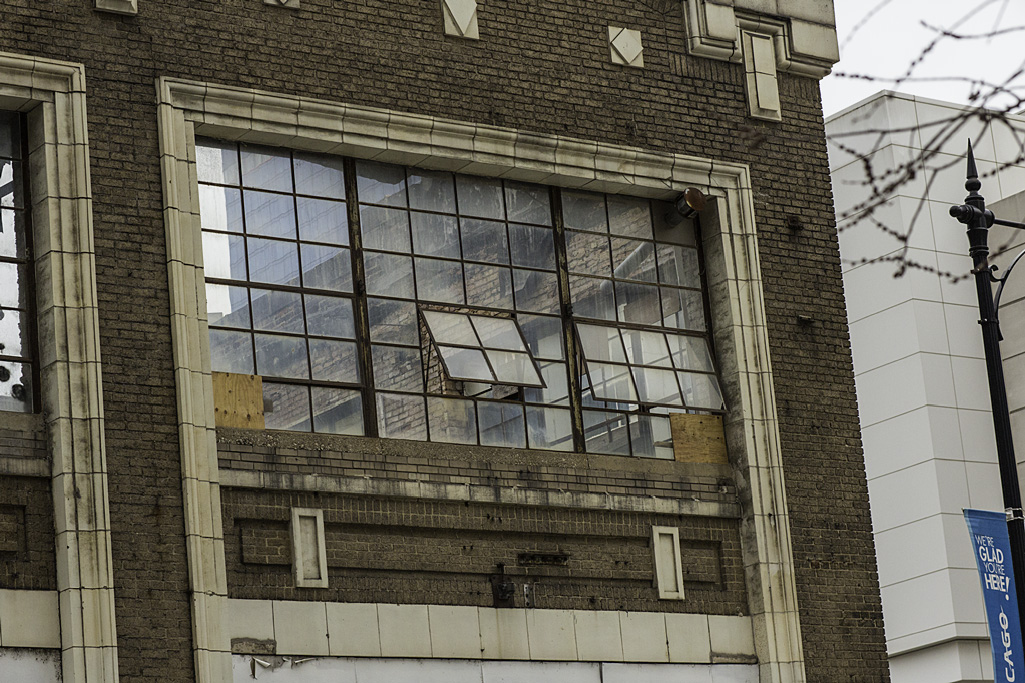 Original
About the Image(s)
In Chicago, around South Michigan Ave. and 23rd St., are some old buildings that at one time were automobile dealerships, before they fled to the suburbs. These structures are falling down and being replaced with "modern" buildings. Through their big windows it is possible to view part of the inside walls and a bit, through the open roof, some of a new buildings behind.
The image was processed through the DAP Joaquin, Monet and acrylic filters in individual passes which were then blended and then lots of local adjustments.
The thing I like about this image is the individual window panes can look like small abstract images.
---
This round's discussion is now closed!
8 comments posted
Cyril Mazansky
In what program are those filters.
A very original idea & well cropped.
You have brought out very well in an artistic style the building behind the window. I particularly like the brick wall. &nbsp Posted: 08/08/2019 07:59:26
---
Terry Clark
I used DAP = Dynamic Auto Painter version 5
Version 6 has just been released with a few new filters.
They also sell the core engine "Reactor" that makes the filters work. It is usable within other programs, e.g. PS.
I have yet to start working with that software.
&nbsp Posted: 08/08/2019 09:04:32
---
Nancy Speaker
I find your image of rectangles and diagonal lines very creative. I find the ability to see beyond and through the glass adding so much to the interest in this image. It does somewhat look like reflections too which adds even more interest. I find the tones soft. and complementary tones of orange and blue attractive and adds to the strong appeal in this image.
It is possible the diagonal line of the top window panes is what your artistic eye enjoyed and the image is stunning to me too. I found though that since the window panes were all straight except for the top row, that correcting that row appealed more to my eye. Just an an area to consider, I included the my review image. Thank you for sharing this new software - It certainly warrants looking into. &nbsp
Posted: 08/08/2019 15:57:19
---
Terry Clark
Thank you for you kind comments.

The original was shot off to one side so I could catch the open window. But, when the image is cropped then all sorts of perspective distortion becomes apparent.
So I twisted it around quite a bit, with Transform, to give the rectilinear composition while maintaining the diagonal vectors of the open window, across the grid, lending a dynamic element to the otherwise placid "mid-ground" panes.
All that causes the top edge to be kinda funky. Your edit corrected that. &nbsp Posted: 08/09/2019 22:07:01
---
Cindy Gosselin
You have a great eye to even see this image as a possibility. And I love what you've done with it. The painting effect took it to another level, as compared to the original. I actually prefer the image as you presented it, with it's diagonal lines rather than a straightened version. Like you, I also like each individual pane. And I like looking through them to see the history of this building in juxtaposition with the reflections of the modern building as well. &nbsp Posted: 08/10/2019 10:07:40
---
Elinor Stecker-Orel
It takes the eye of an artist to see the creative possibilities in a mundane subject. Your rendering of the building as a painting makes this a work of art. Like Cindy, I prefer your original version with all the diagonal lines; this seems more dynamic than when all the lines a straightened. &nbsp Posted: 08/11/2019 20:07:46
---
Gerhard Geldenhuys
Beautifully done and must compliment you on identifying with this scene. The brickwork art is great and very well handled. Well done indeed &nbsp Posted: 08/16/2019 02:41:32
---
Pat Centeno
I, too, prefer the diagonal line of the top uncorrected. It sort of seems to be balanced by the diagonal of the open window. The opalescent colors in the windows give a dreamlike quality to your painting and it is very interesting to be able to peer through the glass to the old brickwork yet at the same time, to see reflections. Nice job. &nbsp Posted: 08/21/2019 17:52:47
---