Matt Moses
---
June 2020 - Tregurtha
About the Image(s)
The laker Paul R. Tregurtha passing through the canal leaving the Duluth Harbor. The Tregurtha is one of the 1000' vessels roaming on the Great Lakes.

Tech:
D850
24-120/F4 lens @ 34mm
ISO 250
1/1250 @ F/4

MInimal editing in LR r.educing highlights adding a little clarity and setting the camera lens profile.
---
This round's discussion is now closed!
13 comments posted
Kurtis Sutley

(Group 38)
Refer back to last month's comments. &nbsp Posted: 06/11/2020 13:30:19
Matt Moses
Hmm wrong photo had loaded, tried again and replaced it. &nbsp Posted: 06/11/2020 14:30:36
Kurtis Sutley

(Group 38)
Dang. Where's that easy button when you need it? LOL &nbsp Posted: 06/11/2020 20:10:55
---
Kurtis Sutley

(Group 38)
I really like the symmetry of this image. I love the complimenting orange/red/blue that dominate. To my eyes it seems sharp and the depth of field is perfect. I really like how the diagonal of the shore meets with the horizontal ship that is smack on the one-third line. I think whoever owns that ship needs to have this picture in their office. A real wall-hanger for sure. Well done. &nbsp Posted: 06/12/2020 13:02:23
Matt Moses
Well its not hanging anywhere but they did share it on their Instagram feed. &nbsp Posted: 06/22/2020 13:15:48
---
Samuel Lane
This is a great shot I agree with Kurtis the symmetry, colors all make this a great photo. Knowing the ship is the subject I am caught up on the foreground. It is something about the leading line to the ship, the rocks, and the pebbles even though dark has my eye searching thru them looking for anything. I really love the foreground in this shot. Wish it were slightly brighter but that would distract from the subject. Great shot.... &nbsp Posted: 06/15/2020 12:46:14
Matt Moses
I see what you mean about the darker part and wanting more there. Slightly troubling composition with the dark and bright parts. &nbsp Posted: 06/22/2020 13:18:47
---
Ron Clegg
This a really big freighter,you caught the light just right to get that glow above the ship fading from the blue. The shoreline with the waves make a great lead in in line. its all nice and sharp. I really like the way the sun lights up the steam from the stacks, well done. &nbsp Posted: 06/15/2020 14:50:55
---
Marianne Shine
I agree with all the comments on why this entire image is so very nicely done.

If you cropped right below the ship I think you would have another great shot worth framing, with just the water and the shore! &nbsp Posted: 06/21/2020 15:57:51
---
Alec Chester
Wonderful angles and colors. I like the smoke and also the small lighthouse as the ship glides through the channel. The rocks are important, reminding all viewers of the perils of Great Lake shipping. The image is clean and sharp. &nbsp Posted: 06/25/2020 11:21:43
---
Alec Chester
Matt, You're mention of Luminar 4 in a prior email intrigued me so I checked it out and found it fascinating. Here is a sky replacement (dramatic sky #2) just for your interest. To say the least, it's a total fabrication but it is amazing what Luminar 4 can do. -Alec &nbsp
Posted: 06/25/2020 11:39:11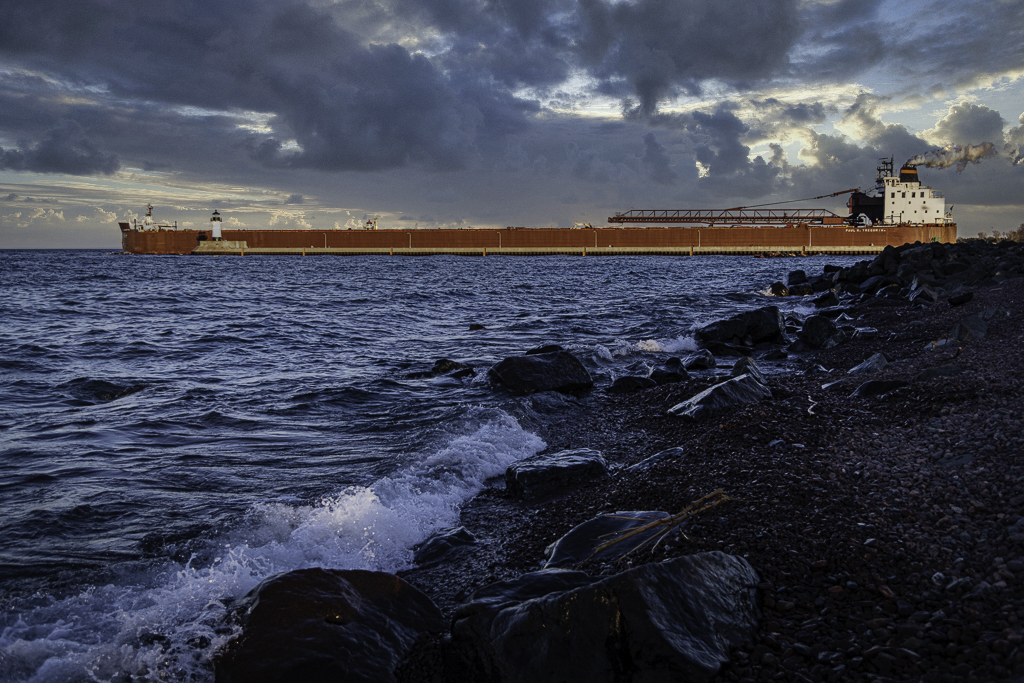 Matt Moses
Yes, that kind of sky would have made me very happy! :) &nbsp Posted: 06/25/2020 17:28:23
---
Dennis Zhang
I like the sky replacement by Alec, nice shot! &nbsp Posted: 06/25/2020 17:22:35
---