Sharon Prislipsky, PPSA
---
April 2021 - Peaceful Easy Feeling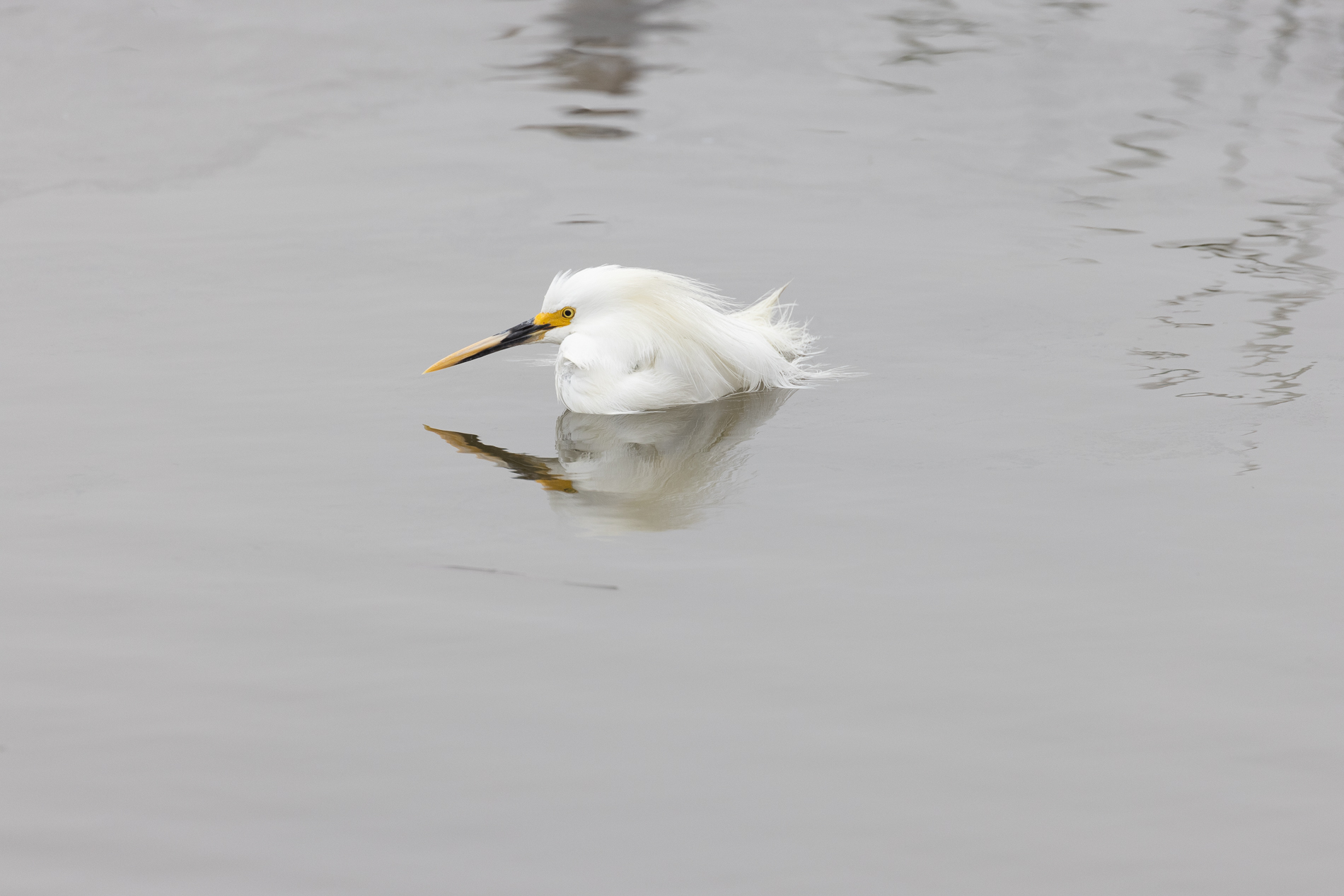 Original
About the Image(s)
It was a very hot and humid day and it appeared that this Snowy Egret was trying to cool off in the water. It just sat there for a long time looking very contented. I captured this image with my Canon R5 mirrorless and was grateful for the 45 mp; as you can see it had to be cropped quite a bit, but I still have a reasonable 9+ mp image. I used my 100-400mm lens with a 1.4 teleconverter.
In post processing I adjusted white and black points, color and contrst; I also warmed it up very slightly. In PS I removed some streaks from the water and made a curves adjustment layer.
In Viveza I did targeted adjustments on the bird (luminance, contrast and structure). I also sharpened the eye a bit. In Color Efex Pro I applied Pro Contrst, Detail Extractor at 10 percent, polarization and Refelctor Effects to make the foreground a little bit more silver. After looking at it again, I decided to go to OnOne Efex where I added a Radience Glow at 20 percent.
I am not sure if I need to make any further adjustments; your feedback will be appreciated as I intend to submit this to internaton exhibitions.
---
14 comments posted
---
---
---
Mike Cohen
Hi Sharon. The first thing that caught my attention was the unusual appearance of the bird. I've never seen a snowy that didn't have a black bill or the extensive head feathers that this beauty had. It could be an oddity or a species I'm not familiar with. Were you able to see the bird fly off or walk such that you could see the telltale yellow feet? If so, it's probably a one-off.

I think you did a masterful job on the processing and the water now sets off the bird nicely. I might prefer a 5x4 aspect ratio for this essentially horizontal subject. A very slight vignette might also be nice. I do my vignette's by hand, making a curve layer darkening the image, then masking out at 100% over the subject and then 30, 20 and 10% to taste to blend in the vignette to look natural. &nbsp Posted: 04/03/2021 11:24:10
Sharon Prislipsky
Mike Cohen
Thanks Sharon. Did you ever see its feet, which are yellow on a snowy? The bill is throwing me off and while it doesn't look like a Great Egret, it's possible it might be. Yellow feet would clinch it. &nbsp Posted: 04/03/2021 15:37:10
Sharon Prislipsky
You are right! It's feet were yellow...it never occurred to me that it was not a Snowy because it was so small. I have never seen a Great Egret that size - and I have seen a lot of them! &nbsp Posted: 04/03/2021 16:08:09
---
---
---
Pamela Hoaglund
I looked up Egrets in my bird book and my vote is Snowy Egret based on the yellow at the base of the bill. Maybe the yellow in the rest of the bill is an odd variation. Sharon, I think you did a wonderful job in your post processing. You think of more editing in your images than I do and it shows in this amazing image. I think the detail and sharpness in the bird along with that wonderful reflection make this a winning image in my mind. I agree with Mike's suggestion of a vignette but I think only a slight one that is not noticeable. &nbsp Posted: 04/12/2021 11:54:46
LC Boros
yep it's a Snowy: beak variations are pretty normal as they change color as a bird reaches adulthood. Also Snowy's are one of the few waders that will stand in water up to their bellies when hunting. &nbsp Posted: 04/14/2021 15:39:47
Sharon Prislipsky
Fun fact...there was a large alligator within 20 feet of where this bird was standing. I guess the bird knew the alligaator was not too hungry that day. &nbsp Posted: 04/15/2021 09:21:47
Sharon Prislipsky
Thanks, Pam. I could not imagine this was anything other than a Snowy, but you have confirmed it for me. &nbsp Posted: 04/15/2021 09:20:48
---
---
---
Ally Green
To me the title says it all! My eye goes straight to the eye then in admiration to the feathers. The texture is wonderful and contrasts against the smoothness of the silky water. I like the crop and what you have done in post to make this Egret stand out. A very nice well balanced image. &nbsp Posted: 04/13/2021 17:01:04
Sharon Prislipsky
Thanks, Ally. I am quite partial to square crops. I see what the others are saying about more space on the left, but I think it is a matter of personal taste. I appreciater your sharing your thoughts about that. &nbsp Posted: 04/15/2021 09:23:16
---
---
---
LC Boros
I think all the work you did in post are well done and effective to improve a well focussed image. My only quibble is that I'm not generally fond of square crops and in this case I think the composition would be improved by flipping the image and then having a bit more of the water on the right side for the bird's and viewer's eye to travel. &nbsp Posted: 04/14/2021 15:23:12
Sharon Prislipsky
As you get to know me better you will see that I am quite partial to square crops. I do think your idea about flipping it has merit and I will give that a try. &nbsp Posted: 04/15/2021 09:24:19
---
---
---
Lisa Auerbach
I think you began with a well shot and clear image. I am impressed with the way you handled the color. The blues change the impact and draw me into the picture. The reflection captures my attention more quickly than in the original. I would like to know which product you used most to turn a tan colored water to this pretty and natural looking blue. I've tried doing this with some success but need more practice with it. I think the shot would benefit from more room on both sides. I know you like square crops for flowers but in this case a rectangular crop might work better. &nbsp Posted: 04/15/2021 07:33:44
Sharon Prislipsky
Lisa, there was some blue in the water that I enhanced initially in LR. One thing I always try to bring out more blue is to cool the temperature a little bit, but I can't recall if that worked in this instance. I did tweak the blue slider in the HSL panel - but that has to be done so carefully beause it affects the whole image. In Color Efex I tried Remove Color Cast and White Neutralizer to eliminate the blue on the bird. Finally, in OnOne I applied a blue filter and masked it out on the bird. This can also be done in PS, but On One is much easier in my opinon. &nbsp Posted: 04/15/2021 09:29:16
---
---
---
Please log in to post a comment