LC Boros
---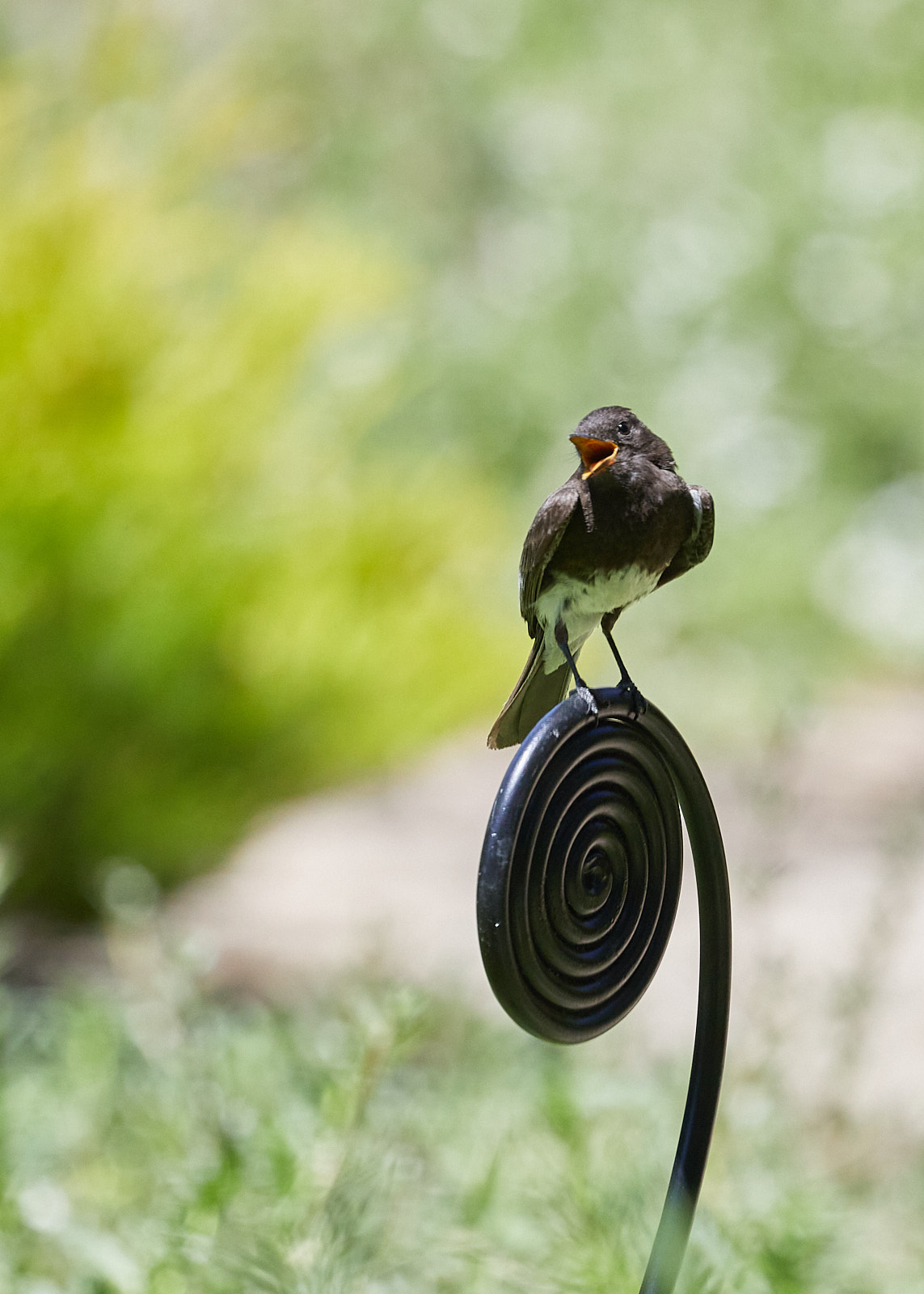 February 2021 - Black Phoebe Singing
Original
About the Image(s)
Since buying our ranch in mid-2015 we've worked to restore the land after it had been neglected and overgrazed. Upon moving in, the main house was surrounded by many decks and structures, so we have worked not only to get native grasses back in the pastures — instead of mustard and thistle -- but also to remove much of the man-made clutter. No where is this more evident than in what is now the north garden. Where the previous owners had built an ugly deck over the septic tank (which then failed as they never pumped it in 15 years,) I now have a lovely, somewhat overgrown, bird sanctuary. We have confirmed sightings of 58 different species of birds ranging from tiny Alan's Hummingbirds and Bewick's Wrens to our 8 different raptors species and the wild turkeys that make daily pilgrimages in the summers to drink from the bird baths.
This Black Phoebe, while not one to partake in the the seed offerings in the north garden, approves of the reversions we have enacted. We have several in residence feeding off the insects in the pastures. Unlike our hundred-plus barn swallows though, the phoebes are birds-in-residence living year-round at Purgatory.

Processing: cropped and tweaked the highlights a bit.
---
This round's discussion is now closed!
6 comments posted
---
---
---
Mike Cohen
Your place sounds amazing. I'm jealous. I like your image and the wonderful posture and action of the Phoebe. For my taste, I felt there is too much empty space. I took my hand at it, cropped it substantially tighter. I also lightened up the bird, added a bit of sharpening and to its face and took a few spots off the metal it was perched on. All in Lightroom very quickly. Lastly I added a vignette. &nbsp
Posted: 02/09/2021 15:45:20
---
---
---
Pamela Hoaglund
I think you captured a really nice image of the Phoebe. I especially like that he is singing and has a nice catch light in his eye. I think his posture and the tilt of his head is very nice. I agree with Mike in that I like the tighter crop he did in his edit. It sounds like you will have a photographers paradise. &nbsp Posted: 02/10/2021 18:16:50
---
---
---
Sharon Prislipsky
I like the sense of activity I get from the bird's pose and the open beak. I love to hear the call of our Eastern Phoebe so I can image how this one sounds. For me the bright white areas I have indicated on the attached visual feedback are somewhat distracting. I would suggest trying a luminosity mask to tone down these areas. I also think Mike's suggested crop works as it eliminaes the out of focus leaves at the bottom. &nbsp
Posted: 02/13/2021 10:53:34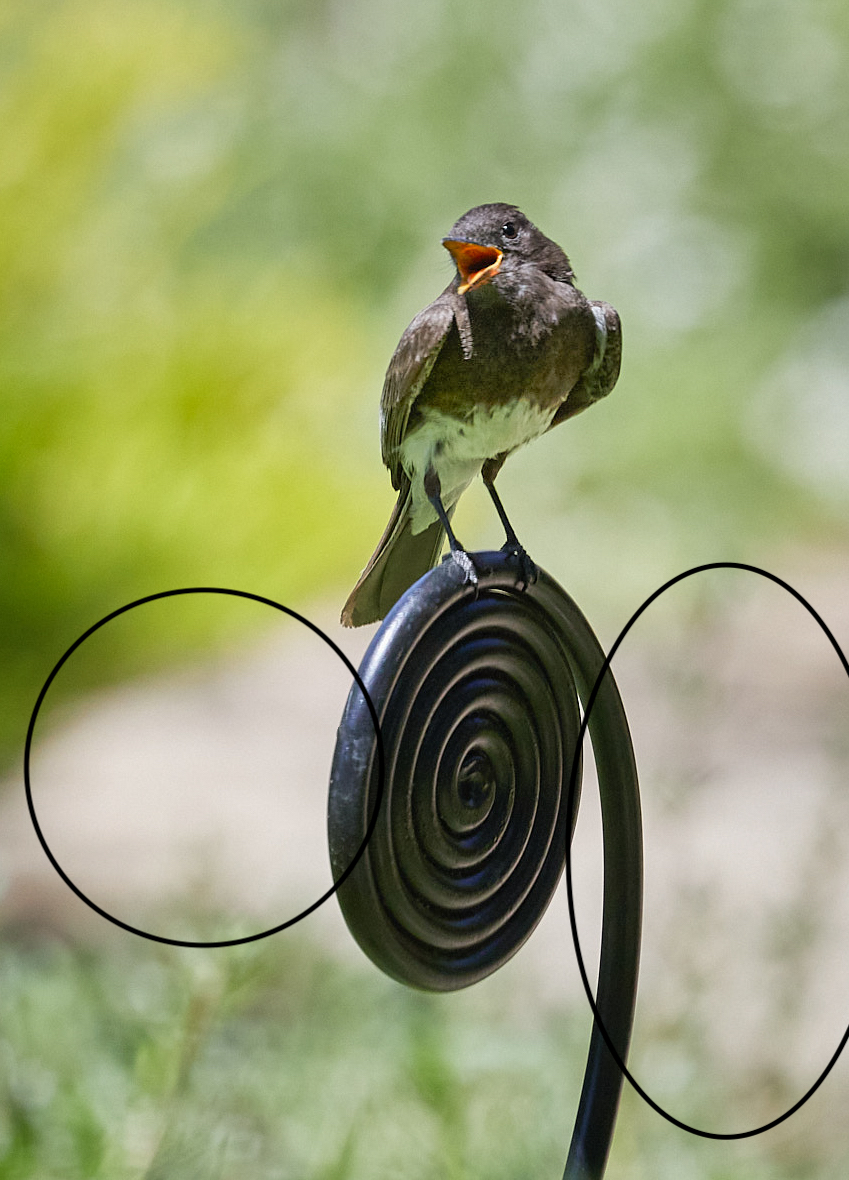 ---
---
---
Lisa Auerbach
The black phoebe is sharp and has a good background. For me there is too much space around it. I would add a vignette, crop it to give more focus to the phoebe, and depending on your thoughts about cloning, I'd try to address the bright spot to the sides of the bird stand. &nbsp Posted: 02/13/2021 11:50:17
---
---
---
Judith Lesnaw
Bravo for restoring your new landscape, and on the number of bird species you have documented. How grand that your image shows the phoebe singing. I have yet to see and hear one. Do you ever record their songs? I like Mike's crop and I agree with Sharon that those white blobs should be darkened. &nbsp Posted: 02/17/2021 18:24:03
---
---
---
Ally Green
Kudos for you for restoring your ranchland and must be amazing to see so many different species of birds. With this Phoebe i like how you have captured it on the spiral ironwork and with its beak open. Nice focus on the eye but to me the rest of the bird needs a bit of sharpening as slightly soft to me. Cropping the empty space as Mike has suggested enhances the image. &nbsp Posted: 02/18/2021 19:05:38
---
---
---