Judith Lesnaw
---
February 2021 - Touching Texture
Original
About the Image(s)
A confluence of challenges has emerged in my part of the universe. The external drive on which all my images are stored is not responding consistently. It disconnects itself at most unexpected and inconvenient times. Thus I am at present unable to access the images I took on my Canon 80 D. Rather than sink into despair and drop out this round I took sage advice offered by Lexington KY landscape photographer John Snell in a talk he gave our camera club this week. He was addressing ways in which to keep our photography fresh. For example one could convert an image to monochrome and note differences in affect. I realized that I could access the images I made using an iPhone 7+. The iPhone stores the images in Apple software called "Photos". The folder is stored in the cloud and accessible on my MacBook pro. So I began to experiment. On 17 January we had a bit of a heat wave in Wilmington DE and I had ventured into my back yard with my iPhone to document blooming Lenten Roses. Near the garden edge I spied a mushroom that "someone" - likely a squirrel - had knocked over. It was touching foliage that had an equally interesting pattern. I imported the image into Lightroom, cropped, converted it to monochrome, and adjusted highlights and shadows, white and black.
---
7 comments posted
---
---
---
Mike Cohen
I feel your pain and admire your making the best of it. Hopefully the computer woes will resolve soon. I think this image is wonderful. It reminds me of a coral reef and I love the textures and composition in general. The only thing I have to suggest would be to remove some of the leaves that are sticking in from the edges. Particularly on the right side. Nice work! &nbsp Posted: 02/09/2021 16:01:37
---
---
---
Pamela Hoaglund
I like your persistence in the face of annoying computer problems. I like the black and white conversion as it enhances the details in the foliage and mushroom. I did a little tighter crop, pretty much square. I think you did a wonderful job removing what looks to be a long dead leaf on the left of the mushroom. &nbsp
Posted: 02/10/2021 18:25:05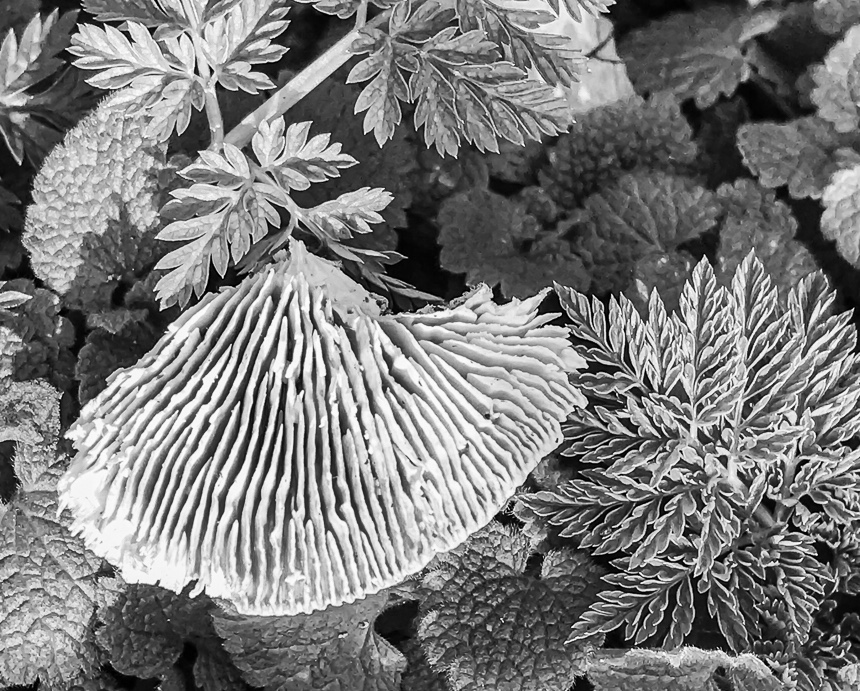 ---
---
---
Sharon Prislipsky
For me, the multiple textures in this image are a WOW factor. It all looks sharp and I think it has good tonal range. I feel that monochrome was an excellent choice. I also like the crop that Pam suggested. I am so glad you decided not to skip round and instead presented this lovely image. &nbsp Posted: 02/13/2021 10:58:42
---
---
---
Lisa Auerbach
There is a great deal of interesting texture in the leaves as well as the mushroom. The image is sharp. I think it is bit bright and would add a levels curve to take the brightness down a bit. I like Pamela's crop. I hope you soon find your images.

If you converted to black and white in frustration, I do want to tell you I like the color version as well. &nbsp Posted: 02/13/2021 11:51:27
---
---
---
Ally Green
An interesting photo with many different textures to look at and converting to black & white is perfect to show these off. To me it is a tad bright so would adjust perhaps the contrast slider. I like where you have positioned the mushroom within the frame. Nicely done. &nbsp Posted: 02/15/2021 17:11:33
---
---
---
LC Boros
Image first: DAM stuff after
I think this is an interesting image and the fine details are well focussed. You might want to play even further and darken some leaves/areas down and see how that affects the composition. I popped it into my tools and messed around with a few sloppy/quick masks just to help illustrate. Focussing on different subjects can really add to the composition and pull the eye across an image.
As for DAM stuff: as someone with close to 13000 images/videos in Photos (I use my iPhone for ranch documentation work and prune monthly) I cannot stress enough how great that app can be with regular care and feeding. Just like the big management packages you can organize images in countless ways: keywords, faces, geolocation, date, smart subject, etc. I used to be a heavy Aperture user and only jumped to CaptureOne two years after Apple EoL'd it (when it I upgraded my DSLR Aperture didn't support my new RAWs,) but a ton of the old Aperture features, including native non-destructive editing, are now built in to Photos.


As for the dying hard drive, you might want to upgrade your DAM setup. Consider an off-site solution like Backblaze or, if you have a .Mac/iCloud account, use that. I too use an external drive for my photo libraries (anything not shot with my iPhone) which I then have sync regularly to a file server that sits in another building here at the ranch. Then that machine (which houses a lot of other stuff) syncs to a server off-site. Feel free to hit me up if you have questions about this kind of thing. &nbsp
Posted: 02/19/2021 22:41:14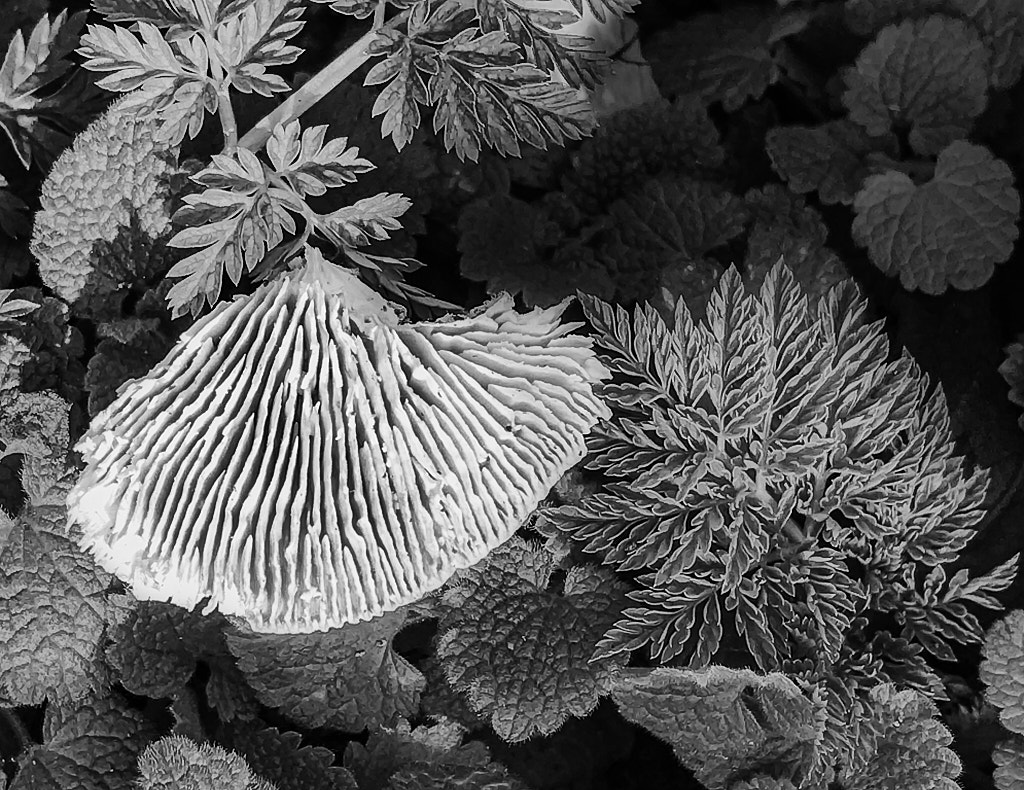 Judith Lesnaw
Many thanks!! I also was an Aperture user and switched to Lightroom when Apple abandoned it. I like the concept of selective darkening. I am taking a course in Photoshop and hopefully will be able to apply if soon. I will explore Backblaze. I do have an Apple account but it does not have much storage. Your backup system sounds terrific. &nbsp Posted: 02/20/2021 07:27:07
---
---
---
Please log in to post a comment