Mike Cohen
---
February 2021 - Glossy Ibis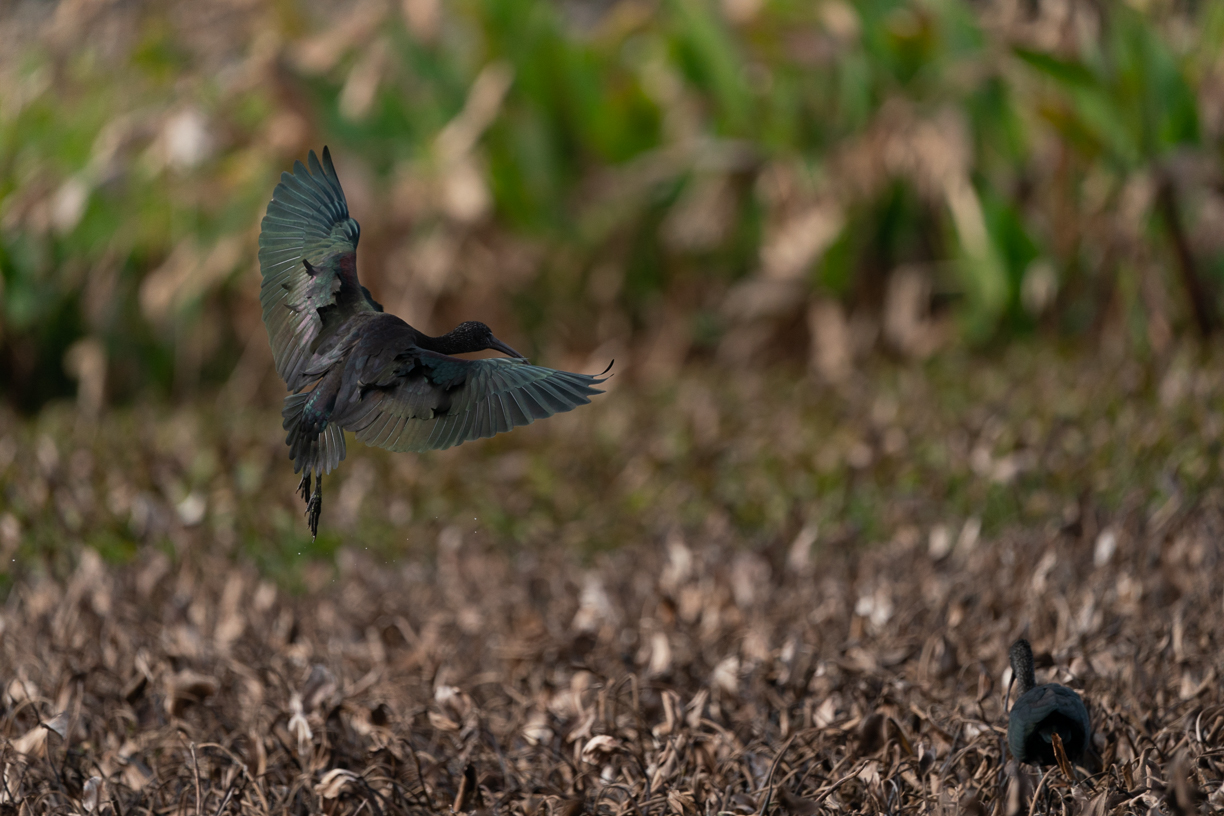 Original
About the Image(s)
I'm submitting this while it is freshly processed, meaning I'm too close to
it to objectively evaluate it. I think I caught just enough of the eye and
am drawn to the colors on the back and tail feathers to make me like it.
Curious as to what you guys think and, as always, value critical feedback.
It is a Glossy Ibis landing in a field of dry vegetation. You can see the
crop is significant. In lightroom I brought up the shadows a lot and also
increased the highlights and the exposure a bit. I also dodged the neck and
bit in LR and again in PS. It did not need much noise reduction or
sharpening but I added a little in Topaz. The neck was too dark so I dodged
it. I slightly desaturated and blurred the background and cloned out some
white spots in the background and some grass lines that I found distracting.
I also cloned out some dirty looking feathers in the middle of the bird's
back.
Sony a9ii, Sony 200-600 at 559mm, 1/3200 sec at f/6.3, ISO 1250.
---
This round's discussion is now closed!
14 comments posted
---
---
---
Pamela Hoaglund
What a beautiful ibis. In some ways I wish I could see more of the ibis from the front or side instead of mostly from the back. However from the back I like that we can see the beautiful coloring in the wings and back. Glossy Ibis is an appropriate name. I think you have done a remarkable job with the cropping and editing you have done. The eye is visible and light enough to separate it from the rest of the face. In the original image it looks like the feathers on the wings are ruffled up but in the edited image the feathers are all smooth. I'm intrigued as to how you accomplished smoothing the feathers. I think your edit of the background works well in reducing any distraction from the ibis. It is sharp from wing tip to wing tip and I like that the curved bill is separated nicely from the wing. I think you have done a great job in producing a very nice image. &nbsp Posted: 02/10/2021 22:16:59
---
---
---
Mike Cohen
Thanks Pamela. I see that when I submitted the original I must have picked one next to the one I processed. I can tell from the ruffled feathers you pointed out and the Bill position. Sorry to have confused things. I'm sure the original taken in close sequence. &nbsp Posted: 02/11/2021 02:30:53
---
---
---
Ally Green
You have done a lovely of highlighting the wings of this Ibis. I too was a bit perplexed like Pamela when i looked at the original and saw the ruffled feathers but i understand now your explanation! To me the eye looks a bit lost in the colouring of its head but the detailing in the wings attract more of my attention. I like how you have positioned the bird as a diagnol and the background is nice and blurred. Good job. &nbsp Posted: 02/12/2021 16:22:40
---
---
---
Sharon Prislipsky
In my opinion you have captured this irredesdcent bird at exactly the right moment. The wind display is beautiful and I could spend a long time looking at it. I had to look very closely to find the eye. I wonder if there is a way you could put some light on it so that it is more apparent? For me, the crop is a tiny bit too tight at the top left - just a nit pick. This is a beautiful caopture and I have no other suggestions for improvement. Nice work, as usual. &nbsp Posted: 02/13/2021 11:03:36
---
---
---
Lisa Auerbach
I like your crop. The colors of the original are deeper and richer rather than darker which makes me think your shadows are too high. I think your eye could be dodged and burned. Finally, with a smile on my face I tell you I think it needs a vignette. &nbsp Posted: 02/13/2021 11:46:53
Mike Cohen
I'm smiling back. &nbsp Posted: 02/13/2021 16:42:36
---
---
---
Ally Green
Mike - I have just seen the photo 'The Leap' which Sharon mentioned was a runner up in the 'Wildlife Photographer of the year'....It is an amazing photo and deserves huge recognition! Being an africa specialist...i would love to know how you shot that image...my email is
allyg@eaglelaw.com
&nbsp
Posted: 02/16/2021 17:52:44
Mike Cohen
Hi Ally. I'll shoot you an email. I'm also interested in your Africa experience and where you show your work.

Mike &nbsp Posted: 02/16/2021 20:26:44
---
---
---
Judith Lesnaw
Mike, congratulations for your amazing image "The Leap". I almost do not want to know, but, did that poor giraffe escape that lion?
Your crop of "Glossy Ibis" is great. This is another bird I have never seen. Where did you photograph it? The coloring on the bird is subtle and the repetition of the colors in the background is very pleasing. The dramatic sweep of the wings, the downward drape of the feet, and the curve of the body create a powerful sensation of upward motion. The upper right background is still bit a distracting to my eyes. I might try a graded filter to tone it down even further. &nbsp Posted: 02/17/2021 19:05:31
Mike Cohen
Thanks Judith. The giraffe would have gotten away if it had any predatory instincts. It landed some heavy kicks and had the opportunity to injure or kill them but only acted defensively. In the end, the lions ate well.

We are lucky in Florida to have an abundance of birds, many acclimated to human presence in local nature areas. Glossy's are common here. The light has to hit them right to show off the colors.

Thanks for the feedback,

Mike &nbsp Posted: 02/17/2021 19:11:12
---
---
---
LC Boros
I think you're right and that you're too close to the process. :)
Overall I really like the image but have two kvetches: the masking around the head is too obvious and I would like to see a bit more space on the right (I'm talking like just doubling the existing space between the wing tip and the image edge. Right now the composition feels too caged for my tastes.

One last thing to try once you fix the head mask, perhaps bring up the saturation on the shoulders or perhaps feather/blend it to the head mask. &nbsp Posted: 02/19/2021 22:46:55
Mike Cohen
Thanks LC. Good suggestions.

&nbsp Posted: 02/20/2021 02:34:51
---
---
---
Gerald Emmerich Jr

(Group 59)
Hi Mike, I'm sure you've received many congratulations on your photo "The Leap," but I would just like to add mine. You certainly made the most out of your opportunity. It must have been an amazing experience. Gerry Emmerich (DD59-Sports) &nbsp Posted: 02/24/2021 11:39:37
Mike Cohen
Hi Gerry. Thanks so much for your feedback. That experience was beyond special. Very emotional. Take care, Mike. &nbsp Posted: 02/25/2021 16:01:03
---
---
---