Mike Cohen
---
January 2021 - Wood Stork Present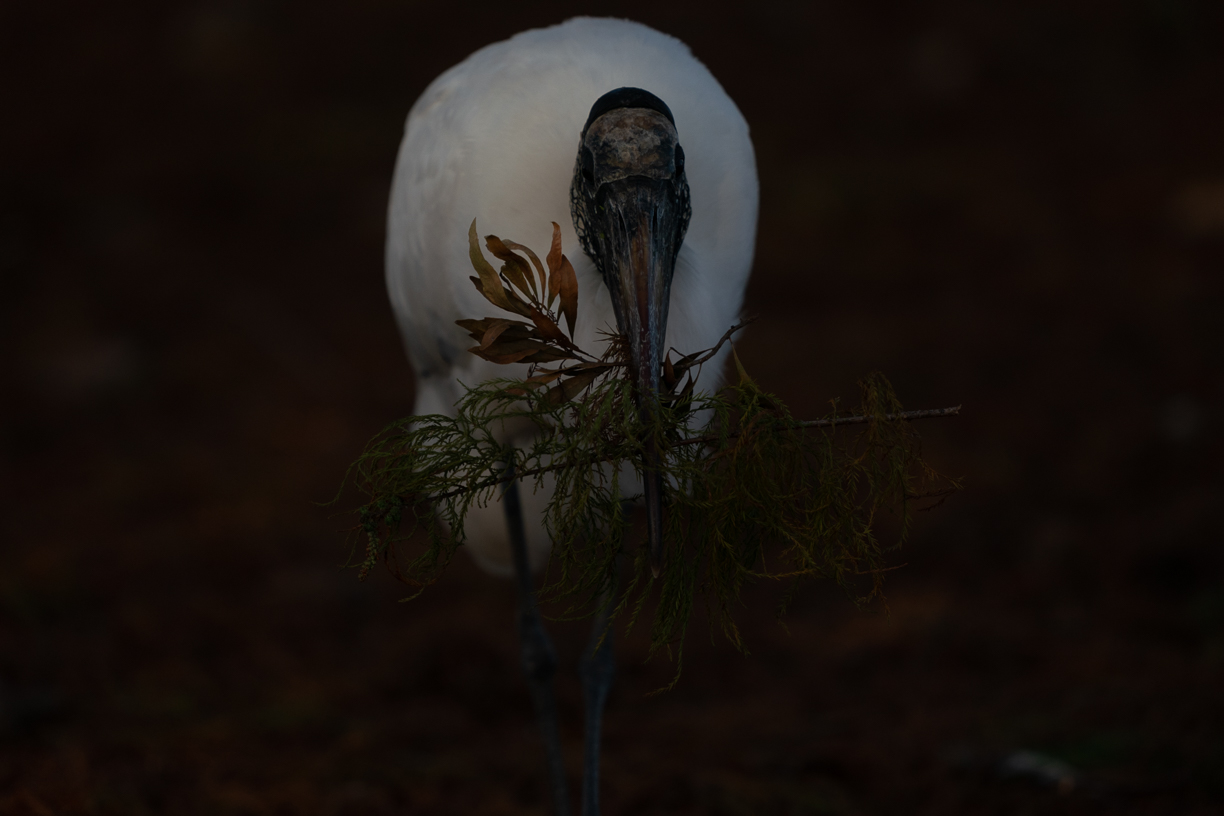 Original
About the Image(s)
I normally submit images that I like but have a
question about. Or maybe one that I like but don't think will be popular.
I've saved this image in my "to be posted folder" for quite some time
because, well I like it but I don't know why. I'm not sure how I would
critique it as a judge and invite you not to hold back. I thought about an
even more severe crop to just the area of the head and brown leaves but
settled on this version. Not sure if I chickened out and should have done
it. Taken with my Sony a9ii and Sony 400mm f/2.8 with a 1.4 extender,
yielding 560mm; 1/2000 sec, f/4, ISO 800. In post you can see the crop. I
brightened it up, applied Topaz denoise AI, NIK tonal and glamor glow to
everything but the face and leaves. I added some additional sharpening in
PS to the vegetation, bill, face and eyes in varying amounts. Finally, I
added a dark curve and masked it out around the face and vegetation in
varying degrees.
---
9 comments posted
---
---
---
Lisa Auerbach
This can go two ways. I like the face and foreground leaves. They are wonderfully sharp, clear, and interesting. I am a bit amused at how much the vegetation lends to the image. What bothers me are the white body parts which seem blown out and distracting. Your head does not seem attached to the body

I am bothered by the blown-out body which captures my focus longer than it should. Then I look at it again and the wonderfully sharp foreground pops more because the background is so white.
I'm not sure if you purposely shot it this way. However, it is a diversion from shots you usually take.
I suggest you remove the gray branch and smudge next to it, beginning just about the 2021 date.
&nbsp Posted: 01/10/2021 09:48:44
---
---
---
Mike Cohen
---
---
---
LC Boros
I agree with Lisa: the white is white in the original post it becomes very blobby.

The second crop helps with the issue but I'm on the fence regarding the composition in the second version, plus I notice a bit of wonkiness with the left-side eye. I think it's just the way the light was hitting the lid but it's not as sharp as the right-side eye and thus distracts my eye.

&nbsp Posted: 01/10/2021 21:55:20
---
---
---
Pamela Hoaglund
I was intrigued by your composition. I like the right in your face feel and the feeling of intimacy with the stork. I'm not terribly bothered by the out of focus body. The lone out of focus leg is distracting. I do like the tighter crop as it does remove that lone leg and really brings the stork up close and personal. The eyes don't bother me but maybe a slight lightening of the left eye would make it more balanced with the right eye. I have tried to get an image like this of a great blue heron but not successful yet. &nbsp Posted: 01/11/2021 16:12:06
---
---
---
Pamela Hoaglund
I was intrigued by your composition. I like the right in your face feel and the feeling of intimacy with the stork. I'm not terribly bothered by the out of focus body. The lone out of focus leg is distracting. I do like the tighter crop as it does remove that lone leg and really brings the stork up close and personal. The eyes don't bother me but maybe a slight lightening of the left eye would make it more balanced with the right eye. I have tried to get an image like this of a great blue heron but not successful yet. &nbsp Posted: 01/12/2021 15:26:35
---
---
---
Sharon Prislipsky
Wow! You have come a long way from the original to the second edit. The main image as presented leaves me wanting to see more of the stork's eyes (to maybe make it feel more alive and real). That is rectified in the second edit. In both images I love the oranges and greens against the white, but I can appreciate the color palette much more in the second image. Sometimes I dislike having any part of the beak amputated, but it seems to work in the second edit, and it elimnates the issue of the one leg. So I think overall, the second edit work for me. I hope you have enough pixels left to make a print. &nbsp Posted: 01/14/2021 11:13:41
---
---
---
Judith Lesnaw
FASCINATING shot! I enjoyed studying it to figure out just what the various components of the composition were. And then suddenly the bird just popped out. The repetition of the rust-orange color, and the green all against the white body is very pleasing. I actually love the leg. It is parallel to the beak, and both intersect the twig to generate a nice pattern. AND I LOVE the second cropped version. I am glad you shared this image with us, and I am inspired by it. &nbsp Posted: 01/18/2021 12:44:48
---
---
---
Mike Cohen
Thanks for all the great feedback. It's nice to get objective opinions. I'm still not sure about this image and will let it stew awhile longer. &nbsp Posted: 01/18/2021 15:28:09
---
---
---
Ally Green
To me this is a great shot and really like it and prefer it how it is to the cropped version. In my opinion i like to see this wonderful bird and not sure whether you had room at the top to give me more! The detail in the face and the beak is wonderful and you have captured the leaves perfectly and the color to me offsets the white of the feathers. Very nice. &nbsp Posted: 01/21/2021 11:55:19
---
---
---
Please log in to post a comment