Pamela Hoaglund
---
October 2020 - Colorado Fall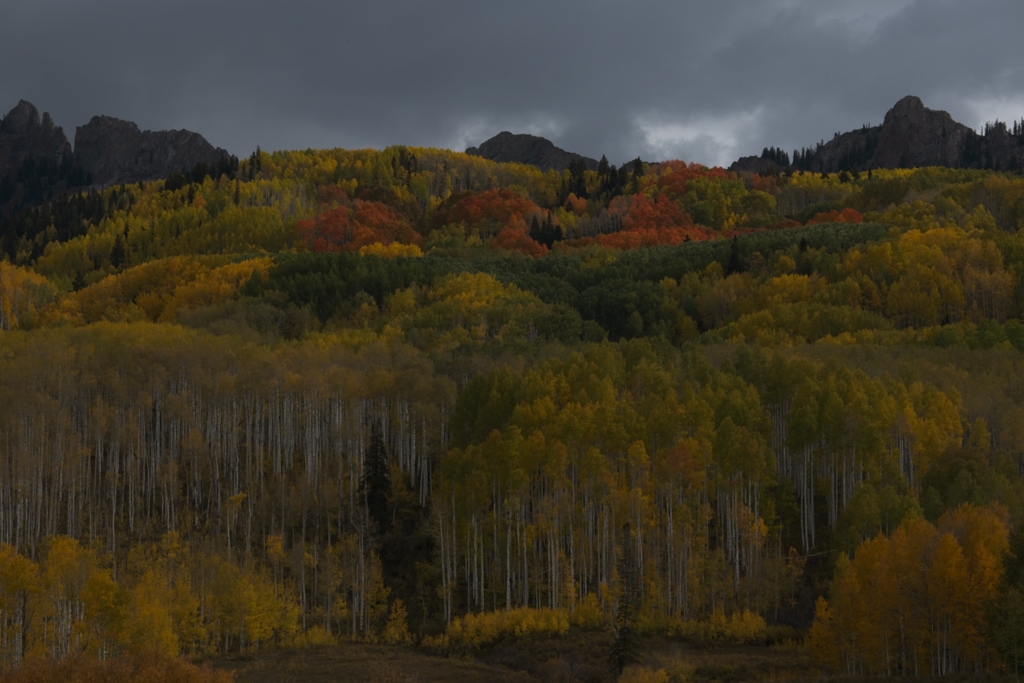 Original
About the Image(s)
With no travel this year, dangerous air quality due to wildfire smoke and then rain I'm having to dig into my archives. So, I revisited images I took in Colorado in 2017. This is outside Crested Butte. Taken with my Canon 6D and 70-200 f/4 lens. I did bracketed images but chose to process the underexposed image only. ISO 100, 1/100sec at f/11. One of the challenges is getting reasonably sharp images of the trees as the slightest breeze causes the aspen leaves to move. I loved the colors on this hillside and the threatening sky. Post processed in ON1 2020, setting white and black points, adding a little structure, a little negative haze and a little saturation and vibrance. I then added dynamic contrast and sharpening and a slight vignette.
---
8 comments posted
---
---
---
Lisa Auerbach
Oh my! What a captivating scene. There are layers and layers of various colors that draw me into this view and keep me there. You have done a glorious job of capturing fall. I would not change anything about the layers of fall leaves; however, I think the sky is less than dramatic and would crop some off the top. I'd leave enough for the viewer to know it is a sky but no more than that. This is beautiful. &nbsp Posted: 10/06/2020 06:23:42
---
---
---
Mike Cohen
Ditto what Lisa said. Great image. Before I read Lisa's comments I was going to address the sky with a post processing suggestion. I've been learning new techniques of luminosity masking for dodging and burning, and other tricks using the TK luminosity panel that I have. Very complicated (for me) stuff. However, it can be done more simply in LR or PS with by just painting with a soft largish brush at low opacity in overlay or softlight blend modes. Paint with white where you want to dodge and black where you want to burn. Adding texture to the sky might also bring out more detail. &nbsp Posted: 10/06/2020 07:01:59
---
---
---
Thorro Jones

(Groups 24 & 97)
Pamela what a beautiful fall color scene. Your post-processing work has really brought out the colors in the leaves and made the photo pop. I love how the groupings of the leave colors and white tree bark draw your eyes into and through the photo. I agree with Lisa and Mike that the threating sky that you like does take away from the fall colors in the trees. See cropped pictured.
You mentioned the difficulty in getting sharp images of the trees due to moving leaves. Do you find that the 1/100 sec speed you used is fast enough to capture sharp tree pictures? I was wondering if a slightly higher ISO would have improved your shutter speed and created a photo requiring less post-processing work?
Thorro Jones DDG 97 Admin
&nbsp
Posted: 10/08/2020 15:12:17
Pamela Hoaglund
Thank you for the comments. Yes, in hindsight a higher shutter speed would have been better. It is very deceiving when it seems calm where you are standing but you forget that up on those hills it can be different. There are a lot of details to consider and sometimes I just get caught up in the moment of beauty before me. &nbsp Posted: 10/11/2020 10:34:11
---
---
---
Ally Green
What a great scene and since it is in my backyard it is a true depiction of what it was like this Fall. It really is a wonderful time of year to be in Colorado. Your colours just pop and i like the variety of the trees with the harsh background of the mountains. I think i would just crop off a top of the sky as to me its less interesting and you have great colour to focus on with the trees. Always good to get caught up in the moment! &nbsp Posted: 10/12/2020 16:09:59
---
---
---
Judith Lesnaw
A wonderful lasagna of color. Overcast days are great for enhancing color. I like the extent of sky as is. The layers lead the eyes upward and into the sky. Cropping it abruptly stops the flow. Also, the grey of the sky balances the aspen tree trunks in the foreground, and the colors really pop against the sky. &nbsp Posted: 10/13/2020 19:30:05
---
---
---
Sharon Prislipsky
I find the layers very beautiful and your post processing has enhanced the color without making it appear unlrealistic in my opinion.I like that you included a little bit of foreground to anchor the image. I agree with the others that the sky needs some attention, but I would not crop it. My thought was to add Neutral Density filter and a bit more contrast to that area. This is a scene that - if it were in my area - I would return to through the season and shoot basicallythe same composition over and over, Sometimes it takes more than a single image to tell a nature story. &nbsp Posted: 10/15/2020 13:35:27
---
---
---
LC Boros
Lovely colors and light: great job with post.
Compositionally I would love either more foreground or less. Seeing as the original is the same size/aspect as the posted image, cropping is the only option. The reason I suggest is this is to create a very subtle but strong mirroring between the grey of the mountain peeks and the grey of the visible tree trunks. (see attached)
&nbsp
Posted: 10/20/2020 15:45:38
---
---
---
Please log in to post a comment