Mike Cohen
---
October 2020 - Snowy and the Sun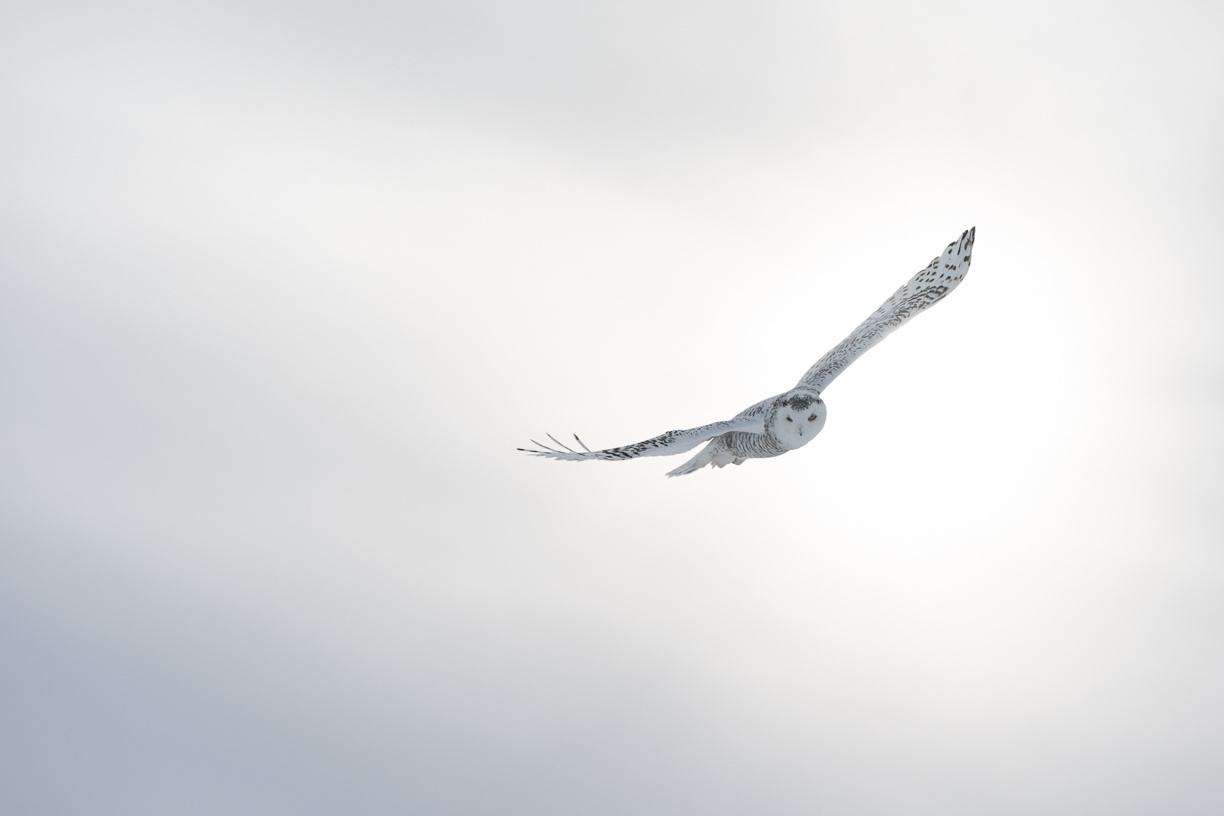 Original
About the Image(s)
I decided to post this one just because I was amazed by the transformation
in the processing. I cropped in to what I thought was a more dynamic image
and brought the highlights way down. I increased the warmth in LR and in PS
desaturated and brightened the owl's face a bit. I also added sharpening
just to the bird. I added quite a bit of glow in NIK filters and removed
its effect a bit from the bird, primarily the face. Oh, and if you didn't
notice it, I took the eye on the right, reversed it and replaced the
original eye that was too squinty. 1/2500 sec, f/8, ISO 500, Sony a9,
Sony 100-400 at 160mm.
---
14 comments posted
---
---
---
Lisa Auerbach
I like eye treatment. Well done. The owl has an interesting face and the wing span gives grace to the whole image. I think the sun is too bright and draws me from the owl. My attention goes and stays there. I wonder if more of the soft yellow would give a similar effect without overpowering the owl. &nbsp Posted: 10/06/2020 06:17:32
Mike Cohen
Thanks Lisa. Worth considering. I'm interested in what the others think. My initial reaction is that if I toned down the sun I'd have to tone up the owl, which would be less backlit, and I guess, in all honesty, I like the feeling of squinting into the sun backlighting the subject. Weird, I know. Thanks for the feedback, Mike. &nbsp Posted: 10/06/2020 06:55:27
---
---
---
Pamela Hoaglund
Wow, Mike, you do far more than I would ever think of doing to transform an image. I just don't have that artistic mind. I do love your transformation. I don't find the bright sun spot as especially distracting. In some way I would like to see the owl a little brighter but with the sun behind him then he is obviously in the shade. I really can't add any suggestion, I am finding that I like it as you transformed it into a more beautiful image. &nbsp Posted: 10/11/2020 12:54:06
---
---
---
Mike Cohen
Hi LC. I tried licking on your space on our home page but without an image posted nothing happens. Welcome aboard.
Mike
mykey4photo@gmail.com
&nbsp
Posted: 10/11/2020 18:30:40
LC Boros
there were issues getting my bio and such loaded. I apparently awoke gremlins. &nbsp Posted: 10/20/2020 15:25:08
---
---
---
Judith Lesnaw
Amazing transformation! The image has a surreal affect. The owl could be soaring away from an explosion, or emerging from a wormhole, or gliding above Hogwarts. The possibilities are endless. The detail on the owl, particularly the upward-stretching wing, is striking. My only suggestion is to leave the original squinting eye in place. It gives character, and seems appropriate in that bright light. &nbsp Posted: 10/13/2020 20:16:14
---
---
---
Sharon Prislipsky
I find what you have created here very interesting. The bird is well captured - I would expect no less from you - and I think the wing position and the detail in the face give me the impression that the bird is looking right at the camera.
I never know what to do with blown out suns. I have tried all kinds of things but never gotten a satisfying result. if this wre my image I would go to OnOne textures and add Rice Paper Light or Rice Paper Vignette and reduce the opacity to a level that is kind of subtle then paint out the effect on the bird. It won't be at all realistic, but it might be very artistic. &nbsp Posted: 10/15/2020 14:06:10
---
---
---
Sharon Prislipsky
Mike, after telling you I struggle with images that have these very bright suns, I came across a YouTube video that I think may be very helpful. I have viewed it but not tried the techniques presented yet. I thought this might be of interest to you. It is "CreateGorgeous Landscaps With NIK Color Efex Pro." To use this techniquw you begin with an already edited image, open it in PS and convert to a Smart Object...from there you can go to NIK. In the video,the presnter deals with an image that has a blown out sun in it. Hope this is helpful. &nbsp Posted: 10/16/2020 08:39:42
Mike Cohen
Thanks for both tips Sharon. They are now on my list to explore.

Mike &nbsp Posted: 10/16/2020 09:52:13
---
---
---
Ally Green
Amazing transformation with your post processing... i am the least user friendly in post so kudos to you! It is a lovely image of Snowy...The background gives it a warmth and attracts you to the eyes and they are perfect after your replacement. The brightness of the sun doesn't bother me and i feel the same sentiment as you. Just watched the NIK video that Sharon suggested...very interesting as i use Color Efex Pro quite a bit. Always good to learn! &nbsp Posted: 10/16/2020 11:54:04
---
---
---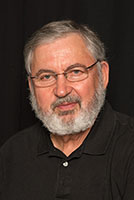 Isaac Vaisman M.D.

(Groups 4 & 58 & 72)
Mike, did you consider placing the snowy owl in the center of the sun ?? &nbsp Posted: 10/17/2020 14:36:27
Mike Cohen
Hi Isaac. The bird and the sun were where you see them, which wouldn't hold me back, but then it would be a composite. I sent this one in just because of the transformation I never would have expected as you can't see the sun at all in the unprocessed version. The overcast sky kept the whites from blowing out which I didn't realize until I played with the image much later. Thanks for the input, Mike &nbsp Posted: 10/17/2020 17:28:57
---
---
---
LC Boros


I think as an exercise in working with tools the image is very interesting on a technical level. Good job keeping the details on the owl.

For me the composition centering completely on the owl is too tight as there is nowhere for my eye to travel and I find the inclusion of the sun a distraction mainly because of the color. -- would be super interesting to see this transformed to a night scene!

&nbsp Posted: 10/20/2020 15:24:35
Mike Cohen
Thanks LC. I like your comments as I understand your reasons. I'm still taken by what I could get out of this image and that bias is why it's good to hear from others. I'll look at it again in the future and see what I think. The idea of a night shot is intriguing although with the sun as a major component I'm not sure if it would make sense. I guess I could pass it off as the moon.

Mike &nbsp Posted: 10/20/2020 15:56:10
---
---
---
Please log in to post a comment