Mike Cohen
---
September 2020 - Howler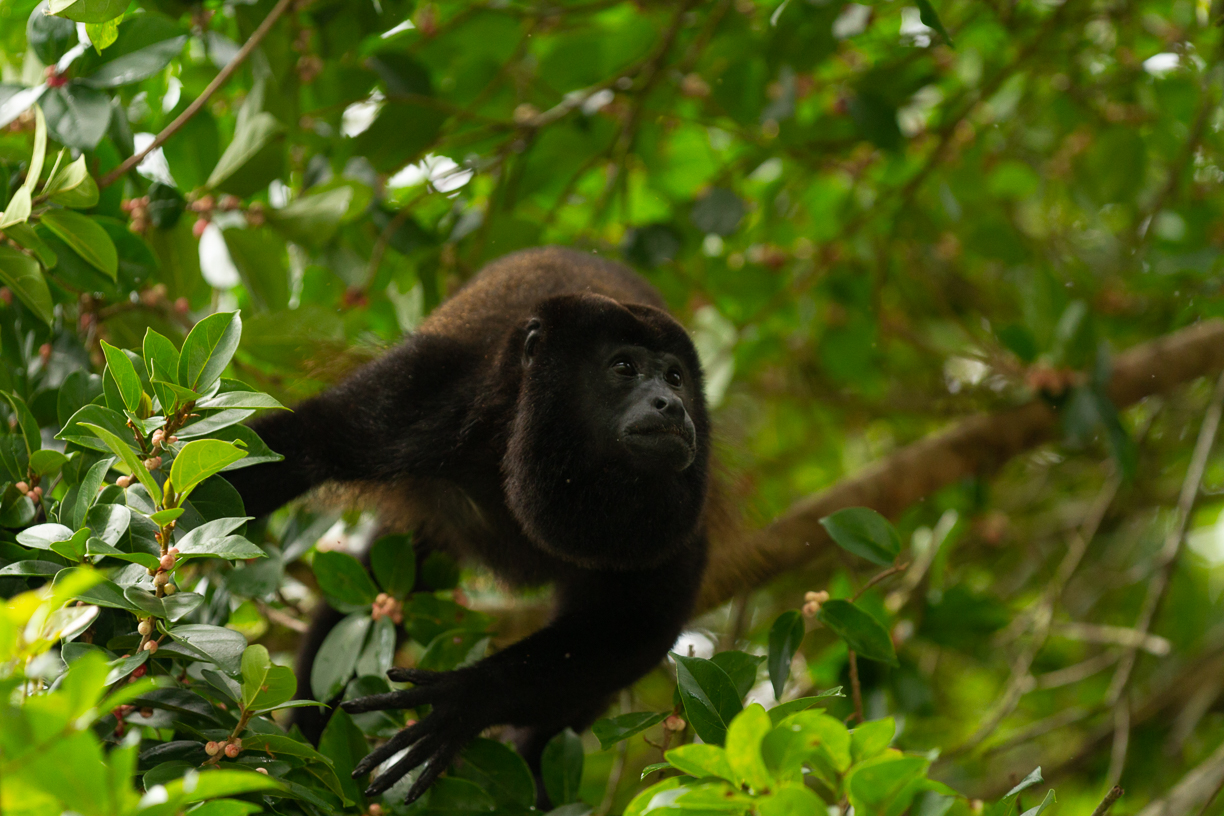 Original
About the Image(s)
My goal was to make the Howler's face the main source of interest and diminish
everything else. I first cropped, removed a lot of debris on the monkey,
and spent most of my time diminishing the saturation, luminance, and
sharpness of everything but the money and particularly its face. I did
local sharpening on the face, which more on the eyes than anywhere. I also
cloned out some hot spots that were too bright to be tamed by any of my
tricks. This was taken in Costa Rica in 2012 with a Canon 7D, Canon 70-200
at 200mm, 1/500 sec, f/3/2, ISO 800 with flash, although I don't see any
effects of the flash in the image.
---
8 comments posted
---
---
---
Pamela Hoaglund
Great image Mike. He looks like he is about to jump and take off. Your crop works really well to bring the focus on the monkey and you did a wonderful job with the processing on the face. I think I would like to see the left arm a little lighter just to give it more definition as it almost gets lost in the foliage. You did a great job taming or cloning out the hot spots, however the two at the top, one by your watermark and the other to the right that is a little larger I feel are a distraction.
I don't see any flash effect either although there is some catch light in the eyes possibly from the flash. &nbsp Posted: 09/09/2020 23:41:40
Mike Cohen
Good suggestions Pam. Thanks &nbsp Posted: 09/10/2020 04:41:53
---
---
---
Lisa Auerbach
Both last month and this month, I have noticed how well you have manipulated the background. It is not blurred as in bokeh, yet is is not a distraction and does add the the whole image. You have captured the eyes beautifully which draws me right into the image. My one distraction is the arm which is too dark. I think you can bring up the shadows a bit to add to the beauty of the image. &nbsp Posted: 09/10/2020 08:54:55
Mike Cohen
Thanks Lisa. I agree with you both about the arm. Much appreciated. &nbsp Posted: 09/10/2020 08:58:33
---
---
---
Sharon Prislipsky
I think the focal length was perfect for this image. For wildlife I always like to see the focus fall off right behind the subject as it does in this image. Nice work on the hot spots, but I would consider cloning out the two bright areas top left. Your flash worked well, and I do not see any evidence of it in the eyes. I have been shooting hummingbirds with flash using high speed sync at 1/4 compensation. I would like to know what flash adjustments, if any, you used for this image. &nbsp Posted: 09/13/2020 11:55:40
Mike Cohen
Thanks Sharon. It's been too long and I don't know how to reveal all the metadata that might show if there was flash compensation dialed in. I'm going to guess that I was not using a fresnel, like a Better Beamer and probably had the flash on full power, as the distance to the subject was far enough that all the flash would have provided was a bit of fill. I used to use a Better Beamer all the time but found that it got in the way and I couldn't predict the results well. Also, if there is wind, it causes a lot of camera movement. These days, I rarely use flash but sometimes wish I had one handy. One technique I'd suggest that I like to use is to underexpose the scene by a stop or two and use flash as my primary light on the subject. It's especially useful to separate the subject from a busy background. &nbsp Posted: 09/13/2020 12:40:40
---
---
---
Ally Green
What a great image and you did a wonderful job lightening his face and the eyes. Superb and you certainly achieved your goal! Like Lisa & Pamela say I may have lightened up his lower arm and hand as it seems to me that there is not much differentation between the branch and his limb. Otherwise a great capture of the Howler. &nbsp Posted: 09/15/2020 16:54:54
---
---
---
Judith Lesnaw
Wonderful job dampening the background and emphasizing the face. I agree that removal of the two upper bright spots would keep attention on the face. The light encircling the face frames it beautifully. I rather like that the arm is dark. It adds a bit of mystery, and finding it is a lovely surprise. &nbsp Posted: 09/19/2020 11:24:58
---
---
---
Please log in to post a comment