Sharon Prislipsky, PPSA
---
November 2019 - Mono Lake
Original
About the Image(s)
Mono Lake was one of the highlights of our recent western trip. We shot this for four days in all kinds of light and every one of the images I captured looks different. It is a beautiful and somewhat mysterious place. This particular image was captured just after sunrise.
This is a three image HDR. The exposures ranged from 1/6 sec. to 1.6 sec. The image posted as original is actually the HDR before post processing. It was processed in LR, PS and OneOne. There were many steps involved and I honestly cannot recall everything I did, but my usual process is to set white and black points, slightly bump up contrast and clarity in LR, remove distracting elements and add a curves layer in PS, then go to OnOne for more artistic adjustments. I know I added a graduated blue filter, created a mask and removed the effect from the tufas. As you can see it was also cropped.
I am interested in any suggestions you have for this image and your thoughts as to presentation and competition potential.
---
This round's discussion is now closed!
10 comments posted
Mike Cohen
I think this is wonderful and I think you did a great job in post, bringing out the vibrance of the scene. I like the reflection and the general composition itself, with the nice curving beach leading toward the Tufas. I was distracted a bit, probably due to the small size we can see at this resolution of the dark point on the top of the viewer's left side of the image. It almost looks like a bird but I presume it's just the shadow of rock. In any case, I would dodge it a bit or, if permitted by the rules of any competition you are entering, remove it. I also might play with the sky. I can't be specific but maybe tone down the blue just a touch. I would just play and leave it how it looks best to you, maybe just the way it is. Wonderful image that I think has great competition potential. &nbsp Posted: 11/05/2019 19:02:04
---
Sharon Prislipsky
Thanks for your feedback, Mike. There is a bird on top of the second tallest Tufa...the one to the left. Is that what you are referring to,or is it the spot a little further down? I wasn't sure what to do about the bird on top, but I competely missed that other dark spot. &nbsp Posted: 11/06/2019 10:13:20
---
Mike Cohen
It was the bird I was talking about. I didn't notice the other spot. It's difficult to say, just from looking at a small res image, if the bird adds or subtracts from the composition. It just looks like a dark spot to my old eyes at this resolution. &nbsp Posted: 11/08/2019 07:50:32
---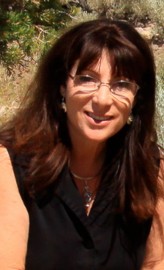 Carol Sheppard

(Groups 80 & 95)
The strengths of this are the path leading right into the "island/tufa" and the way the light plays over the grass. For me, though, this image doesn't work. It feels too sharp, too saturated, beginning at the tufa and proceeding backward. The foreground feels natural. Composition is also feeling uncomfortable for me--perhaps the way the lane winds out of the image then back in, all the way to one side? It feels unbalanced. This is, of course, only one person's opinion, and we all know how I feel about too high contrast and saturation on what is a naturally beautiful scene. But with composition also not working as well for me, I feel you have so many beautiful images, maybe another perspective of this same scene? &nbsp Posted: 11/10/2019 11:11:18
Sharon Prislipsky
I read your comments with interest and have given them some thought. I think we both need to clarify some things. First of all, other than the graduated blue filter I did not add any saturation to this image (and I went back and toned down the blue after reading Mike's comment). Sometimes nature gives us saturated colors - especially in warm sidelight such as this.
Secondly, I cannot figure out where you are looking when your refer to the way the"lane winds out of the image and then back in." If you are referring to the curve in the lower left, I deliberately included this line as I felt it was very strong and led the viewer's eye to the center of interest, the Tufas.
Finally, as to balance, my understanding of balance is that it refers to weight. The Tufas take up a lot of real estate in this frame, and are only slightly off center. I think balanced by the grassy area to the left. So your reference to blance I find quite puzzling.
One person's opinon is just as correct as another, but for me to benefit from your critique I need a little more explanation about your perception that the composition does not work. &nbsp Posted: 11/10/2019 12:40:59
---
John Roach

(Group 64)
Sharon, I like the color harmony for it is appealing and real. The focus and depth of field and nice reflection is very nice and tonally the image appears quite natural in terms of clarity and sharpness (nothing overdone). The composition, though, troubles me some. I find the foreground Tufas overbearingly central in the scene. My eye would like to see a more angular view so that I see the layers within the scene. I have not been to this site, but wonder if it would have been possible to move to your left so that the Tufas were more to the right in the frame and we could see more of the mountains which right now seem so overwhelmed by the Tufas that I have no sense of the relationship between both. Wonderful light, just not sure the composition works for me. &nbsp Posted: 11/10/2019 12:40:01
Sharon Prislipsky
John, I just finished replying to Carol when I read your comment. Now I am really confused. Both of you are referring to issues with composition. Carol feels it is not balanced. If I had followed your suggestion (alas, I will probably never get back to this location!) it would put the Tufas more to the right, and I am thinking that for her at least the issue of balance would be even greater. I could perhaps have gone a wee bit further to the left; I was walking back from another location when the sun struck the Turas in this way and I had to grab the shot while the light was perfect, so that idea never even crossed my mind. &nbsp Posted: 11/10/2019 12:49:45
---
Lisa Auerbach
At first, I'm drawn to the tufa but there are so many other appeals to this image. The variance of colors draws me in as well. I like the circular pattern of the shoreline and the reflections in the water. I do agree with Mike's suggestion about the sky. Another beautiful image, Sharon. &nbsp Posted: 11/10/2019 19:14:33
---
Tom Brott
Not being an expert in landscapes I am also confused by the comments of the center and the over saturation. I am not seeing that at all. I really like this image - the colors, shapes of the tufas and the background mountains.What has caught my eye the several time viewing this image is the wisp of cloud about 1/3 of the way from the left. It is just darker than the others and distracting to me. I believe however it is a product of HDR processing though it is visible in the original as well. &nbsp Posted: 11/18/2019 14:10:29
---
Judith Lesnaw
What a fascinating place. I like your composition; the shore forms a pleasingly curved line that leads right to the central mound of rocks. The pink color in the background mountains is lovely, and so striking that my eye oscillates between them and the rocks in the center. For me this is a two subject image. The bird on the upper left rock mound is wonderful (though I wish it were clearer). I would tone down some of the processing to soften the colors and restore the sharpness of the original. &nbsp Posted: 11/21/2019 19:27:51
---