Owen Epstein
---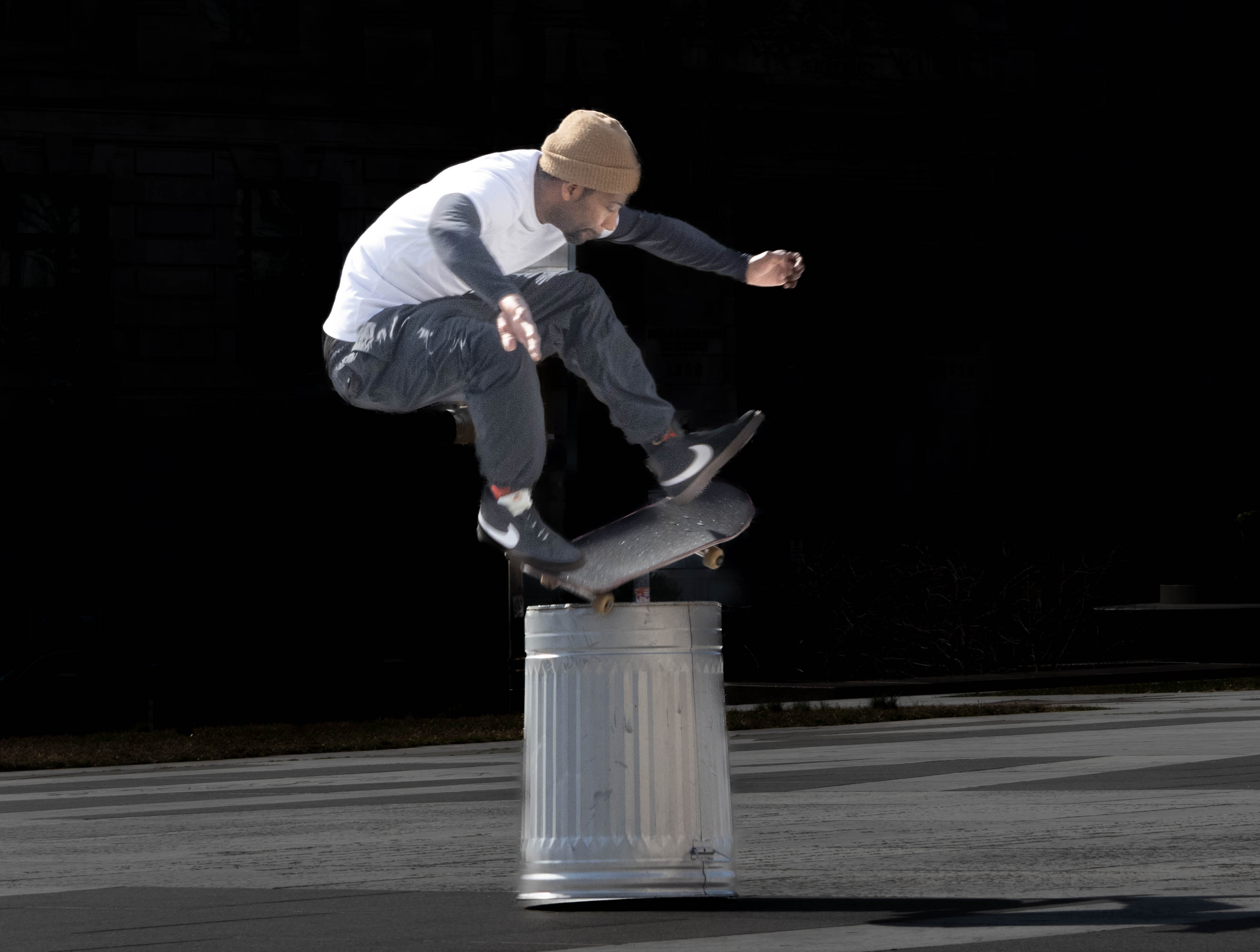 March 2023 - Skateboarding
About the Image(s)
EQUIPMENT:
I took this with a Z7 ii @ 1/400, f11, 28-300 Nikon Zoom @ 70mm, iso 400.


IMAGE DESCRIPTION AND INTENDED EFFECT
I took this image in a park near the Willard hotel in Washington, DC. I found this park last year accidentally and it is an awesome place where people congregate and do lots of tricks with their skateboards. It's a great place to hang out on a nice day. People are very friendly and seeing the skateboarders jump obstacles is really fun. I was trying to catch the skateboarder at the right time so I could get him in the air. I took many shots and was waiting for him to separate more from the skateboard and the skateboard to separate more from the trash can. This is the best I could do at that time.

POST PROCESSING
I took down all of the exposure in the background, thereby making the background pitch blacks. I wanted to keep the bright sun on the skateboarder and I wanted to keep the sun on the ground. I am working on blackenging the ground as well and will try and post another photo if it comes out the way I want it to.

---
5 comments posted
---
---
---
Jo-Ann Rolle
I know the Willard and the surrounding area, it is a great place to shoot.

Great action shot! Awesome clarity of the image. Love the pitch black darkness of the background giving more impact to the subject. Will be interested in seeing the follow on post. &nbsp Posted: 03/13/2023 00:00:22
---
---
---
Craig Callan
I remember the Willard quite well from 30 years ago. When we were dating, my wife and I both worked near the White House in different offices. We'd often walk up Pennsylvania to the Capital, then come back for dinner or drinks at Old Ebbitts. The park was not as skateboard friendly then. I think the B & W version captures the urban vibe better, and I would tone down the background rather than drop it out completely. &nbsp Posted: 03/14/2023 17:02:14
---
---
---
Josh Lohff
Good Morning Owen

I like the monochrome version with the full background - it tells a more complete story.

In the spirit of what you were trying to do with emphasizing the skater, you could try selecting everything but him and trashcan and bringing the exposure, highlights, and sharpness down just a bit to deemphasize them. The ground is quite bright and seems to pull my eye initially away from the subject.

Nice work on the timing! &nbsp Posted: 03/15/2023 06:47:39
---
---
---
Alan Kiecker
Very impressive! This is great action shot! I like the idea of toning down the background to put emphasis on the subject but maybe not quite so much as you did. A bit of detail in the background will give the photo some context. &nbsp Posted: 03/23/2023 13:14:09
---
---
---
Please log in to post a comment