Adrian Binney, LRPS
---
February 2021 - Namibian Lion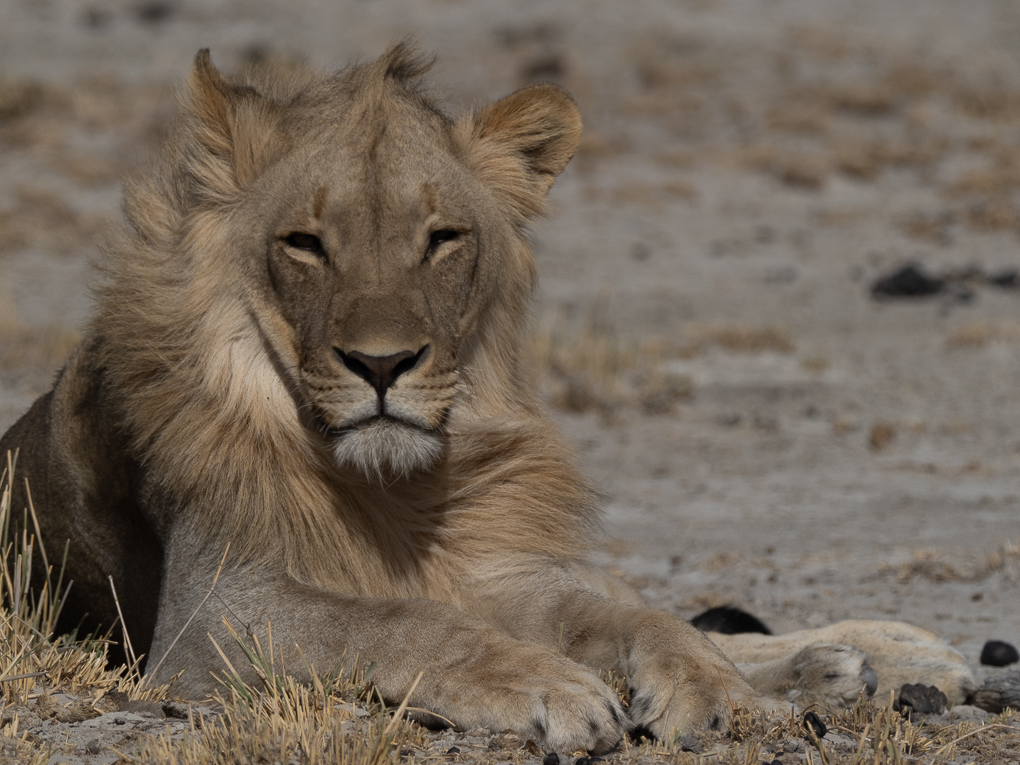 Original
About the Image(s)
This portrait was taken in in September 2019 on a fabulous trip - great adventure! Most of my 'keeper' images are action over for Nature, but I thought this may be worth playing with in Mono. I will find it interesting what comments are.

Settings - With my current Olympus gear: E-M1X with 300 f4 prime, with a x2 converted fixed (so FF = 1,200) - he was a long way off! - ISO200, 1/1,600 f8.

PP in Lightroom - cropping then not a huge amount of work after conversion to Mono, but some removal of grasses bottom left. Sharpen in Topaz A1.

---
6 comments posted
---
---
---
Jen Carrick
You have really caught his gaze and the wonderful texture of his mane, Adrian. Your focus is spot on inspite of the distance. Namibia is on my list! I am glad you made it there. You remind me of the fragility of the wildlife in Africa.
Thanks for a great image. &nbsp Posted: 02/06/2021 12:32:29
---
---
---
Jack Florence Jr
Very nice nature shot, Adrian. I think I am partial to the original in this case, both the wider crop, and softer contrast. The post processing definitely brings out the detail, and has a gritty feel, but perhaps too much so for me. But even so it's an enjoyable image. &nbsp Posted: 02/06/2021 17:45:23
---
---
---
Kirsti Näntö-Salonen
Hi Adrian, a majestic portrait! I was also wondering what a slightly wider crop - like head and shoulders, so to say - would look like, showing the front paws and a bit of the background? &nbsp Posted: 02/07/2021 17:26:36
---
---
---
Colin Bradshaw
Great detail especially as he was far off as often heat haze can soften the image, I think I prefer the original crop but do like it in mono, if it was mine and I wish it was, I would brighten the eyes and take down the highlight in the fur on the left hand side under the chin &nbsp Posted: 02/08/2021 09:48:40
---
---
---
Albert Zabin
I think this is extremely well done. You captured a very serious expression. the tonal balance is just right with a full range of zones and tack sharp. The dark brown fur is really interesting. The lions in South Africa and East Africa are much more yellow &nbsp Posted: 02/19/2021 15:16:16
---
---
---
Ed Ford
Hi Adrian,

I love this portrait of the Lion. To me you could not have chosen a better crop. The original was a good image, but your crop really brings out there lion, particularly the big cat's expression. As I look at it I cannot help but wonder what the lion might have been thinking (Hmm lunch? or why are you disturbing my nap?). As I study the image I find more and more in it, more detail, not unlike Colin's Fighter - there is so much there that (at least to me) I could look at the image over and over and find more Ihad not seen before.

I really like how your processed the image other than the crop - lighting and contrast. It has, as I see it, a perfect texture for the subject. My only suggestion and it is kind of nit picking would be to lighten the eyes a bit more so they stand out a little more. Other than that …

Thanks so much for sharing it with us Adrian - very nicely done. &nbsp Posted: 02/23/2021 10:16:06
---
---
---
Please log in to post a comment