Adrian Binney, LRPS
---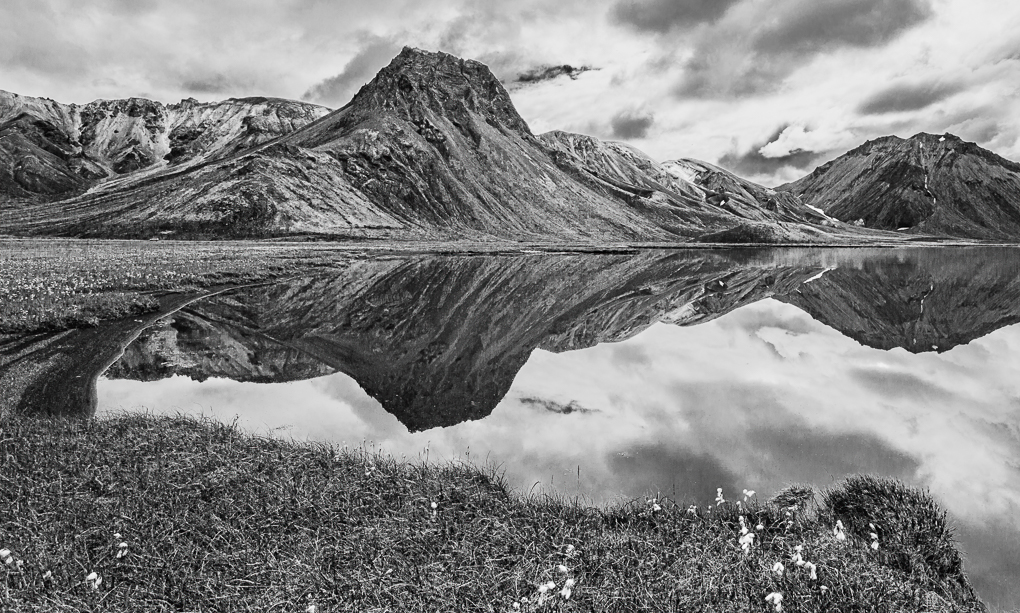 January 2021 - Iceland's Volcanic Landscape
About the Image(s)
This was taken in July 2014 when on an Iceland adventure. I say that as our trip was organised to focus on the interior of Iceland, normally difficult to photograph because with all the roads based round round the coast (and thus hotels there) to capture images early or late normally require a lot travelling at antisocial hours - assuming camping is out! Our team had built bedrooms with en-suites on ex German army flat-bed trucks that were capable of being driven anywhere! Fun!

Anyway, I came across this image recently when seeking out new mono images - I had done nothing with the colour version which I include here (after some PP work). There are a good number of lakes and I felt the reflections add to the strange landscape that Iceland has. It was taken with my old Canon gear - 5D mkiii and 17-40 f4L lens - settings 19mm 1/80 at f10 ISO100.

PP in Lightroom, playing with the colour sliders to lighten/darken them as I hoped would benefit the image.

I also include a Portrait version taken at the same time and I wonder what the group thinks of this alternative (I like trying landscapes in portrait aspect as 'something different).

---
4 comments posted
---
---
---
Albert Zabin
I love Original 2 as well as the main picture. On #2 I would clone out the flowers in the left had corner and crop just below the blossoms. The main photo is really nice and the composition is very strong. I would darken and increase blacks in the mountains (particularly on the right using a graduated filter tool ) and sky to give more depth to the composition, Then frame and hang. &nbsp Posted: 01/09/2021 12:40:23
---
---
---
Albert Zabin
&nbsp Posted: 01/09/2021 12:40:25
---
---
---
Jack Florence Jr
On this image, Adrian, I also find myself preferring the original color version. Black and white tends to focus attention on shapes and patterns, graphical elements, more. So here, the symmetry of the reflection is very prominent. Yet it is the rich colors and nice light, the foreground wildflowers, of the original image which make it quite a nice landscape. Also, in your black and white processing, there is a lot of local contrast, and it's throughout the image, it's a very "scrubbed" look, if that makes sense. For example, there is a lot of detail in the foreground grass, where it really doesn't contribute. I think a bit of softness, at least in parts of an image like this can add to a more dreamy effect, which the color version is already exhibiting.

All that said, I love the scene, and you have piqued my interest in visiting Iceland one day! &nbsp Posted: 01/10/2021 13:48:21
---
---
---
Jen Carrick
Adrian, I was there the same year but sadly did not have the advantage of mobile bedrooms on a truck. It was before the Iceland became so popular which was a nice perk. Both images, the horizontal and the vertical have many attractions for me. The portrait has really grown on me and I feel, in my opinion, to be the stronger image. Definitely one for the wall! &nbsp Posted: 01/10/2021 15:34:26
---
---
---
Please log in to post a comment