Ed Ford
---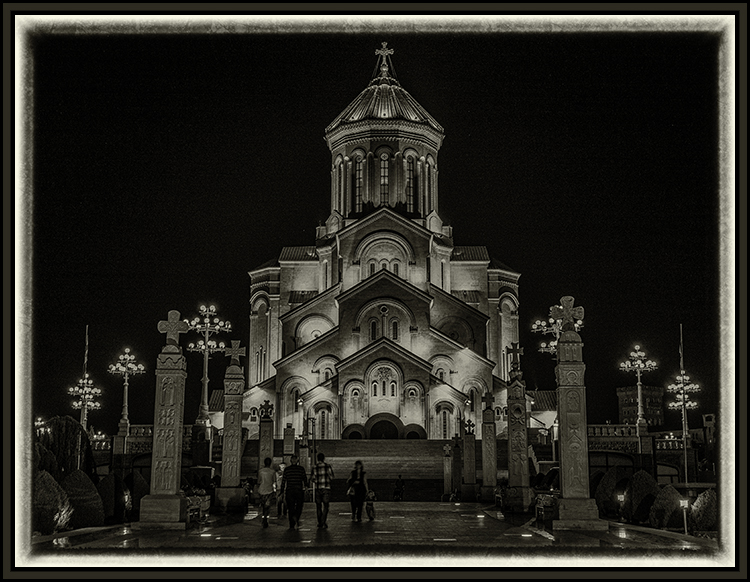 November 2020 - Tsminda Sameba
Original
About the Image(s)
I took this shot from a tripod while visiting Tblisi Georgia in 2016. This is the Holy Trinity Cathedral (Tsminda Sameba) in downtown Tbilisi. It was built between 1995 and 2004. It is said that it represents the unity, faith and power of the people of Georgia. It was built in honor of the 2000th Anniversary of Jesus' birth. The story it told me was one of peace and safety since the people were visiting the beautifully lit cathedral with their children with no fear well after dark - 9:30 PM.

I found the architecture to be beautiful and was well lit to show off the cathedral. I chose this view for its symmetry and deliberately centered the image so that the columns and lights lining the walk way lead your eye to the cathedral. I also left the ground lights in the image because they were part of the overall scene and I believe contribute to the path leading up to the church itself. I liked having the people in the image to give the economy of scale to the image.

I like the color version and have it framed above the desk in my office. But I also like the monochrome version. I will be interested in your thoughts.

---
8 comments posted
---
---
---
Jack Florence Jr
I prefer the black and white version, Ed. I think the colors in the original distract from the leading lines and the symmetry, which are very nice and more evident in the monochrome. My only issue is with the exposure, which feels a little dark, heavy. While some might say, it's suitable the hour, I feel the lights in particular could be brighter, it would make the image pop more. Thanks for sharing the story also. &nbsp Posted: 11/03/2020 15:30:04
Ed Ford
---
---
---
Albert Zabin
Well done and intelligently cropped. I would tone down the high lihgts to bring out the design that ae being lit and washed out &nbsp Posted: 11/12/2020 16:47:03
Ed Ford
Thanks Albert. Those lights were the reason I originally chose the darker version to submit. They were so bright that I feared damaging the overall image if I tried to darken them too much. I have never been too good at dodging and burning in Photoshop. I do like both versions I put in, but tend to prefer the darker version for that reason. &nbsp Posted: 11/21/2020 18:26:20
---
---
---
Jen Carrick
You have brought out the symmetry of the architecture very well, Ed. I really like your second image with the increased exposure. Thank you for a very interesting image. &nbsp Posted: 11/15/2020 17:30:48
Ed Ford
Thanks for your comment Jen. My only real desire for this image is to go back to Georgia again and do some more shots of the Cathedral both inside (if permitted) and out. If we can ever travel freely again I can recommend a trip to Georgia as being well worth the time and effort. &nbsp Posted: 11/21/2020 18:34:47
---
---
---
John Erve
Ed,
I also like the symmetry that you show here and think both versions work well. I like the orange and aqua colors although the BW makes me focus more on the symmetry. I noticed in the BW version, your framing is a little more tight; I would prefer more space on the top but that is a minor point. I also think your second image is better due to greater clarity. Thanks for sharing this one.
&nbsp Posted: 11/21/2020 12:19:49
Ed Ford
Thanks John. Thank you for your comments. Actually I did not crop the original much at all on top. I think the reason there is less room is the border I chose for the Monochrome version. Note to self: be careful when placing a border on an image. &nbsp Posted: 11/21/2020 18:31:24
---
---
---
Please log in to post a comment