Don Crow
---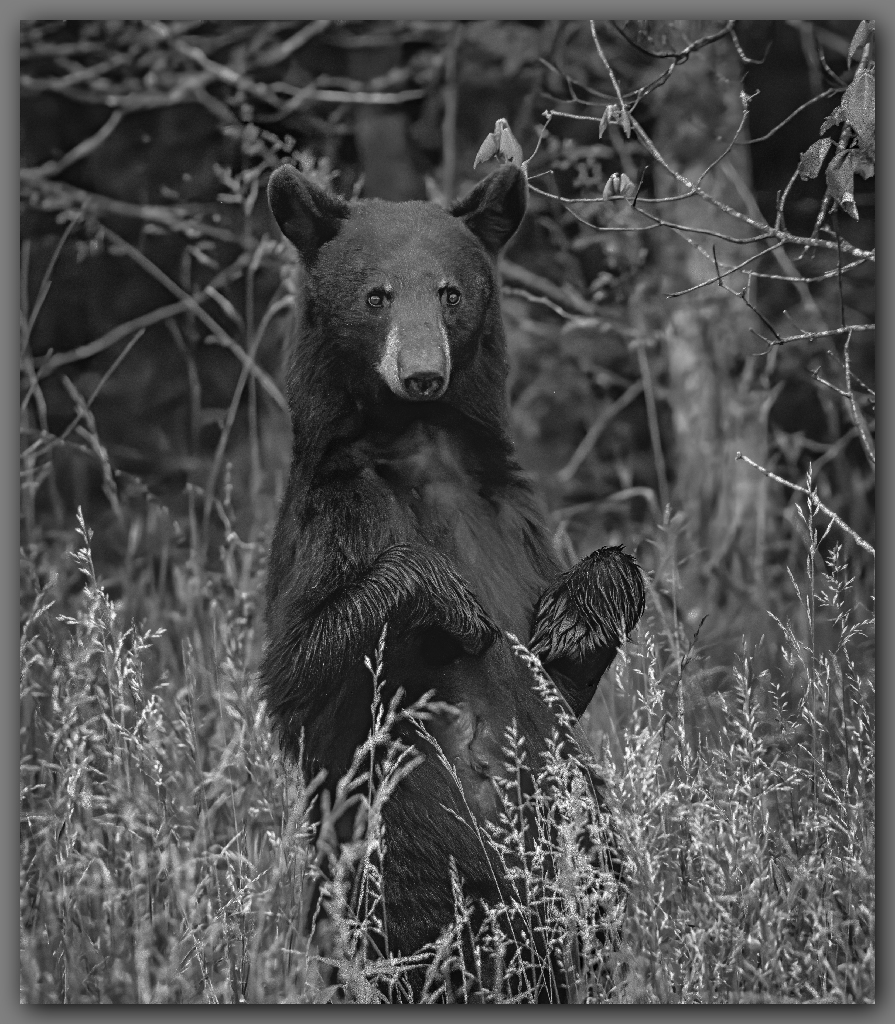 October 2020 - Cades Cove
About the Image(s)
Cades Cove, which is in the Smoky Mountains, is one of my favorite places to photograph in the southeast. In the past we have gone there to photograph mostly deer. Unfortunately the deer population is dying off due to some deasise that came through but the black bear numbers seem to be increasing. On this evening we saw two mama bear with three cubs each within an hour. This one would stand up from time to time to check on her cubs and I was able to get some good shots of her. We were about 50 yards from her, she knew we were there but it didn't seem to bother her.
Canon 7d mii with canon 100-400 mii at 400mm and a 1.4 converter attached
That's full frame eqiv of 896mm hand held. Amazing software!
f/10 for 1/320 sec at ISO 6400
Processed in Photoshop, Topaz DeNoise AI, Topaz Sharpen AI and Luminar 4.

---
4 comments posted
---
---
---
Jack Florence Jr
Nice nature shot, Don, and though my first impression was it lacks tonal contrast, in a way that contributes to the nature story of the animal blending in with it's surroundings. The highlights in the grass, and the light tones on her snout, do help a bit; perhaps those could be lightened just a bit more. &nbsp Posted: 10/07/2020 10:02:02
---
---
---
Ed Ford
I like this image. What makes it for me is the alert expression on the mother's face. I like the concept of the bear in her context and not in a cage. I also like the story that it tells me of care and watchfulness of a parent over her young.

To my eye the depth of field is appropriate to the setting and I also like the composition of the bear in the center of this image - as I see it she is and should be the center of attention and you have accomplished that well.

I do not have anything much to suggest unless perhaps a little lighter as Jack suggested, but then good enough is best left alone.

I very nice image, thank you for sharing it with us Don. &nbsp Posted: 10/07/2020 16:42:41
---
---
---
John Erve
Don, Nice portrait of this bear and I sense the bear is thinking about the safety of her cubs. The bear is nice and crisp and I can see good detail in the fur and can see the catch lights in its eyes. I would have preferred a wider aperture to throw more of the background branches out of focus thereby isolating the bear more but this still works as it shows the bear in it's environment. Good job, thanks for sharing. &nbsp Posted: 10/12/2020 16:39:54
---
---
---
Adrian Binney
Don, I very much like this image. My take is that you have her the 'right' darkness, both because I suspect that is her true shade, but also any lighter would stop her standing out from the dark background areas.

I am surprised you chose f10 as this has driven the ISO quite high and at that range, I would have expected the bear all to be in focus with a wider choice. I don't see any noise with the high ISO, a testament to both the improved low-light performance of the 7 mkii (I had the mki) And the excellent Topaz software.

Great image! &nbsp Posted: 10/18/2020 12:40:14
---
---
---
Please log in to post a comment