Jen Carrick
---
September 2020 - Patagonia
About the Image(s)
This image was taken on a trip to Patagonia a few years ago.
Found it a land of wonderful mountains, fierce winds and beautiful clouds.
Image:
200mm
1/1000 at f 13
Iso 400
I wanted something in the foreground but not sure if this little bush is entirely successful?

---
6 comments posted
---
---
---
Ed Ford
A really great mountain scene. As I see it, the bush really does not add to the image since my focus is on the mountains - the show and clouds. The contract of the peaks and texture of the mountains themselves. I do not think it really hurts but … . Perhaps had the foreground object been a tent of heard of animals.
I did a little work on It removed the bush and lightened the foreground to let it speak for itself. Please let me know what you think.
A wonderful image of the mountains of Patagonia. Thank you for sharing it with us, I have never been but would love to go. &nbsp
Posted: 09/04/2020 23:37:57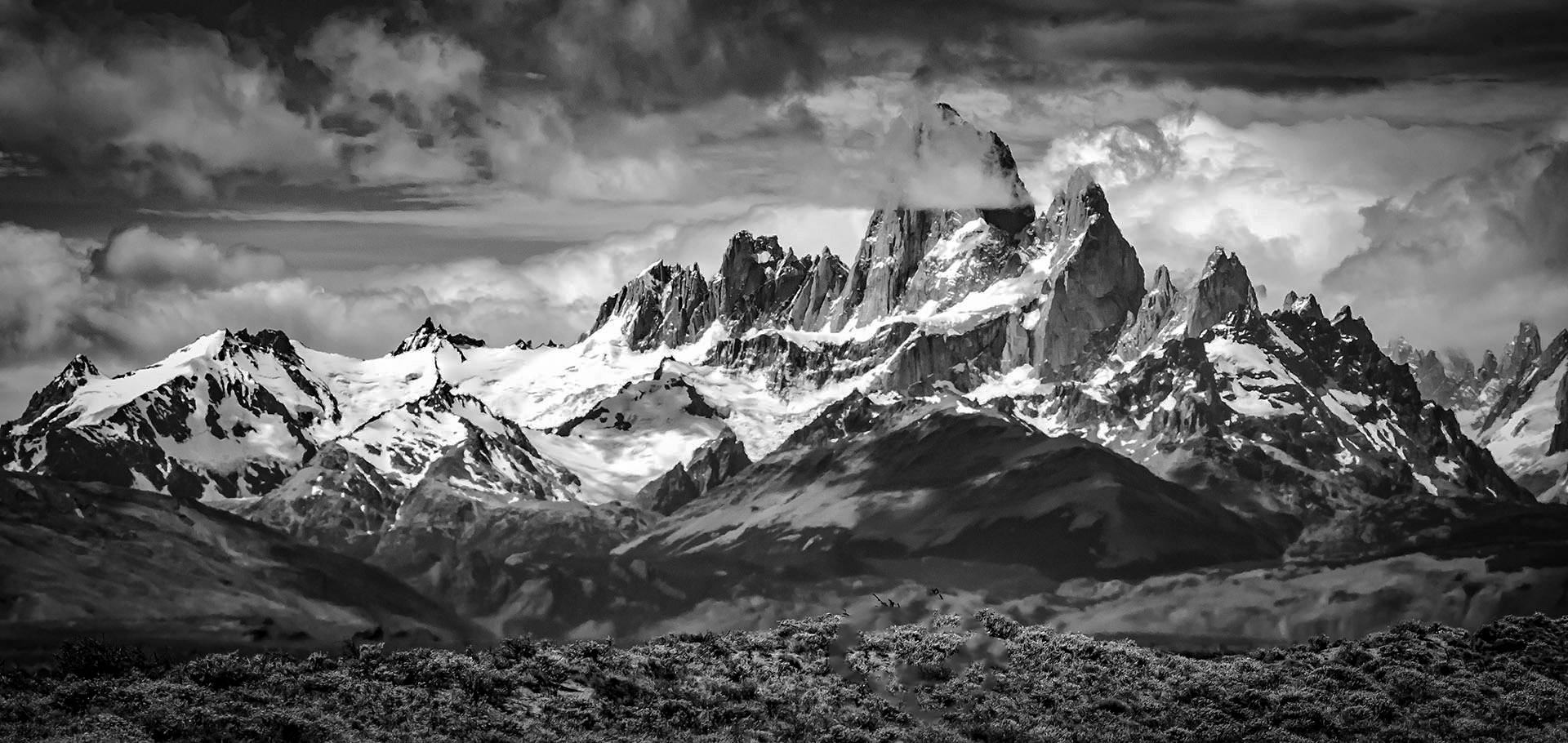 Jen Carrick
Thank You Ed for the revised image. The lightening of the foreground is an improvement, I think &nbsp Posted: 09/14/2020 17:44:39
---
---
---
Jack Florence Jr
I have fond memories of shooting this scene back in 2008, Jen. Including waiting for those pesky clouds to clear completely, and they never seem to. The foreground hills seem almost painterly, which, if natural, is quite a nice effect. I think the Bush works fine for foreground. &nbsp Posted: 09/05/2020 18:32:32
---
---
---
John Erve
Jen,
The panoramic format is a good choice and for me emphasizes the grandeur of this scene. The mountain tops partially obscured by the clouds also works well as it adds mood and a sense of scale. You mentioned the bush in the foreground: initially I did not notice it but now I think that because it is the darkest point and also there is more detail in the foreground it competes with the mountains. My suggestion would be, if possible, to increase the contrast and details in the mountain range. Thanks for sharing this image.
&nbsp Posted: 09/05/2020 20:04:27
Jen Carrick
Thanks for the comments, John. I do agree that adding contrast to the middle of the image would help and will work on this. Many thanks &nbsp Posted: 09/14/2020 17:47:47
---
---
---
Don Crow
Wow! makes me want to take a trip. Any negative comment would be nitpicking. I do agree about the bush. If you had taken a few steps to the left I think the bush would have added to the composition. Ed has a good idea though.
Nice image &nbsp Posted: 09/21/2020 08:07:52
---
---
---
Please log in to post a comment