Adrian Binney, LRPS
---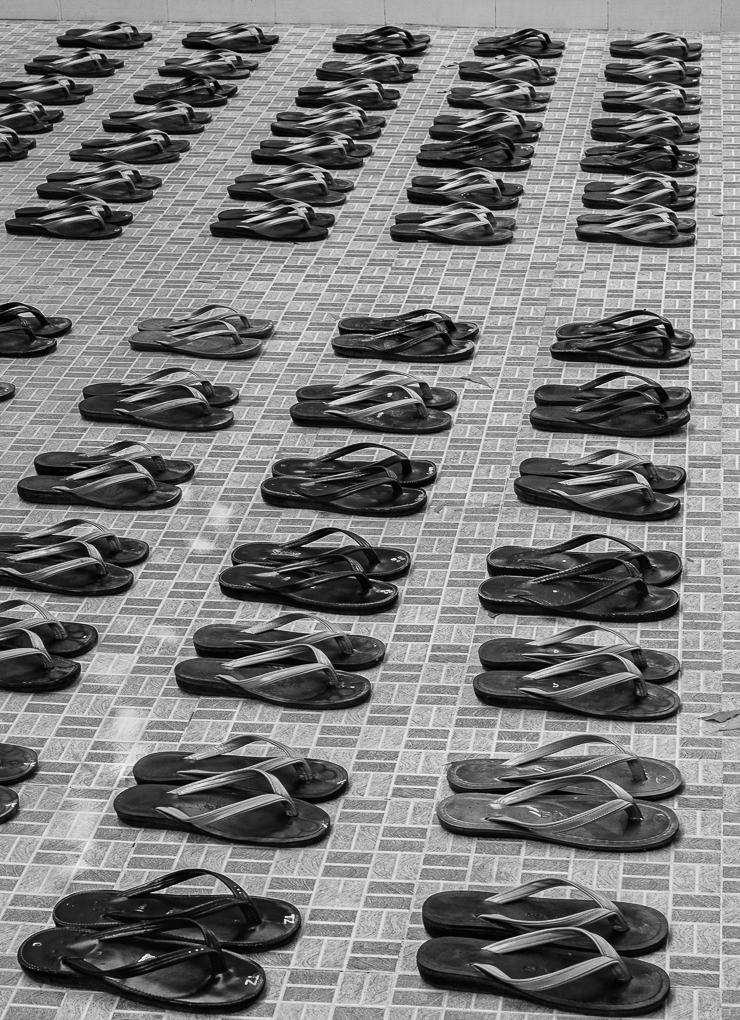 May 2020 - Nun's Shoes
About the Image(s)
This was taken in Myanmar (or Burma as many there still call it) during a fabulous trip we had in 2016 - we were advised to get there quickly, "before Americans find it". It was true that we saw a number of areas where the land was being prepared for new hotels, but recent issues may have slowed demand growth (before the virus). We absolutely loved it - our favourite Asian Country and will want to return.

Anyway, we were treated to a a late visit to a convent with nuns only and they eat once a day in a very disciplined way, queuing during which they appear to meditate (see my 2nd image FYI.

I have not done anything with this image, other to include it in our book we prepare for most trips. I recently tried to convert it to B&W and it will be interesting what you think.

In PP (Lr only) I darkened the colour of the darker tiles which helped to add interest I think. My PP skills aren't enough to totally remove the sunlight spots towards the left: I tied to make them less 'look at me'.

Settings - 60 mm (FF equivalent) 1/60 F8 ISO200

Note: A second "original" of the nuns themselves, was included for context.
---
This round's discussion is now closed!
5 comments posted
Jack Florence Jr
What a great subject for black and white, Adrian. The only challenge is how to present it, and I think you've done a great job, by keeping the right side vertical, and just letting the rest fall into place. You've got multiple patterns among patterns, and I especially like the way the sandal straps render different tones in the black and white conversion. It's lots of fun, a truly enjoyable image. &nbsp Posted: 05/09/2020 10:58:06
---
Don Crow
Very nice! A great repeating pattern shot. I didn't even notice the bright spots until I read what you said about them. I don't think I would change anything.
I have to wonder how they find their shoes when they come back for them... &nbsp Posted: 05/23/2020 13:24:44
---
Ed Ford
This is, to me, a great study in repeating patterns. The contrast between the carefully arranged sandals and the pattern of the tiles was also very interesting to me. I think that your crop was well chosen and effective in focusing my attention on the sandals and their pattern on the tiles.

I appreciate the addition of the context shot of the nuns themselves. It gives me a better feel for their discipline as demonstrated by the arrangement of the shoes and how they are positioning themselves in the line.

Thank you for sharing this moment in time with us. &nbsp Posted: 05/23/2020 21:50:13
---
Jen Carrick
I really enjoyed your image Adrian. Definitely thought provoking as it brought to mind the lives of the owners. I, too wonder how they can find the right sandals. One pair is numbered but all the others are not?!
I appreciate your "good eye" capturing this image. &nbsp Posted: 05/25/2020 13:58:38
---
John Erve
Adrian, I scan see the organization of the slippers and the tiles that no doubt attracted your attention. However, for me this is a little hard to appreciate maybe because I have worn these myself for many years and thus they are not that exotic. I also know that these slippers can be worn by both men and women so your title immediately make me think about this. Your context shot of the nuns themselves are more compelling and in my mind is a great shot with good composition, at least to me. Thanks for sharing. &nbsp Posted: 05/30/2020 15:21:21
---