Adrian Binney, LRPS
---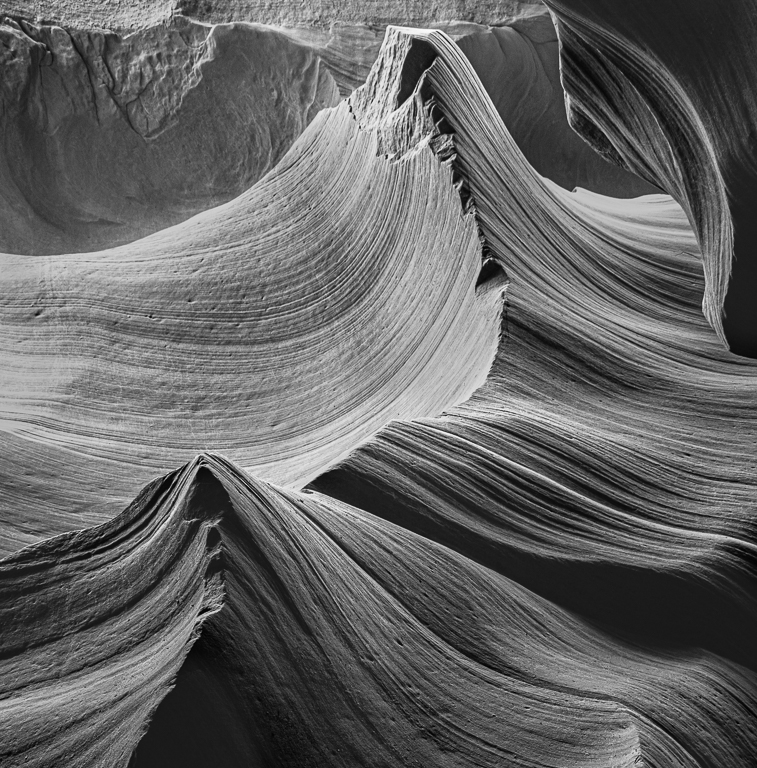 March 2020 - Antelope Canyon Waves
Original
About the Image(s)
I've been to Lower Antelope Canyon twice on photographic trips, my 2nd time in 2015. Here is an image taken that time that I've always quite liked, but never really used, so I thought I would try it in B&W. We paid more to get ahead of the crowds so we could use tripods.

Settings - Using Canon 5Diii and the 24-105 lens at 24mm 0.8secs f14 ISO400

You can tell from the original file here that the colours were amazing in this area and I like the shape. Using Lightroom only, I have played with the B&W filter sliders to lighten/darken the various colours, trying to have the darkest area at the front to encourage ones eye to progress through the shot. Also added texture and the rest of the time was controlling the light areas, so they did not say 'look at me'.

---
This round's discussion is now closed!
6 comments posted
Jack Florence Jr
Very nice texture Adrian, but it's the lower 2/3 of the image which draws my interest. I find cropping out the top 1/3, even though it means losing the top peak, results in a simpler image but with beautiful curves and textures, very nice tonalities also. &nbsp Posted: 03/15/2020 16:17:44
---
Don Crow
I really like the lines! Very well done. Black and white emphasizes the lines much more than the color image. If it were my image I would be tempted to do some photoshop magic and make the back wall go either black or almost so. I think that would be better than cropping off the top.
Great shot &nbsp Posted: 03/23/2020 07:17:21
Adrian Binney
Many thanks Don. I've had a go at darkening the back wall somewhat - using Lightroom, which is actually now much easier as the back wall is a different colour than the area in front, so the auto mask works well. I could make it darker, but tried to leave it believable with some texture still visible. &nbsp
Posted: 03/23/2020 14:06:53
---
Jen Carrick
I have never been here but it is on the list! Your image really emphasizes the structure of the rocks in a way I have not seen before in other photographs. Your color version is beautiful but I prefer the simplicity of the B and W. &nbsp Posted: 03/23/2020 11:41:18
---
John Erve
Adrian,

I like the composition that easily leads my eye into the scene. The textures in the rocks are brought out well. As for the BW version although it has a nice range of the tones, in my opinion the color version makes more of an impact because the orange and purple colors are very beautiful and taking these out only leaves the textures and lines which are not as compelling as the whole.
&nbsp Posted: 03/23/2020 19:29:49
---
Ed Ford
I very definitely like the play of shapes, textures and lighting. Frankly I find this a very refreshing image of Antelope Canyon. I have seen no end of color images from the canyon. Striking, but to my eye - all more or less variations on a theme.

This monochrome treatment is (at least for me) very original and very well done. To my eye a very well processed and original approach.

In my estimation well done Adrian - thank you for sharing it with us. &nbsp Posted: 03/24/2020 21:11:14
---