Don Crow
---
August 2019 - Beech Bloom
About the Image(s)
This is a bloom and new leaves from a beech tree in our backyard. I did
this on tabletop practicing focus stacking.
Since everything including the bloom was green I decided to try it in black
and white and like it. I'm always amazed at the detail of things around us
when we look closer.
Used Photoshop for the focus stacking and Silver Efex to convert to black
and white.
Camera 7d mii, lens 100-400mm at 153mm
f/11, 1/125sec, ISO 400
Lighting was a single flash with a large diffuser.

---
7 comments posted
Adrian Binney
Hello Don!

I like this. Arty! The focus stacking has given you a very sharp image - so much detail! Questions......
~ does the shadow on the left leaf detract? Nothing you can do about this, but I do wonder ether a version with no shadow would look even more surreal?
~ I think I would loose the branch on the left, to make it more of an art form.
~ would the image be even stronger if the fruit part was darker than the leaf tones? May be worth trying.
~ I suggest you slightly tome down the very bright bottom right and top right parts of the leaves, to stop the eye being drawn to these areas.
Sorry for a list - but I think this is a really nice image! &nbsp Posted: 08/06/2019 12:25:25
---
Albert Zabin
I think this abstract with strsightlines and curves is dynamic I would colne out the twig. No need of any reality here, &nbsp Posted: 08/06/2019 15:41:54
---
Ed Ford
Hi Don,

I know I say I prefer images that tell as story - then sometimes I have to eat my words. I love this image, and white flower against a black background is a technique I have used before. I love how you processed the image and the texture of the leaves. As I study the image I find that the range of tones adds to the image, so at least for my part I would not change anything about the lighting and tonality. I also like the contrast you applied. With you, I find the new texture slider in Lightroom to be very effective - great addition.

The twig could go, but I do not find it very distracting at all since it is so dark and the leaves and flower are so dynamic. This is an image I wish I had taken.

Thank you so much for sharing it with us. &nbsp Posted: 08/06/2019 18:24:12
---
Jen Carrick
Don, the focus stacking worked well to produce a very sharp image. It really brings out the details in the leaves and bloom. It is eye catching in the black and white treatment. I think it wound print very well. &nbsp Posted: 08/09/2019 20:06:18
---
John Erve
Don,
I really enjoy all the fine detail that you were able to capture in this beech bloom. I also get a feeling of depth due to the lighting that you employed. It is a very simple image but makes me appreciate all the beauty that is out there in the natural world. I think by making the background more black helps me to see the detail even better. Thanks for sharing this image.
&nbsp
Posted: 08/12/2019 16:15:28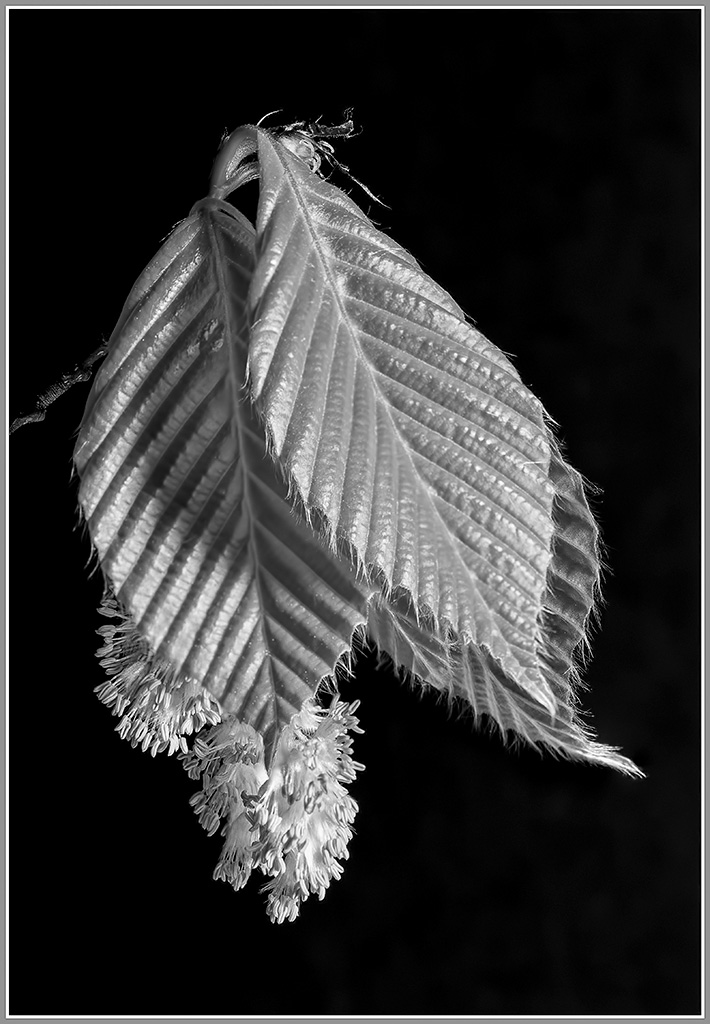 ---
Jack Florence Jr
A beautiful image with nice detail, Don, in which there lie many more possibilities. My only comment would be to perhaps increase the whites a little bit. &nbsp Posted: 08/13/2019 21:02:29
---

Lane B Lewis

(Group 43)
Don,
I received an email about visiting other groups. I randomly picked one and there is your image! As always, I enjoy your work. Perhaps darkening the background would add another element. God is great with detail! nice job.
&nbsp Posted: 08/15/2019 21:53:43
---
Please log in to post a comment