Charlie Yang
---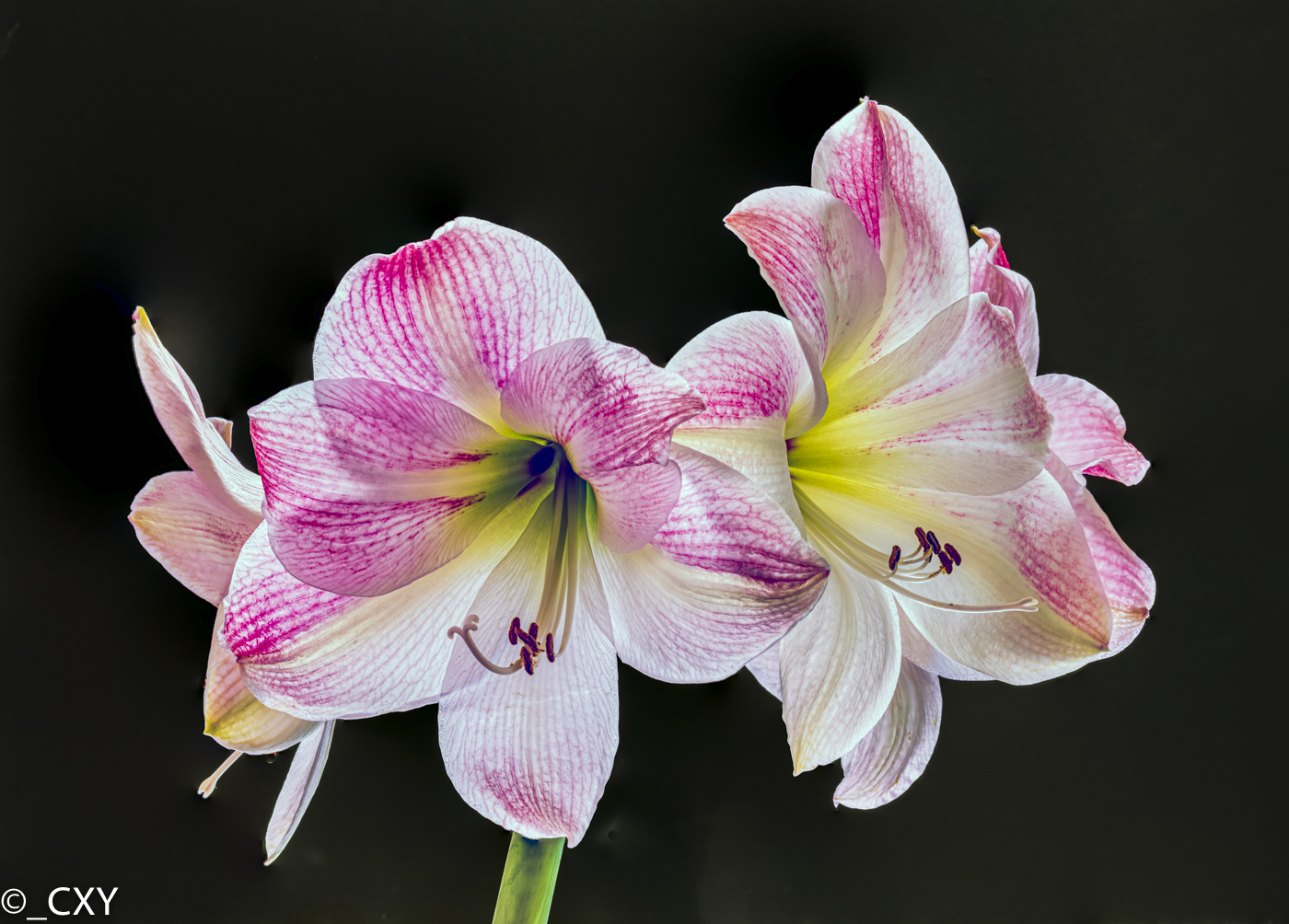 February 2021 - Untitled
Original
About the Image(s)
This time, stay at home, and my flower bloomed, first about this plant, friend's parting gift as they moved away and can't take it with them.
So this plant bloom once a year or so, after each bloom, we cut it off, and wait till Sping time to plant it in yard, and dug it up in fall and plant it in pot, waiting for magic.

This year, first one bloomed in mid January, and I took the opportunity to practice to focus stack it. Since the blossom is huge, over 6" diameter and all 4 flowers bloom at top. so here's

Nikon D850, 70-200mm, @110mm, f/22, S 1.6 S, ISO 64. on tripod, remote triggered. 15 images stacked, black board background.

- post proc, layer stacked in PS, adjust curve, exposure, shadow. ( really a painful exercise!, wonder if helicon or something else would be any better, less pain?)

- Also add another one (color negative), just for fun, like to hear some comment about it.

---
6 comments posted
---
---
---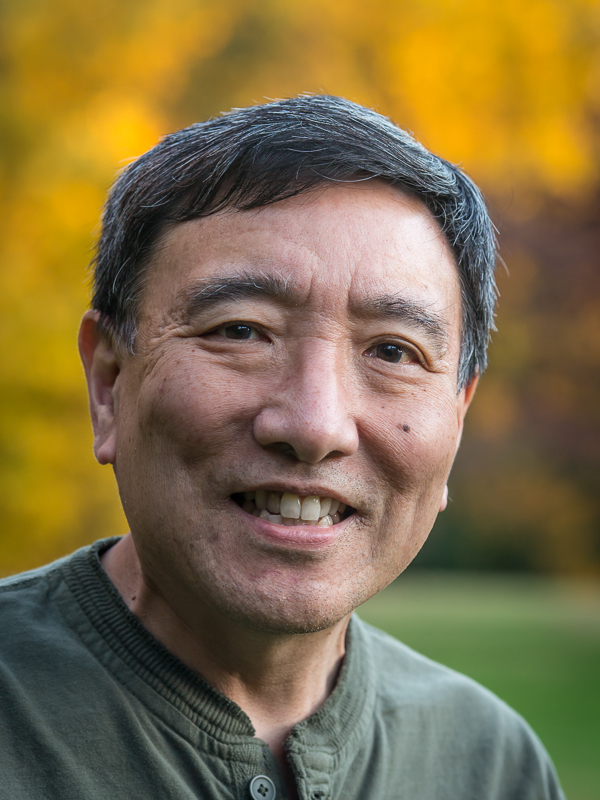 David Terao
The subject flower is well exposed and nicely composed. Focus stacking is often tedious and requires lots of patience, but not really painful. I'm a little surprised that you used such a small aperture, f/22, when focus stacking. You likely got diffraction blur at that f-stop. The benefit of focus stacking is that you can use f/5.6 or f/8.0 to achieve the sharpest images. &nbsp Posted: 02/03/2021 07:28:20
Charlie Yang
yeh, thanks, I have tried various f-stops, this set happened to be f/22, I didn't see much difference between the set of f/8 vs f/22, that's another reason I post this version to see if others observed. Yes, tedious, might overstated with 'painful' :P
&nbsp Posted: 02/03/2021 23:02:31
---
---
---
Don MacKenzie
For all your work, you hit a home-run. Your choice of a black ground is excellent. The fact that a couple of petals right and left in back are not in perfect focus doesn't bother me at all. My eyes are immediately attracted to the middle of the two center blossoms. I grow orchids also and I find your purple and yellow very attractive. Well done. &nbsp Posted: 02/04/2021 07:51:26
---
---
---
Ray Henrikson
I assume this is an Amaryllis. I can offer no criticisms or suggestions. Leaving the green stem was a good idea. You nailed it. &nbsp Posted: 02/04/2021 13:42:56
---
---
---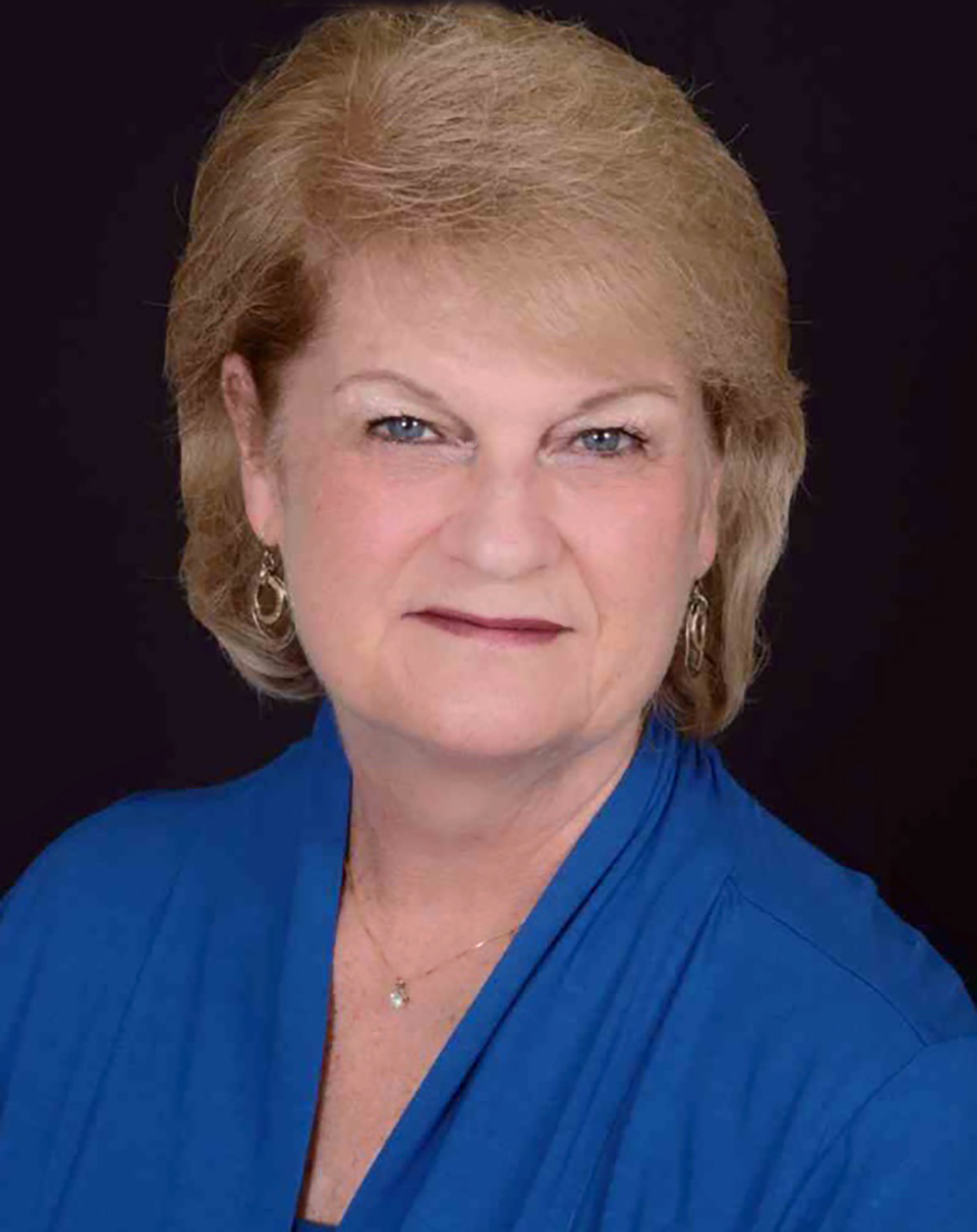 Cindy Lynch
Beautifully executed with amazing depth of field, lighting and focus. Really beautiful, Charlie. &nbsp Posted: 02/15/2021 16:32:37
---
---
---
Phyllis Peterson
Absolutely stunning image of the flowers! Your focus-stacking pain paid off because I don't notice any out-of-focus in it. And I like how the flowers have a nice 'line'; one flower looking down and a little left while the other is facing upward to the right. &nbsp Posted: 02/17/2021 07:03:29
---
---
---
Please log in to post a comment