Mike Walker
---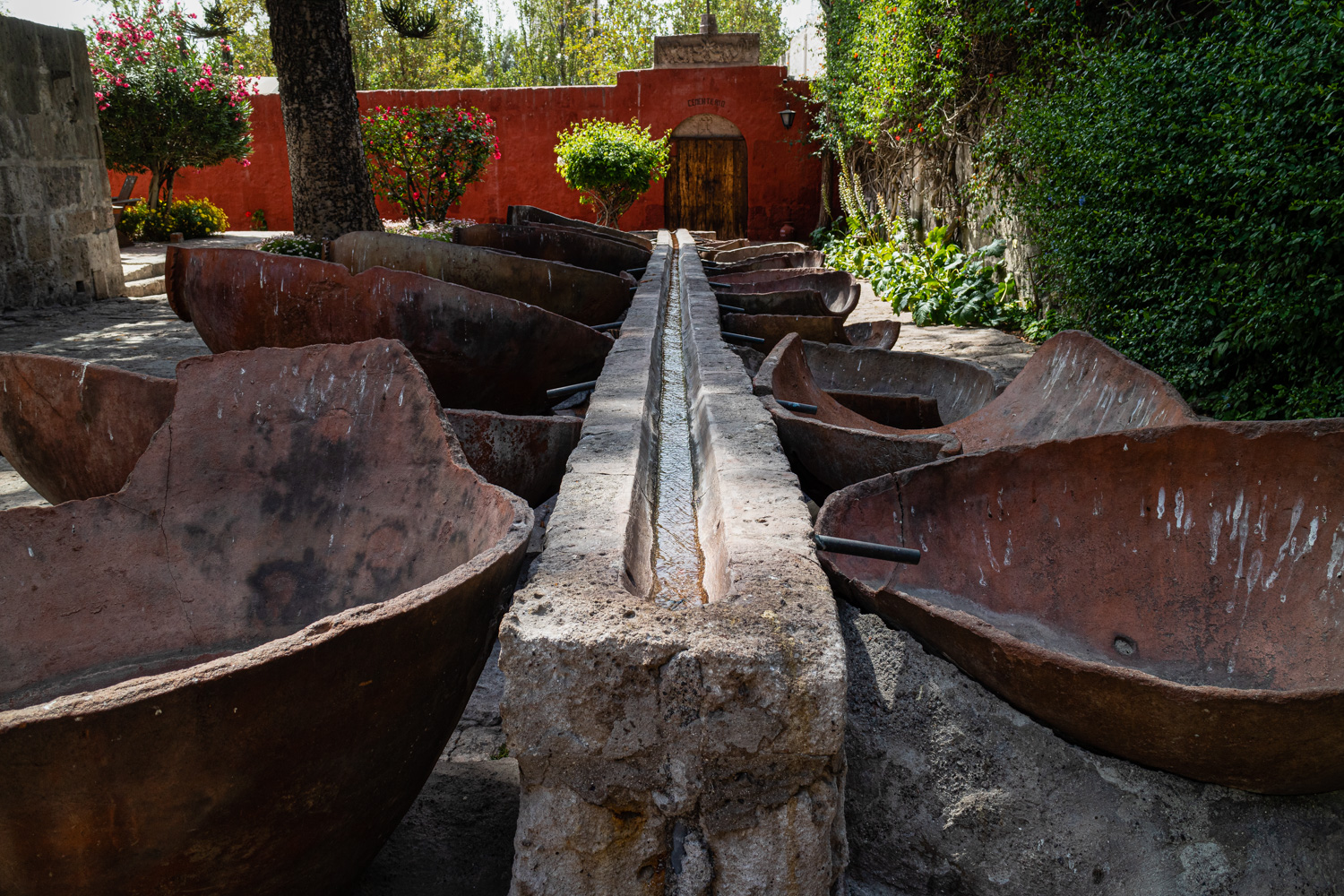 January 2020 - Lavanderia (Laundry)
Original
About the Image(s)
The Monesterio de Santa Catalina in Arequipa, Peru is one of my favourite places to wander and take pictures. The nuns still live in the newer parts of the monastery, the older areas have been largely restored following earthquake damage and are open to the public. (This month has been a moderate month with only 55 earthquakes in Peru so far - and that's not counting anything below 3.5!)

This is the clothes washing area. Water runs down the trough and small pipes feed each terracotta dish. Not much water sits in the dish and the nuns would work their clothing against the sides to make them clean. The red wall and the door at the bottom lead to the Cementario, off limits to the public and still in use today.

EOS M3, EF-M 18-55 at 18mm. ISO 100, f8, 1/80. Initially imported into LR Classic and straight to Photoshop to clone out the modern signs and lights. Back to LR and moderate adjustments to shadows, texture, whites and highlights.
---
This round's discussion is now closed!
5 comments posted
Mark McKinney
Mike this is a great image! The explanation really helps. First and foremost what a leading line you have here. With the explanation in mind I can see the nuns doing laundry in the terracotta tubs. Lovely color. Well done! &nbsp Posted: 01/19/2020 08:18:40
---
Linda M Medine
What an outstanding image. I love the colors and the leading line. I don't think I would change a thing in this image. As the viewer, I would like to see a more wide-angle image. I would like to see all of the front bowls. I would give the image a little more room in the front &nbsp Posted: 01/28/2020 15:54:00
---
Harley Rubens
Wonderful- The story, Leading lines composition, color and texture. It Is better with the green on the right lightened. &nbsp Posted: 01/28/2020 16:42:12
---

Lane B Lewis
This is a wonderful image and to bring it to the next level would be having the nuns doing their thing. I was scrolling down to write this, and saw half of the image. Just the pots and trough, which is also wonderful because of the shapes and textures. Possibly very nice in B&W. You have a couple of images within . Nice job. &nbsp Posted: 01/28/2020 21:29:35
Mike Walker
Thanks Lane, I like the pots and troughs idea. &nbsp Posted: 01/31/2020 15:39:58
---