Mark McKinney
---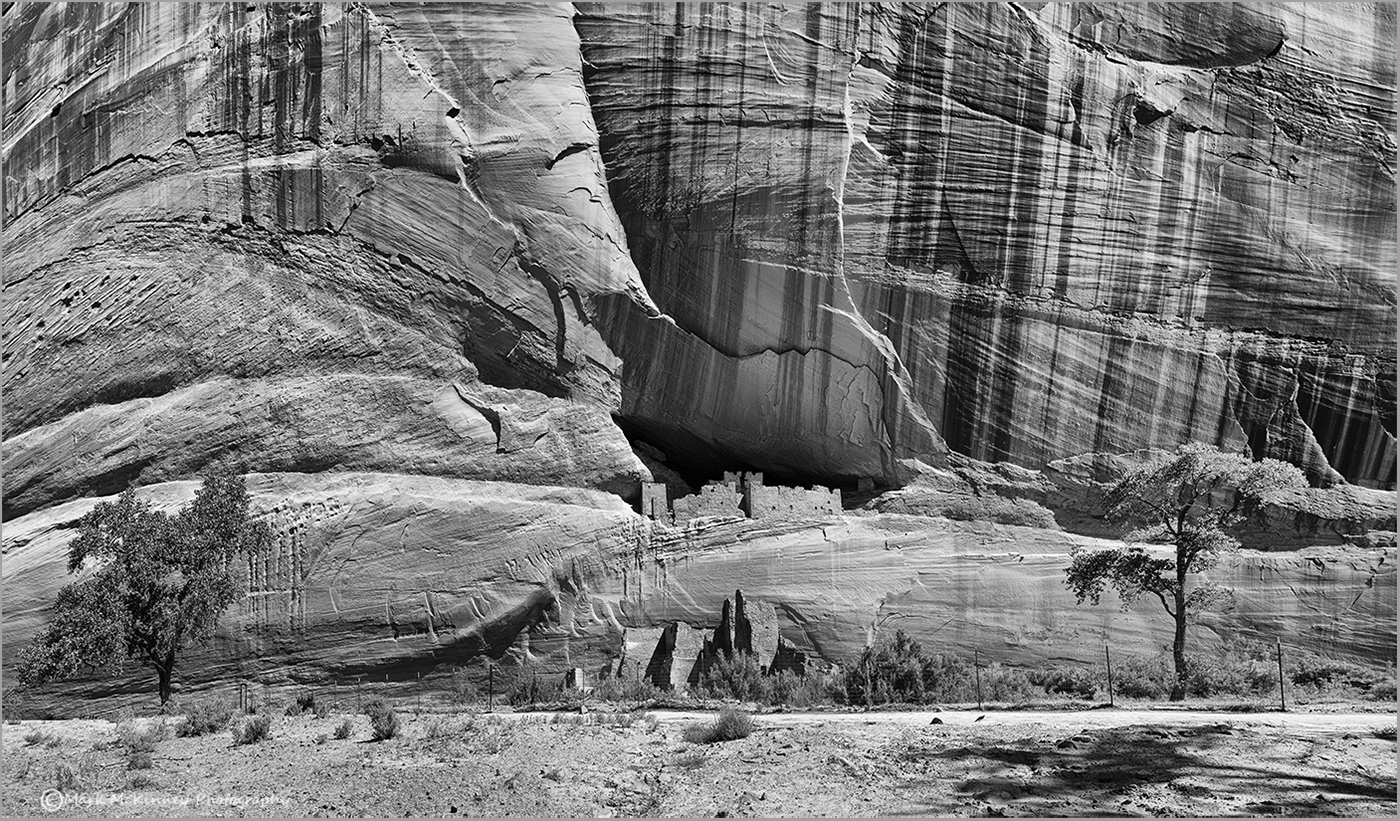 October 2019 - White House Ruins
About the Image(s)
This is the White House Ruins in Canyon de Chelly, South Canyon. It is a photomerge of 5 images.
We spent 6 hours in the canyon with a Navajo guide. Pentax full frame K 1 with Pentax HD 24 –70 mm
lens with a focal length of 36 mm. F 8, 1/250th second. ISO 100. I think B&W makes the image more
dramatic.
---
This round's discussion is now closed!
8 comments posted

Lane B Lewis
Lots of texture which adds an interesting element, however, I get lost . Not sure what I should. be looking at. In the middle is a structure which you could make the main subject. As I am writing this, the screen is showing the bottom third of your image,
that seems to be the image. Perhaps, try working with that part by doing some dodging and burning , making it very dramatic and bringing out the building or structure. &nbsp Posted: 10/20/2019 09:40:06
Mark McKinney
Eye of the beholder. It is about two anchor points left and right and multiple leading lines running top to bottom. &nbsp Posted: 10/20/2019 11:43:41

Lane B Lewis
My eyes are stilll going to the bottom third with the trees on either side and the
structure in the center. &nbsp Posted: 10/20/2019 13:54:45
---
Harley Rubens
Did you photomerge panoramic or on top of each other for Luminosity differences ? The photo is fascinating. The lines, texture and shading Sharp also. I do get rule of thirds stuck in my head and was wondering what you would of putting the building in the bottom left crosshairs. This does seem, however, to put too much weight over the structure. There are so many framing options.The bottom left tree with the stone lines to the structure is yet another composition.There are so many possibilities for this shot with multi layers, lines and structure. &nbsp
Posted: 10/22/2019 09:57:03
---
---
Mark McKinney
Canyon de Chelly is a vast and very spiritual place. I am attempting to convey that in this photo. Yes, there are rules for photography, but they don't always apply to everything. Ansel Adams said when it comes to photography there really are not any rules. Forget the rules for just once and look at the image to see the vast complexity of Canyon de Chelly. &nbsp Posted: 10/22/2019 10:50:05
Harley Rubens
Sounds and looks very good. &nbsp Posted: 10/22/2019 12:26:17
---
Mike Walker
You have achieved your aim of showing the vastness and complexity. My eyes where drawn to the centre of the image, then the textures of the rocks above before dropping down to the buildings on the small hill. These really show the scale of this view. After reading the comments I went back and noticed the trees. &nbsp Posted: 10/28/2019 18:15:48
---