Alison McMahan
---
January 2021 - Xmas Star From Driveway
Original
About the Image(s)
Happy New Year, Everyone! I wish quick access to a vaccine for everyone!

I spent my free time in December reading about how to take pictures of the "Christmas Star" effect - the Jupiter/Saturn conjunction. On December 21st, when they were supposed to be closest, we had cloudy weather here, but on the 22nd I went out looking for them. The big challenge was the single-digit cold weather and the fact that the conjunction was close to the horizon, which meant I had to find a high place to photograph it from. I started in a park on a hill behind my neighborhood. I did get some pictures, but my hands quickly froze stiff (I didn't have any fingerless gloves yet, or a remote trigger for the camera). I went home and found my neighbors burning a brazier outside, their last fire before they put it away for the winter. I stood in the driveway warming my hands over the fire and automatically scanning the sky again, and noticed I could see the conjunction right from my driveway! That is the picture you can see here. I had only about a minute to set up the tripod and take the picture, as it was setting and soon fell behind a tree and a house across the way. So you can see the last of the sunset and/or some city light pollution turning the sky purple, and the tops of the tree branches from the tree at the end of our driveway.
You can see Jupiter and four of its moons on the left and Saturn on the right. In the picture I took on the hill you can see Saturn's rings, but in this picture Saturn just looks like a bright star. I cropped and did a minimal amount of slider work in Camera Raw and resized for DD40.
Canon 5D Mark III, 400 mm lens, 0.3 sec, F 5.6, ISO 12800.

I found some fingerless mittens (you can pull the mitten cover back over your fingers) that belonged to one of my kids, and Santa brought me an Aodelan Wireless Time Remote Shutter release. I'd read that I could take a series of star pictures with this while staying warm in a car or house, so I look forward to learning how to use it.

Someday I'll get a telescope I can take pictures through!
---
2 comments posted
---
---
---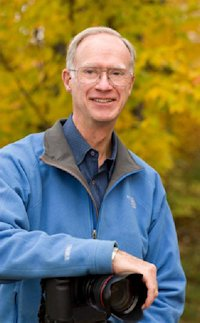 Henry Roberts
What a challenge to get the Jupiter/Saturn conjunction but you did it! Congratulations! &nbsp Posted: 01/10/2021 14:24:34
---
---
---
Anne Nettles
What fun! I think astrophotography is fascinating. Good for you for going out in the cold. In the summer, the Milkyway Galaxy is fun to shoot if you don't have a lot of light pollution. One of my camera clubs did a field trip away from light pollution and someone helped us understand what we needed to do. Are you going to try this skill again? I am a weather wheenie so I am waiting for warmer temperatures lol!
&nbsp Posted: 01/16/2021 12:55:23
---
---
---
Please log in to post a comment